All-South Iowa Cedar League teams named
Keota's Jackson, McDonald receive honorable mention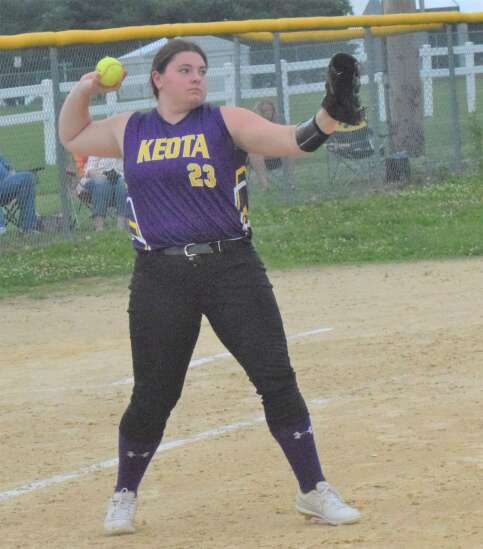 Keota had two players garner recognition when the All-South Iowa Cedar League softball teams were selected.
Makenzie Jackson, a junior, and Macie McDonald, a sophomore, were the two Eagles named and both were honorable mention selections.
Jackson, who played third base, batted at a .405 clip, good for 10th place in the league. McDonald's average was .342. McDonald pitched and had 29 strikeouts to 11 walks.
All-South Iowa Cedar League softball teams
FIRST TEAM
Pitcher — Carly Goodwin, freshman, Sigourney
Pitcher — Denali Conover, senior, Lynnville-Sully
Pitcher — Madison McKay, senior, North Mahaska
Catcher — Kaylee Weber, senior, Sigourney
Catcher — Korrine Jansen, senior, Lynnville-Sully
Infield — Kylie Doty, junior, Colfax-Mingo
Infield — Zoe Deucore, junior, North Mahaska
Infield — Addison Westfall, sophomore, English Valleys
Infield — Morgan Kline, senior, BGM
Infield — Caitlin Alberts, senior, Lynnville-Sully
Outfield — Olivia Bohlenv, Belle Plaine
Outfield — Caylee Cunningham, sophomore, Colfax-Mingo
Outfield — Katie Reynolds, junior, Montezuma
Outfield — Taylor Moel, senior, BGM
Utility — Karlee Timm, senior, HLV
Utility — Kennedy Axmear, freshman, English Valleys
SECOND TEAM
Pitcher — Hannah Marsh, senior, English Valleys
Pitcher — Breanna Cook, junior, Belle Plaine
Pitcher — Delanie Little, sophomore, Tri-County
Catcher — Kayla York, senior, HLV
Catcher — Regan Grewe, eighth, North Mahska
Infield — Kayla Jack, senior, HLV
Infield — Kiley Alcott, junior, Belle Plaine
Infield — Laci Keen, senior, Lynnville-Sully
Infield — Bethany Imhoff, senior, Iowa Valley
Infield — Abigayle Rawlins, sophomore, Colfax-Mingo
Outfield — Lily Zylstra, junior, Lynnville-Sully
Outfield — Courtney Hemsley, sophomore, Sigourney
Outfield — Maddi Mikesell, junior, English Valleys
Outfield — Reagan McFarland, junior, Lynnville-Sully
Utility — Jocelyn Chadwick, sophomore, Colfax-Mingo
Utility — Josephine Moore, eighth, Sigourney
Coach of the Year — Todd Bohlen, Belle Plaine
HONORABLE MENTION
Belle Plaine — Jill Fry, junior; Alyssa Tegeler, junior
BGM — Isabelle Austin, senior; Kara Minnaert, eighth
Colfax-Mingo — Carley Underwood, sophomore; Brennan Rhone, senior
English Valleys — Gwen Mews, junior; Clara Mews, senior
HLV — Jasmine Young, senior; Aleya Roberts, senior
Iowa Valley — Grace Gunzenhauser, junior; Lydia Kriegel, eighth
Keota — Makenzie Jackson, junior; Macie McDonald, sophomore
Lynnville-Sully — Caylor Noun Harder, senior; Aliya James, junior
Montezuma — Izzy Roorda, freshman; Jadyn Sharer, freshman
North Mahaska — Colby Sampson, freshman; Morgan Hudson, junior
Sigourney ——Ava Fisch, eighth; 2) Madison Richard, junior
Tri-County — Ayla Hall, eighth; Petyton Icenbice, sophomore
SOUTH IOWA CEDAR LEAGUE FINAL SOFTBALL STANDINGS
School SICL record Overall
Sigourney 15-1 26-9
Lynnville-Sully 15-1 24-9
North Mahaska 12-4 18-11
Colfax-Mingo 12-4 17-13
Belle Plaine 10-6 17-18
English Valleys 9-7 14-13
HLV 6-10 9-14
Montezuma 4-12 9-21
Tri-County 3-13 4-17
Iowa Valley 2-14 4-20
Keota 2-14 2-16