All-Southeast Conference baseball teams chosen
Burlington's Dengler Player of Year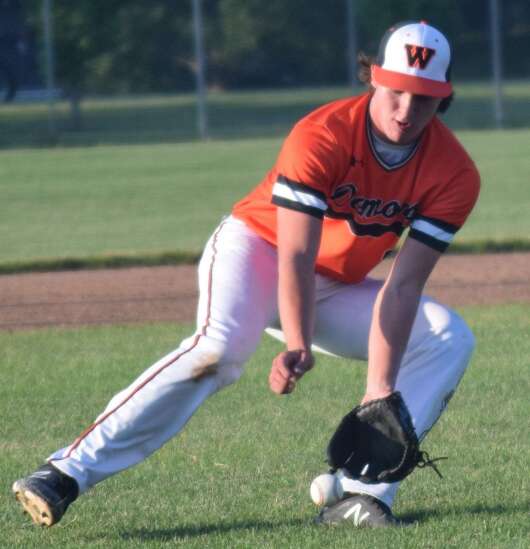 The Southeast Conference has chosen its players for first and second team as well as honorable mention for the 2021 baseball season.
The list of players who were all-academic was released as well.
Washington landed four players on the first team with Lucas Kroll, Reece Mayer, Wilx Witthoft and Ethan Zieglowsky. All four were in the Top 10 in total bases.
Burlington's Brock Dengler was the league's player of the year although Kroll's .442 batting average and his .653 slugging percentage led the Southeast Conference. He also led the league in doubles, was second in hits, third in triples and one of three players who struck out less than 10 times.
Mayer, a right fielder, was second in triples, fourth in slugging percentage and fifth in the SEC in runs batted in. Witthoft, a third baseman, was third in doubles and his .395 batting average was seventh. At .394, Zieglowsky was eighth and the catcher was third in the number of runners thrown out attempting to steal. Zieglowsky did not commit an error all year.
Fairfield had three players on the second team, Washington two and Mt. Pleasant one.
Fairfield's Nate Smithburg led the league in on-base percentage at .560 and Dengler was fifth (.521), fourth in batting average (.414), third in RBIs (34) and fifth in walks.
ALL-SOUTHEAST CONFERENCE BASEBALL
FIRST TEAM
Pitcher — Kane Williams, sophomore, Fort Madison
Pitcher — Jacob Zahner, junior, Burlington
Pitcher — Juan Reyes, junior, Burlington
Catcher — Ethan Zieglowsky, junior, Washington
Infield — Jason Thurman, senior, Fort Madison
Infield — Mateo Rascon, sophomore, Burlington
Infield — Taylor Bunton, senior, Burlington
Infield — Wilx Witthoft, senior, Washington
Outfield — Tate Johnson, junior, Fort Madison
Outfield — Brock Dengler, junior, Burlington
Outfield — Reece Mayer, senior, Washington
Utility — Lucas Kroll, junior, Washington
Utility — Brendan Hale, senior, Burlington
Player of Year — Brock Dengler, junior, Burlington
SECOND TEAM
Pitchers — Brad Smithburg, senior, Fairfield; Landes Williams, junior, Fort Madison; Vasin Thurman, senior, Fort Madison
Catcher — Miller Giesler, junior, Keokuk
Infielders — Brody Angstead, senior, Fairfield; Jordan Sisk, junior, Keokuk; Alex Fawcett, sophomore, Burlington; Garret Hannum, senior, Fort Madison
Outfielders — Aden Whitaker, junior, Keokuk; Chase Williamson, senior, Mt. Pleasant; Jacob Miller, junior, Washington
Utility — Nate Smithburg, junior, Fairfield; Ethan Patterson, sophomore, Washington
HONORABLE MENTION
Burlington — Brock Krieger, junior; Michael Mercer, senior, Burlington
Fairfield — Wyatt Baker, senior; Connor Lyons, junior
Fort Madison — Reiburn Turnbull, junior; Colton Engeman, senior
Keokuk — Bryor Lindner, sophomore
Mt. Pleasant — Will Edeker, senior; Payton Hagans, freshman
ALL-ACADEMIC
Fairfield — Brody Angstead, senior; Kevin Kretz, senior; Bradley Smithburg, senior; Evan Haines, junior; Khai Klehm, junior; Connor Lyons, junior
Fort Madison — Vasin Thurman, senior; Jason Thurman, senior; Tate Johnson, junior; Landes Williams, junior
Keokuk — Jordan Sisk, junior; Josh Wills, junior; Aden Whitaker, junior
Mt. Pleasant — Dalton Gardner, senior; Jack Johnson, senior; Will Edeker, senior; Dalton Church, junior; Lincoln Henriksen, junior
Burlington — Brendon Hale, senior; Taylor Bunton, senior; Michael Mercer, senior; Brock Dengler, junior; Brock Krieger, junior,; Tyce Bertlshofer, junior; Zach Leuschen, junior; Jacob Zahner, junior
Washington — Reece Mayer, senior; Myles Jones, senior; Jacob Miller, junior; Travis Leyden, junior; Lucas Kroll, junior; Grant Sobaski, junior; Matt Wolf, junior; Ethan Zieglowsky, junior