All-Southeast Conference softball players elected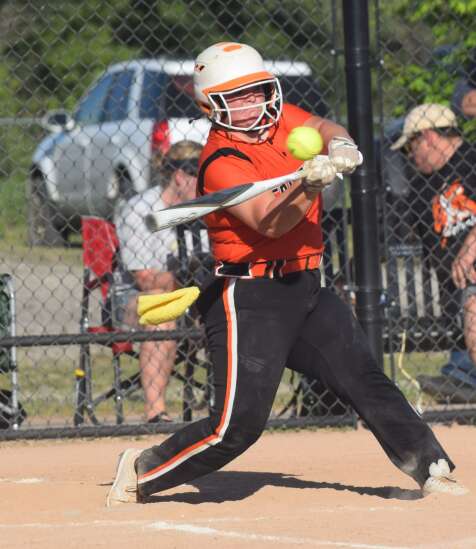 The Southeast Conference released its coaches' choices for all-conference softball players.
The coaches selected Fairfield's Coty Engle as Player of the Year. She was joined on the first team by Trojan teammates Hannah Simpsonm and Jenna Norris.
Washington's Kellie Dallmeyer and Ella Greiner were first team selections as well.
Engle, a sophomore pitcher, led the conference in wins with 17, strikeouts at 170, opponents batting average at .175. Her earned run average of 3.28 was third.
Engle scored the most runs with 62 in the SEC and her .518 batting average was second. Simpson was third at .458. Simpson batted in the most runs, 64, and her nine home runs and 60 total hits were both second. Engle's 42 singles were the highest total in that category. Simpson tied for first in doubles with 15, Engle was third with 13. Norris was fourth with 11.
Dallmeyer led the league with 64 hits for a .529 batting average, was second in runs scored with 48, second in runs batted in from the No. 2 spot in the batting order. She was third in home runs with eight, fourth in singles with 37.
Dallmeyer moved from shortstop to catcher for her senior year and was second in the league in throwing out runners attempting to steal with almost three times as many as third place. She stole 17 bases, tied for fourth.
Dallmeyer and Greiner led the league in triples with four each.
Dallmeyer, who struck out just four times all year, led in slugging percentage (. 917) and total bases (111), Simpson was second (. 809 and 106) and Engle fourth at 74, Norris fifth with 60.
Engle's on base percentage was first at .647, Dallmeyer second at .621, Greiner fourth with .525 and Simpson's .514 fifth.
Engle drew 38 walks, the most and Greiner was third at 30.
Norris, Simpson and Dallmeyer were fourth, fifth and sixth in putouts, respectively. Dallmeyer was one of eight players with four errors or less.
2021 All-Southeast Conference Softball
FIRST TEAM
Coty Engle, sophomore, Fairfield
Hannah Simpson, junior, Fairfield
Jenna Norris, junior, Fairfield
Ada Wood, eighth, Keokuk
Carley McGinity, senior, Burlington
Morgan Schroeder, junior, Burlington
Adessa Brandenburg, senior, Burlington
Kayla Norton, senior, Burlington
Kellie Dallmeyer, senior, Washington
Ella Greiner, eighth, Washington
Lexi Whaley, freshman, Fort Madison
Emily Steffensmeier, sophomore, Fort Madison
Neely Rehm, sophomore, Fort Madison
SECOND TEAM
Saydee Plummer, freshman, Burlington
Makenzie Blythe, senior, Burlington
Emmy Wenger, freshman, Washington
Isabella Salazar, eighth, Washington
Logan Johnson, junior, Fort Madison
Kylee Cashman, senior, Fort Madison
Abby Thompson, senior, Keokuk
Grace Kelley, senior, Mt. Pleasant
Savanna Walls, junior, Mt. Pleasant
Delaney Breen, junior, Fairfield
HONORABLE MENTION
Megan Topping, senior, Burlington
Hannah Heuvelmann, freshman, Burlington
Peyton McCabe, sophomore, Fairfield
Emersyn Manley, sophomore, Fairfield
Erika Kruse, freshman, Fort Madison
Lauryn Helmick, freshman, Fort Madison
Rachel Moore, sophomore, Keokuk
Kayleigh Zanger, sophomore, Keokuk
Jersey Beachy, sophomore, Mt. Pleasant
Emma Starr, freshman, Mt. Pleasant
Ava Turner, junior, Washington
Cameron Malichky, senior, Washington
Academic All-Conference
Kayla Angle, senior, Burlington
Mackenzie Blythe, senior, Burlington
Brynn Casady, senior, Burlington
Carley McGinity, senior, Burlington
Morgan Schroeder, junior, Burlington
Megan Topping, senior, Burlington
Bailey Hird, senior, Fairfield
Brynley Allison, junior, Fairfield
Danielle Breen, junior, Fairfield
Delaney Breen, junior, Fairfield
Jenna Norris, junior, Fairfield
Kylee Cashman, senior, Fort Madison
Kendall Beebe, senior, Fort Madison
Allyson Helmick, senior, Fort Madison
Logan Johnson, junior, Fort Madison
Natasha Cale, junior, Keokuk
Haylee Davis, junior, Keokuk
Sydney McCarron, senior, Keokuk
Abby Thompson, senior, Keokuk
Grace Kelley, senior, Mt. Pleasant
Cristina Carthey, senior, Mt. Pleasant
Lydia Ebeling, junior, Mt. Pleasant
Savanna Walls, junior, Mt. Pleasant
Ava Turner, junior, Washington
Kellie Dallmeyer, senior, Washington
Emma Herr, senior, Washington
Cameron Malichky, senior, Washington
Southeast Conference final standings
Burlington 17-2 21-14
Fairfield 16-4 25-13
Washington 12-7 20-17
Fort Madison 9-11 15-20
Keokuk 5-15 8-26
Mt. Pleasant 0-20 1-37