Area big schools fill up state list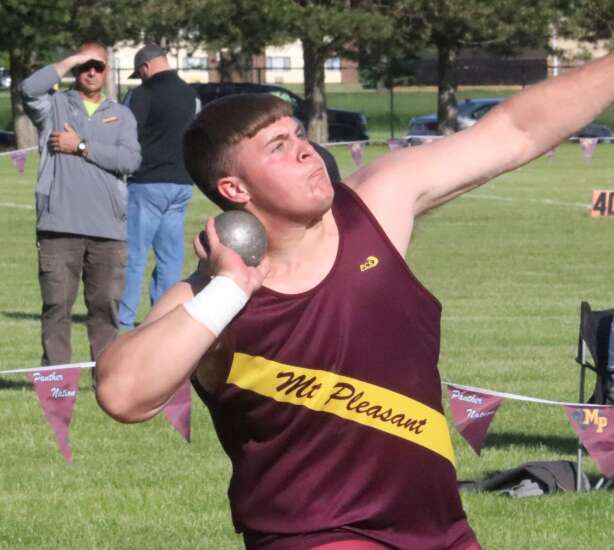 MT. PLEASANT — It was a busy day for the Union coverage area's three big schools at the Class 3A state qualifying meet on Thursday night. Fairfield, Washington and Mt. Pleasant all had qualifiers on both the boys and girls side.
Mt. Pleasant had the largest amount of qualifiers. The Panthers will send 13 individuals and teams to the state meet.
Washington qualified in 10 events on the day. The boys team qualified nine, and also picked up a second place team finish, with 132 points.
Fairfield had 10 total qualifiers. The Trojan girls had eight of those, and took home a second-place finish in the team standings, scoring 119.
"Taking second as a team is a great achievement," Fairfield girls coach Jerrod Belzer said. "Anna Dunlap and Kelsey Pacha both qualifying in four events is a special feat. Carley Seeley winning the 3000 was another highlight. I need to recognize Mallory Lyon, Kiya Robertson and Coty Engle, all for performing really well."
Fairfield had high hopes for the 4x800 relay to make state as well as Maddie Jones in the open 800, "but that's how those meets go, there's always some things that work in your favor and some things that don't."
The Fairfield boys 4x800 relay cut sixteen seconds off its season best to finish third with Gavin VanVeen, Alex Forrest, Kaden Mickels and Kevin Kretz.
"They all ran season best times to give us a chance to run on the blue oval," Fairfield coach Brian Dunlap said. "Aiden Lyons ran a great leg on the 4x4. The Trojan boys performed well and gave ourselves some chances."
Lyons was fourth in both the 100 and 200, but only his 200 time will qualify him. His 100 time is the first one out.
Washington set a school record in qualifying its sprint medley relay and finished second in the team race because of the "young guys stepping up with third, fourth, fifth finishes," Washington coach Steve Roth said. "Lance Sobaski and Elijah Morris were impressive, and the Drake Relays was a valuable experience that we hope will pay off running against our own class."
"We had a lot of PRs and we knew it was a rebuilding year for us, but we were so happy to get Abby (Kleese) to state," Washington coach Stefanie Haworth said.
The Mt. Pleasant girls had seven qualifiers by the end of the weekend. The Panther girls had four individual track qualifiers, three field qualifiers and two relays.
The Panther girls will have a runner in both distance events. Abby Blint's second-place finish in the 3000 sent her through, and Cristina Carthey added her name to the list with silver in the1500.
Karsyn Lamm finished second in a stacked 100-meter hurdles race. Kenna Lamm received an at-large berth on time. In total, six runners from the 100-meter hurdles punched their ticket to Des Moines.
The Panther girls' throwing duo of Jadan Brumbaugh and Grace Kelley both took home top two finishes to advance to Drake Stadium. Brumbaugh took first in the shot put, and Kelley finished second in the discus.
Mt. Pleasant had one more field qualifier when the at-large list came in. Karsyn Lamm will be moving on in the long jump.
Both Mt. Pleasant girls relay qualifiers came via the at-large list. The shuttle hurdle team of Kenna Lamm, Jenna Gilmore, Josie Gilmore and Karsyn Lamm qualified after a third-place finish, and the 4x100 team of Bailey Jalas, Karsyn Lamm, Josie Gilmore and Kenna Lamm head to state despite finishing fifth.
Mt. Pleasant's boys team had two individual qualifiers and two qualifying relay teams. The two individual qualifiers, Bryce Wilson in the 110-meter high hurdles and Cooper Pullis in the shot put, both won.
The Panther boys distance medley team of Chase Williamson, Will Davidson, Reean Seberg and Isaiah Albirght took second to earn its ticket, as did the shuttle hurdle squad of Will Davidson, Jack Johnson, Morgan Van Nyhuis and Wilson.
GIRLS TEAM SCORES
1. Davenport Assumption 136, 2. Fairfield 119, 3. Mt. Pleasant 115, 4. Clear Creek-Amana 102, 5. West Burlington/Notre Dame 101, 6. Keokuk 62, 7. Washington 47, 8. Fort Madison 40
BOYS TEAM SCORES
1. Clear Creek-Amana 158, 2. Washington 132, 3. Fort Madison 105, 4. Mt. Pleasant 88, 5. Davenport Assumption 87, 6. West Burlington/Notre Dame 75, 7. Fairfield 51, 8. Keokuk 35
WASHINGTON
Girls 800: 2. Abigail Kleese 2:28.76
Boys shot put: 3. Brayden Hartman 48-11.50
Boys discus: 3. Reece Mayer 143-08
Boys 4x400: 3. Roy Carter, Ethan Patterson, Lance Sobaski, Elijah Morris
Boys 200: 2. Elijah Morris 22.99
Boys 400: 1. Elijah Morris 50.53
Boys 800: 1. Lance Sobaski 2:02.57
Boys 1600: 1. Lance Sobaski 4:36.18
Boys 3200: 1. Lance Sobaski 10:06.63
Boys sprint medley: 2. Ethan Patterson, Wyatt Stout, Jacob Miller, Elijah Morris 1:35.43
Boys high jump: 1. Ethan Patterson 6-00
FAIRFIELD
Girls 3000: 1. Carley Seeley 11:36.01
Girls 100H: 1. Anna Dunlap 15.71; 3. Kelsey Pacha 15.83
Girls 100: 3. Anna Dunlap 13.05
Girls 400H: Mallory Lyon 1:12.11
Girls 4x100: 2. Kiya Robertson, Kelsey Pacha, Coty Engle, Anna Dunlap 51.05
Girls shuttle hurdle: 2. Anna Dunlap, Maya Lane, Allison Brynley, Kelsey Pacha 1:07.88
Girls long jump: 2. Kelsey Pacha 16-07; 4. Danielle Breen 16-01
Girls sprint medley: 3. Coty Engle, Danielle Breen, Kiya Robertson, Mallory Lyon 1:53.83
Boys 200: 4. Aiden Lyons 23.29
Boys 4x800: 3. Gavin Van Veen, Alex Forrest, Kaden Mickels, Kevin Kretz 8:23.55
MT. PLEASANT
Girls 1500: 2. Cristina Carthey 5:24.11
Girls 3000: 2. Abby Blint 11:43.06
Girls 100 hurdles — 2. Karsyn Lamm 15.80; 6. Kenna Lamm 16.15
Girls shot put — 1. Jadan Brumbaugh 44-10.50
Girls discus: 2. Grace Kelley 124-05
Girls long jump: 3. Karsyn Lamm 16-01
Girls 4x100: 5. Bailey Jalas, Karsyn Lamm, Josie Gilmore, Kenna Lamm 51.73
Girls shuttle hurdle: 3. Kenna Lamm, Jenna Gilmore, Josie Gilmore, Karsyn Lamm 1:08.01
Boys 110-meter high hurdles: 1. Bryce Wilson 15.25
Boys distance medley: 2. Chase Williamson, Will Davidson, Reean Seberg, Isaiah Albright 3:46.01
Boys shuttle hurdle: 2. Will Davidson, Jack Johnson, Morgan Van Nyhuis, Bryce Wilson 1:04.16
Boys shot put: Cooper Pullis 51-08.50