Baseball roundup: New London unstoppable
Tigers punish Pirates; Keota walks off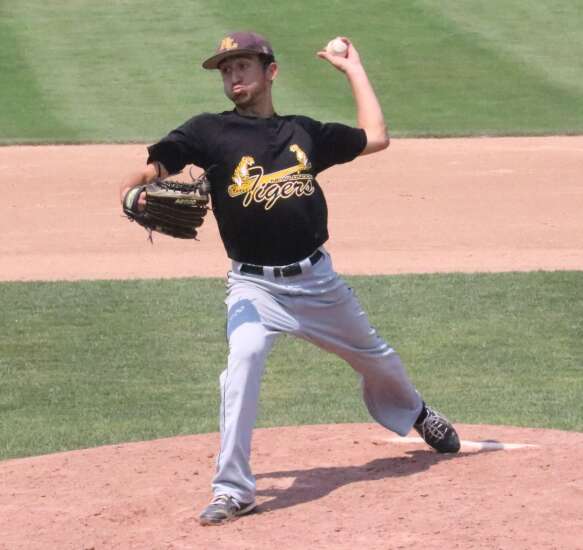 Wednesday saw some action around the area's small schools. New London, Keota and Hillcrest Academy picked up wins.
No. 4 (1A) New London 12, Alburnett 2
New London traveled north to put a hurting on Alburnett. The Tigers are now 9-0 after yet another dominant outing.
Carter Allen went 1-for-2 with a home run and two RBIs. Josh Catala and Seth Bailey each knocked in two runs and also got the win on the mound.
Keota 4, BGM 3(8)
KEOTA — The Eagles picked up a roller-coaster ride of a win to notch their eighth victory of the season.
The Eagles trailed 3-2 after six innings, but tied the game up with one in the seventh. BGM scored in the top of the eighth, but two Eagles crossed the plate in the bottom half to spike the victory.
Colten Clarahan went 4-for-5 with an RBI to lead Keota. Caleb Waterhouse was 1-for-4 with two RBIs. Cole Kindred knocked one in. Caden Clarahan was 2-for-4, and also threw six innings, giving up just two earned runs while striking out five.
Hillcrest 5, Wapello 3
A three-run sixth inning helped the Ravens knock off Wapello in Southeast Iowa Super Conference North Division action.
Luke Schrock went 3-for-4 with a double and three RBIs at the plate, and also threw a complete game on the pitcher's mound. Jace Rempel was 2-for-4 with two RBIs.
Central Lee 4, Winfield-Mount Union 2
Winfield-Mount Union rallied from a 4-0 deficit and had the winning run at the plate in the seventh, but the Wolves couldn't knock off Central Lee in a SEISC crossover game.
Iowa City Regina 2, No. 4 Mid-Prairie 1
Mid-Prairie scored first, but Regina put up two in the fourth inning and the Golden Hawks couldn't get anything going offensively.
Cain Brown was 2-for-3 at the plate and scored the Golden Hawks' only run. Tyler Helmuth went 1-for-2 and Collin Miller took a tough loss on the mound, giving up just two runs (one earned) over six innings.