Brumbaugh goes out with a bang
Mt. Pleasant senior wins both discus and shot put throws, breaks 3A state shot put record; Shuttle hurdle points put Panther girls in Top-10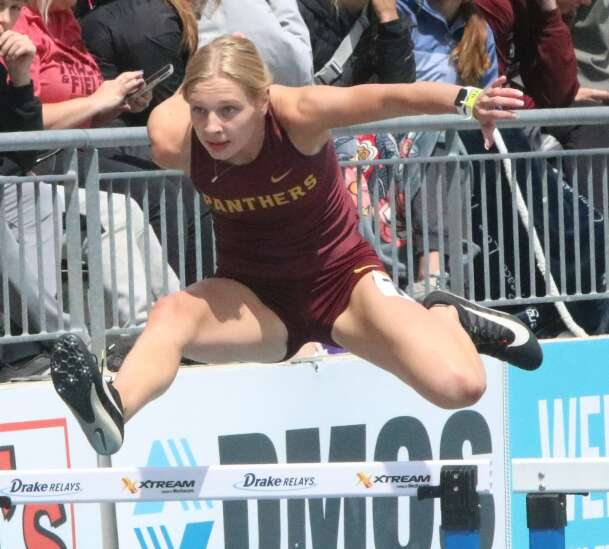 DES MOINES — One of the best careers in Mt. Pleasant track and field history came to a fitting end on Friday at the 2022 Iowa State Track and Field Championships.
Jadan Brumbaugh, who has dominated the Class 3A shot put scene since the state's return from COVID-19 lockdown, continued to do so and more this weekend. Not only did Brumbaugh win her second-straight shot put title, as expected, but she added her first discus championship as well.
The discus throw came first. Brumbaugh, who wasn't an everyday discus competitor until recently, bested a talented Class 3A field.
Brumbaugh took the lead on her second throw, launching the discus 147 feet to take a commanding lead. On her fifth throw, she would top that, throwing 151 feet, 10 inches.
"It's absolutely insane," Brumbaugh said. "I would have never guessed two months ago when I started discus, that I would be a state champion."
Brumbaugh's best throw shattered not only her personal record, but also Mt. Pleasant's school record, which she has broken time and time again over the last month.
Brumbaugh's top rival in the discus, Katelyn Lappe of Bondurant-Farrar, threw 137 feet, 10 inches.
One day later, Brumbaugh was back at it. She came in as the big favorite in Friday's shot put competition, having won the last two Drake Relays titles and the 2021 state championship. She added another championship and more.
Much like her performance at Drake, all six of Brumbaugh's throws were further than any throw of any other competitor.
"It's really cool," Brumbaugh said. "I'm really proud of myself."
Her best throw came in her fifth attempt. Brumbaugh launched the shot put 47 feet, 5.5 inches, breaking the Class 3A state meet record.
Oskaloosa's Faith DeRonde finished second in the shot put, throwing 43 feet, 4.75 inches.
Brumbaugh's win marks the third-straight Class 3A shot put championship for throwing coach Shawn Striegel and the Mt. Pleasant girls.
"He is like my best friend," Brumbaugh said. "He's like a dad to me. He knows what to say when I'm upset, or don't know what to do, or when I freak out because I don't throw as far. He knows what to say at the right moment."
Mt. Pleasant shuttle hurdle team finishes 7th
It took all the Panther girls had to even make it into Saturday's shuttle hurdle final, but Mt. Pleasant nabbed the last spot available on Thursday and moved up one spot on Saturday for a seventh-place finish.
"We've worked so hard," said Jenna Gilmore, who led the final race off. "And I know that the other conference schools have definitely pushed us all season long."
The squad of Gilmore, Allie Westercamp, Abby Blint and Kenna Lamm sneaked into the field of eight with a qualifying time of 1 minute, 8.59 seconds, over one second better than ninth-place Bondurant-Farrar.
On Saturday, the Panthers finished their final race in 1:09.12.
"I was just trying to finish it for the team, and try my best," said Lamm, who anchored the Panthers. "It was very exciting, and very emotional at the same time."
Seniors Gilmore, Lamm an Blint all raced for the last time. Westercamp will carry the torch into her final season next year, taking on what she's learned from her senior teammates.
"They've kept my hopes up," Westercamp said. "They've kept me going. They've definitely inspired me."
The Panther girls in total scored 22 points, good enough to tie for ninth place in Class 3A.
"We had a small team this year, but we were so close to each other," said Blint. "We worked hard, and we got it done. Each meet, we kept scoring more and more points."
Davidson leads Panther boys
Junior Will Davidson had two Top-10 finishes for the Mt. Pleasant boys. Davidson finished seventh in the 200-meter dash, finishing the race in 22.50 seconds, and took ninth in the 110-meter hurdles with a mark of 15.44 seconds.