Fairfield defeat gives Washington 1st SEC volleyball win under Six
Demons clip Trojans in 5-set match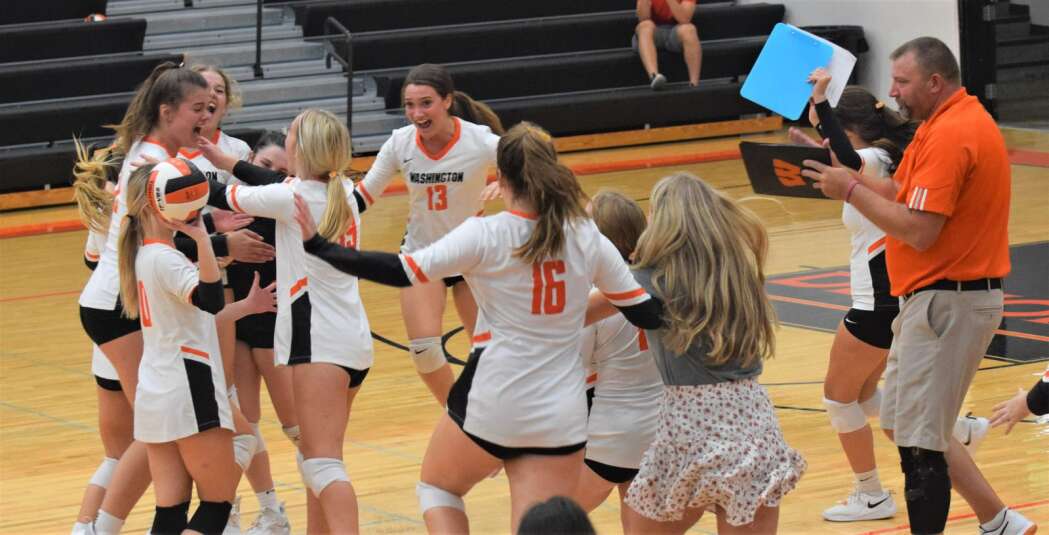 WASHINGTON — Washington was rolling to a possible Southeast Conference victory Tuesday against Fairfield, winning the first two sets 25-20, 25-22. Until Fairfield decided it was not going to lose like that and took the next two sets 25-17, 25-23.
The crucial fifth set was tied at 1, 4, 5, 7, 8. An Ella Greiner kill and a Remy Messinger kill sent the Demons to the lead. Fairfield rallied with a Mallory Lyon kill and a Sydney Wells ace. Greiner's block at 14-10 helped end the set and the match as a Demon win 15-11.
"We passed the ball well and we hit our spots serving," said Washington head coach Aaron Six, who got the first league win of his second time at the helm of the Demons. "The crowd was in it when we needed them and that certainly helped, especially at the end of the match when we needed them."
"We didn't come out of the gate very fast," Fairfield head coach Diana Drish said. "But the girls fought back because they were not going to go down like that, they were going to go down fighting."
Washington had an offensive attack that produced 13 kills from Kenializ Espinosa, 11 from Alex Murphy, nine from Greiner and seven apiece from Maci Williams and Messinger. Defensively, Ava Turner had 30 digs and Greiner 16. Greiner added 4.5 blocks, Murphy 3.5 and Messinger 2.5. Haley Mitchell and Messinger combined for 27 assists.
"Fundamentally we are getting the things down that we need to," Six said. "Everybody did well and played extremely hard."
"I had lots of adrenaline and I was ready to go," Murphy said. "We were more hype than usual. We had a really good warm-up hitting, then our hitting was just beautiful. We had a really good practice and I think that helped."
Fairfield twins Macy and Maggie Rayburn produced a combined 24 kills. Anna Dunlap and Maya Lane each hit seven and Mallory Lyon and Sarah McAvan had five apiece. Brynley Allison and Maggie Jones put up a combined 43 assists. Lyon and Macy Rayburn had three blocks each. Kiya Robertson had 30 digs while Lane and Lily Bergren had 18 each.
"It was just a very good match and some of the balls did not go our way," Drish said. "Nothing there to hang our heads about."
Fairfield had a goal of 10 aces for the match and landed 16, led by Robertson's four.
Fairfield (7-13) has lost eight of its last nine after a three-match win streak. The Demons (2-16) won their first match Sept. 18 at the Ottumwa tournament against Burlington and play at Clear Creek-Amana Thursday.
The SEC tournament starts Tuesday at Mt. Pleasant and finishes Tuesday, Oct. 12 at Fairfield.