Fairfield softball swept in battle of ranked teams
Trojans fall to red-hot EBF Rockets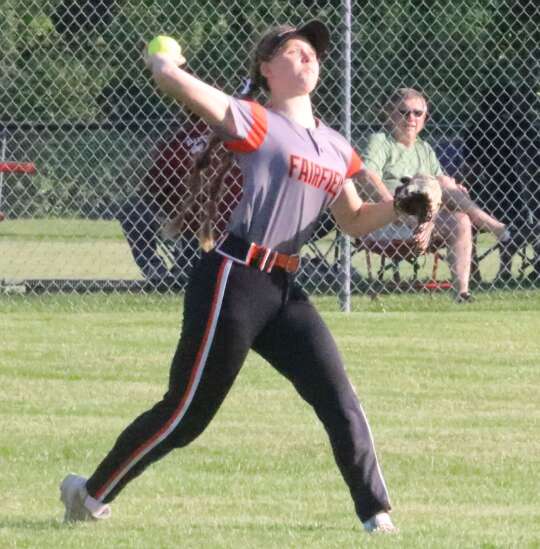 FAIRFIELD — It wasn't meant to be for the No. 3 (4A) Fairfield softball team on Tuesday night in a marquee doubleheader against No. 8 (3A) Eddyville-Blakesburg-Fremont. The Rockets were scalding hot at the plate and swept the Trojans 12-0 and 25-12.
Game 1 was dominated by EBF pitcher Brooklyn Bettis. The Rockets' freshman ace shut out a potent Trojan lineup, giving up just three hits and three walks in seven innings. She struck out seven Fairfield batters.
"Their pitcher threw really well in the first game," said Fairfield coach Bob Bradfield. "Nothing fancy, and I don't know if it moved very much, but she hit corners and changed speeds and kept us off balance."
Fairfield's Coty Engle shut EBF down for five of her seven innings pitched, but when the Rockets scored, they did so in bunches. EBF plated five runs in the third inning and seven in the seventh.
Engle gave up 12 runs (five earned) on 12 hits and one walk over seven innings. She struck out four EBF batters.
Game 2 was a wild one. EBF scored two in each of the first two innings, but Fairfield rallied for five in the bottom of the second to take a 5-4 lead. The Trojans held that advantage until the Rockets' fourth frame, one that saw 12 EBF runs cross home plate.
The Trojans scored five runs in their half of the fourth to cut the lead to 16-10, but six runs was as close as Fairfield came after EBF's breakout inning.
Leading 18-12 after six innings, the Rockets put the nail in the coffin with seven runs in their final at bat.
"It was one of those nights," Bradfield said. "They hit the ball really well, they played real well, and we didn't play very well defensively."
Jenna Norris led the Fairfield offense in Game 2, going 2-for-4 with a home run and three RBIs. Hannah Simpson was 1-for-4 with a double and three RBIs.
Brynley Allison went 1-for-2 in Game 2, including a big two-run single in the second inning. Emersyn Manley was 1-for-4 with an RBI.
Bailey Hird started the second game for Fairfield in the circle, giving up 16 runs (10 earned) on 15 hits in 3⅓ innings. Allison threw 3⅔ innings, giving up nine runs (seven earned) on nine hits and five walks.