Fairfield wrestlers drop 2 duals
Trojans go 0-2 in triangular at Oskaloosa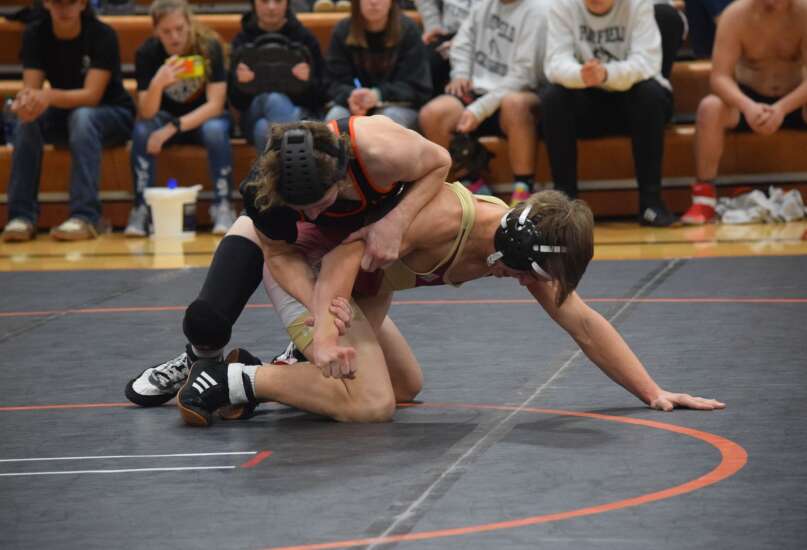 OSKALOOSA — The Fairfield wrestling team traveled to Oskaloosa for a triangular on Tuesday night. The Trojans lost both duals, falling to Albia, 57-23, and Oskaloosa, 58-15.
In the loss to Albia, the Trojans had three wins, two pins and a technical fall.
Theodore Metcalf pinned his man in the first period of the 195 pound match. Grady Flynn won the 285-pound match in just 26 seconds.
At 132 pounds, Csaon Miller rolled to an 18-3 technical fall, getting the match done in 4:24.
The Trojans also had three wins against Oskaloosa. Metcalf and Miller both had pins in the third period, as Metcalf won his 195-pound match and Miller took the 132-pound match.
At 220 pounds, Cesar Smithburg picked up Fairfield's only decision of the day, winning 5-0.
Albia 57, Fairfield 23
145: Justin Keller (ALBI) over Brody Lyons (FAIR) (Fall 0:46) 152: Eli Zanoni (ALBI) over Cam McClain (FAIR) (Fall 1:35) 160: Lance Helm (ALBI) over Wyatt Lovelady (FAIR) (Fall 0:31) 170: Devin Kimball (ALBI) over Hunter Abbott (FAIR) (Fall 1:51) 182: Dre Smithburg (FAIR) over (ALBI) (For.) 195: Theodore Metcalf (FAIR) over Nate Ballard (ALBI) (Fall 1:06) 220: Paul Ballard (ALBI) over Cesar Smithburg (FAIR) (Fall 1:41) 285: Grady Flynn (FAIR) over Carson Rankin (ALBI) (Fall 0:26) 106: Wyatt Stewart (ALBI) over (FAIR) (For.) 113: Carter Anderson (ALBI) over (FAIR) (For.) 120: Brodie Conner (ALBI) over (FAIR) (For.) 126: Dawson Bonnett (ALBI) over Zach Westercamp (FAIR) (Dec. 7-2) 132: Cason Miller (FAIR) over Nathan Coffman (ALBI) (TF 18-3 4:24) 138: Joey Pearson (ALBI) over Jace Hannes (FAIR) (Fall 3:24)
Oskaloosa 58, Fairfield 15
138: Phillip Abrahamson (OSKA) over Jace Hannes (FAIR) (Fall 1:46) 145: Aden Scott (OSKA) over Brody Lyons (FAIR) (Fall 2:28) 152: JT Baker (OSKA) over Cam McClain (FAIR) (Fall 2:40) 160: Lucas Phillips (OSKA) over Wyatt Lovelady (FAIR) (Fall 0:23) 170: Cason Shilling (OSKA) over Hunter Abbott (FAIR) (Fall 3:23) 182: Will Campbell (OSKA) over Dre Smithburg (FAIR) (MD 9-1) 195: Theodore Metcalf (FAIR) over Bobby Opheim (OSKA) (Fall 4:26) 220: Cesar Smithburg (FAIR) over Aiden Hildenbrand (OSKA) (Dec. 5-0) 285: Warren Feudner (OSKA) over Grady Flynn (FAIR) (Dec. 8-2) 106: Alex Russell (OSKA) over (FAIR) (For.) 113: Ty Lorentzen (OSKA) over (FAIR) (For.) 120: Elliot Adam (OSKA) over (FAIR) (For.) 126: Trey Miller (OSKA) over Zach Westercamp (FAIR) (SV-1 6-4) 132: Cason Miller (FAIR) over Garrett Roethler (OSKA) (Fall 4:52)