Fast, faithful and record-setting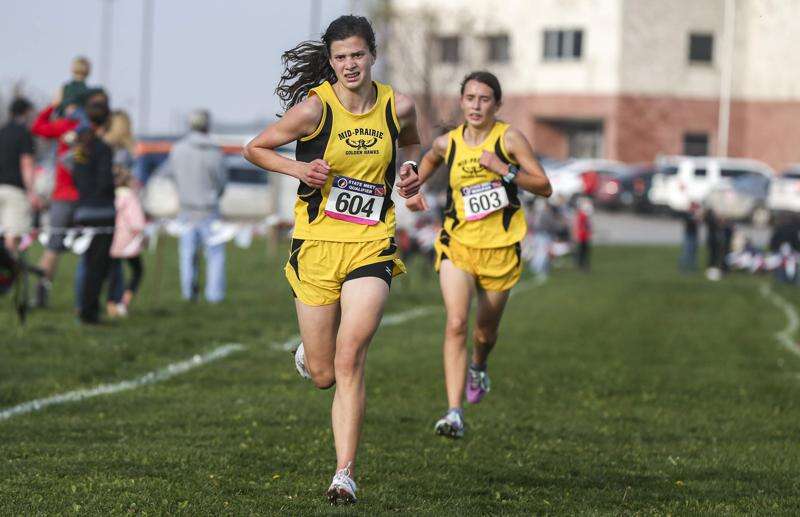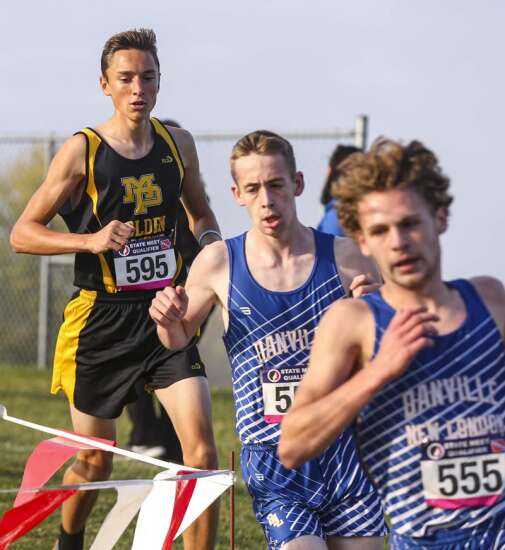 WILLIAMSBURG - They have talent. They have determination.
And they have faith.
'We are so blessed, and we're not afraid to talk about it," Mid-Prairie junior Sydney Yoder said. 'We couldn't do this without Jesus. He's the reason we run, and the reason we succeed."
Apparently, it's a team-wide stance.
'It is," Yoder said. 'For all of us."
The three-time reigning Class 2A girls cross-country state champion, Mid-Prairie is a heavy favorite to extend its streak Saturday at the state meet at Lakeside Golf Course, Fort Dodge after winning Thursday's state qualifier, where the top three teams advanced and the top 15 individuals. The record of consecutive championships is five by Iowa City, City High from 1989-1993. Three other teams are tied with four consecutive wins.
Led by Danielle Hostetler, who is ranked No. 1 and was the winner Thursday, all five of the scoring Golden Hawks finished in the top seven. Top-ranked Mid-Prairie tallied 21 points, No. 2 Williamsburg was second with 49. No. 15 Danville-New London was third.
The team score of 21 points is a state qualifying meet record for the Golden Hawks.
'I believe the previous record was 24 points in 2017," Mid-Prairie assistant coach Aaron Fleming said. 'I may be off by a point or two on the score."
Hostetler was in control of the race from the half-mile mark on, running in 18 minutes, 47 seconds. Addison Parrott of D-NL was second in 19:19, then Mid-Prairie's Sydney Yoder, Jaden Yoder, Mitzi Evans and Abby Fleming ran third, fourth, sixth and seventh. Teammates Phoebe Shetler finished 12th, and Ana Fleming was 15th. Abby Fleming ran a personal record and as the team's No. 5, she solidified the victory by finishing ahead of Williamsburg's second runner.
All seven varsity runners as individual qualifiers is a record for Mid-Prairie. The previous best was six in 2017.
'I'm ready, and I'm excited," said Hostetler, a freshman who is bidding to become the third Hostetler sister to earn a state championship. 'I'm looking forward to the opportunity to give God the glory. I try to do that every race."
Mid-Prairie senior Ana Fleming is only the fourth girl in school history to earn four trips to state. If Mid-Prairie wins a fourth consecutive state title next Saturday, she will become just the eighth female athlete in Iowa cross-country history to run on four championship teams.
'It was a good day, a really good day," Sydney Yoder said. 'I felt really good the whole time. We're all here for each other."
Williamsburg had four runners in the Top 10, led by Ruth Jennings, who placed fifth. Tipton will be chasing the Raiders at state for second place.
Behind individual champion Ty Carr, Danville-New London's boys lived up to their No. 1 ranking, scoring 36 points and Mid-Prairie (59) was second. Coach Fleming said Mose Yoder's performance (19:20 time and 30 points) in place of injured Thaddeus Shetler was key for Mid-Prairie, which returns to state after a two-year absence.
Carr emerged from a four-man pack that ran together through the first 2-plus miles and was clocked in 16:40. Mid-Prairie's Jamison Stutzman was the runner-up in 16:46.
'(Carr and Alexander Julian) both beat me when we ran against each other last time," Stutzman said. 'I got one of them."
A couple of tactical shifts may give Stutzman the edge at state. He has a real chance to be the highest boys state finisher in school history. The current record holder is Jared Draper, ninth in 2014.
Mid-Prairie head coach Mark Hostetler intends to win both a boys and girls state title Saturday. 'The boys are doing much better. Thaddeus is planning on running. If he can run 17:35, we have a good chance of winning."
Mid-Prairie's Lucas Bontrager finished within: 08 seconds of Danville's No. 3 runner. A great race at state could narrow the gap and make for a very tight team race. Nathan Wallington qualified as an individual for the second year in a row. Chandler Hershberger had been struggling, but pulled out a good run when it counted the most.
'It can be very difficult to pull out of a slump because fear and discouragement can set in and make you doubt your ability," Coach Fleming said. 'It was awesome to see Chandler bury all that."
Hershberger's last mile was his fastest Thursday. Having him run with confidence will be a key to team success at state.
The Union's Doug Brenneman contributed to this story.