Hillcrest Academy, New London's Shelledy heading to state
Ravens capture team district title, Tiger senior finishes as district runner-up
CORALVILLE — For the Hillcrest Academy boys' golf team and New London senior Mason Shelledy, Tuesday's Class 1A district tournament at Brown Deer Golf Club in Coralville can be labeled a success as the pair earned their ticket to the state tournament.
For the Ravens, it's a historic moment.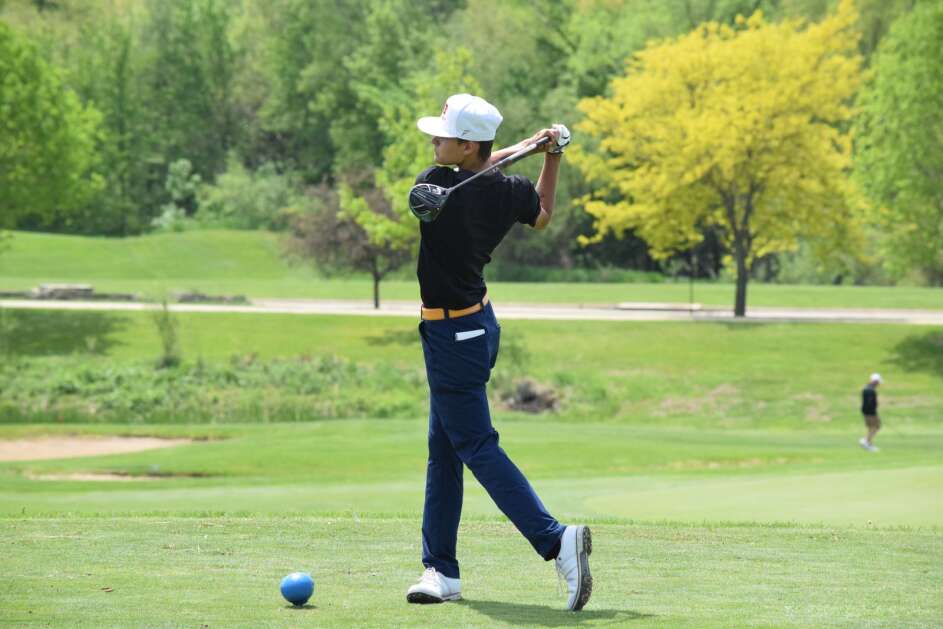 Not only did they win the district title by six strokes with a score of 332 to edge runner-up Wapello, the Ravens also sit at a perfect 44-0 and will be making the trek to the tournament for the first time in 26 years.
On the day, senior Jace Rempel's 80 was the leading score, good enough for seventh.
For Rempel, it's familiar territory as he was the lone Raven to make the tournament last season.
"I'm a little overwhelmed," Rempel said. "I'm glad to be here with my team this year. It's going to be a great experience playing with them at state. We wanted to come in mentally ready. It was more of a mental game for us."
Sophomore Liam Schrock tied for tenth with an 83, senior Luke Schrock's 84 tied for 13th and freshman Rowan Miller ended in 18th with an 85.
The final two Ravens, Seth Ours and Josiah Beachy shot 91 and 100.
Also making the trip to Ames will be New London's Mason Shelledy.
The senior put together a great performance on the course, carding a 76 to finish as the district runner-up medalist.
"I'm excited," Shelledy said. "It was a hard battle all year. I didn't really play well the week before, but came in here with no expectations and just played my own game."
As a team, the Tigers finished sixth with a score of 357.
The district medalist was Iowa City Regina senior Mikey Takacs who shot a cool four-under-par 67.
Winfield-Mt. Union's Carter Loyd put together a fantastic 18 holes of golf, shooting a 78, which was good enough for third.
The Wolves' junior just missed the state tournament. Had Regina placed top two in the team race, Loyd would have earned the bid.
Following Loyd was Jake Edwards with a 94, Konner Kinneberg with 98, Max Edwards had 99, Nick Sparrow 101 and Andrew Brown 106.