Iowa Wesleyan blisters Blackburn in women's soccer opener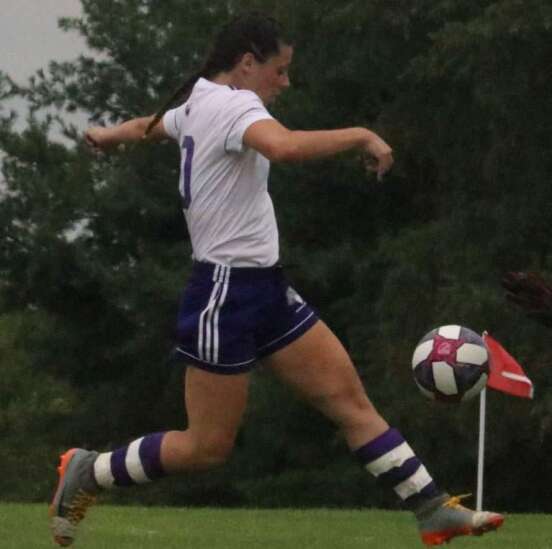 MEDIAPOLIS - The Iowa Wesleyan women's soccer team made mince meat out of the visiting Blackburn Beavers in Saturday evening's St. Louis Intercollegiate Athletic Conference opener. The Tigers beat down Blackburn 9-0 at their home away from home in Mediapolis.
Iowa Wesleyan pu tup three goals in the first three minutes, all unassisted. Ivet Rodriguez scored just over one-and-a-half minutes into the game. Pedressani Giovana netted one in the third minute, and Jacqueline Ivers scored in the eight minute.
The Tigers scored a fourth goal in the 32nd minute. Ingryd Lima made it 4-0 off an assist by Pedrassani Giovana.
The Tiger women kept pouring it on in the second half. Jacqueline Campos scored off an assists from Hannah Brower and Giovana in the 50th minute. Giovanna netted her second goal of the game in the 54th minute. Ivers and Rodriguez each scored their second goals of the game, and Izela Avalos made it 9-0 in the 70th minute.
Giovana ended the game with two goals and three assists to lead the team. Campos finished with two goals and an assist. Ivers had two goals. Campos had one goal and one assist. Ingryd and Avalos scored one goal apiece. Brower finished with two assists.
The Tiger defense allowed just two shots on goal in the entire game. Starting goalpeeker Kylie Mulhern-Guillier was in net for 70 minutes and 25 seconds and had one save. Renae Peterson was in net for the remaining 19:35.
The win gave the Tigers a hot start to the 2021 season. Iowa Wesleyan won just one game last year and Blackburn was ranked ahead of the Tigers in the preseason poll, getting picked sixth while Iowa Wesleyan was tabbed for seventh.
The Tigers (1-0, 1-0) will host Fontbonne University on Wednesday, March 10. That game also will be in Mediapolis, with the men's team playing its season opener after the women's game.