Iowa Wesleyan football stumped in return home
Tigers start fast, flutter out in first game at Mapleleaf Athletic Complex in almost 2 years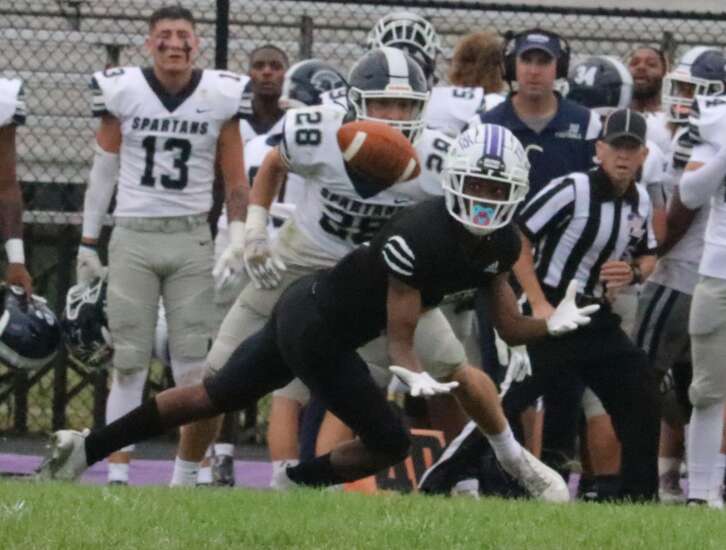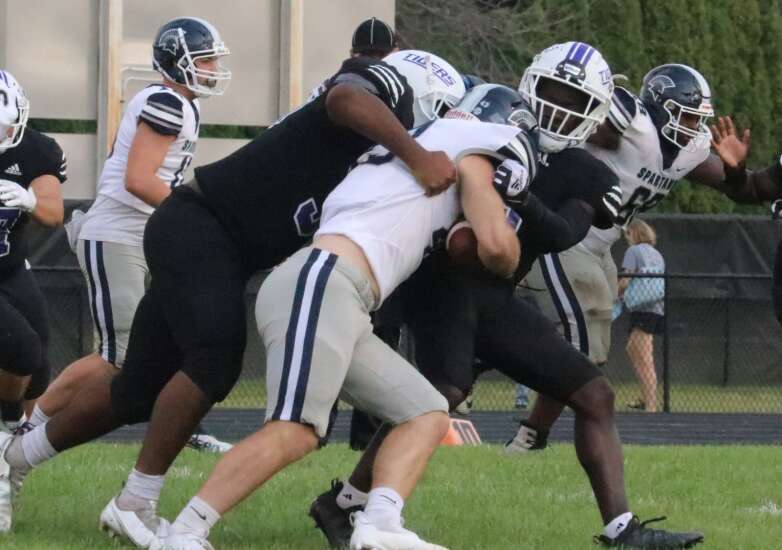 MT. PLEASANT — Iowa Wesleyan's to Mapleleaf Athletic Complex on Saturday began with some big time fireworks, but the Tigers fizzled after a promising early burst.
After scoring the first seven points of the game, the Tigers gave up the next 31 to visiting Missouri Baptist in a 31-7 loss. It was the Iowa Wesleyan football team's first game at Mapleleaf Athletic Complex in 658 days.
"We had many opportunities to stop them, and we had many opportunities to put some points on the board," said Iowa Wesleyan head coach MD Daniels. "We just didn't do it today."
Iowa Wesleyan got out of the gates red-hot. After forcing a Missouri Baptist punt on the Spartans' opening drive, the Tigers blew up a punt attempt and took over control at the Missouri Baptist 25-yard line.
Five plays later, the Tigers were in the end zone. Gavin Esquivel hit Braedin Ross for a 16-yard touchdown pass, and Iowa Wesleyan had its first lead of the season, at 7-0.
And it was almost more. The Tigers followed their opening touchdown by forcing a fumble on the ensuing kick. Jaheem Hampton forced the ball out, and the Tigers had the ball at the Missouri Baptist 27-yard line, with a chance to go up two scores.
Iowa Wesleyan didn't gain a yard in its next possession. Missouri Baptist took over, tied the game on a 56-yard rushing touchdown and went on to pull away for a 24-point victory.
The Tigers looked to have taken back the lead early in the second quarter. Esquivel found Jaden Harris down the Iowa Wesleyan sideline for what could have been an 80-yard touchdown pass. Instead, the officials ruled that Harris stepped out of bounds at the 21, and the Tigers would end the drive getting stopped at the 1.
"They were big plays for us," Daniels said. "Not being able to capitalize about that is a momentum changer."
Missouri Baptist held on to the 10-7 lead at halftime and led 24-7 after three quarters.
Esquivel went 22-for-43 for 210 yards, one touchdown and two interceptions. Harris caught seven passes for 132 yards, and Hezekiah Hunter led the rushing attack with 23 yards on eight carries.
Grequenceo Coge and Chance Colby cooled the Tiger defense with 10 tackles apiece. Hampton's fumble recovery was the Tigers' lone turnover.
Iowa Wesleyan is now 0-2. The Tigers will play at Quincy University next weekend.
"We've got to be able to play four complete quarters," said Daniels. "The good thing is we get an opportunity next week to try again."