It all comes down to this! New London vs. St. Mary's for 1A supremacy
Tigers and Hawks set to clash with state championship on the line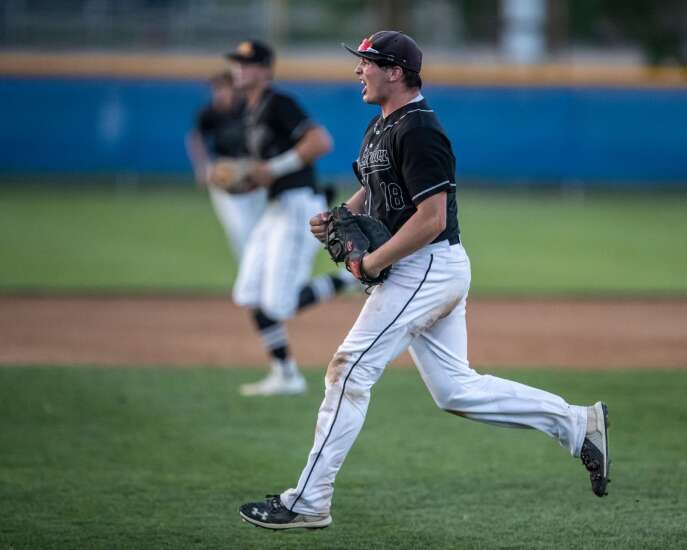 CARROLL — The stage is set for New London.
One final test remains for the Tigers.
The team standing in the way of a state championship for No. 3 New London (30-1) is none other than unblemished No. 1 seeded Remsen St. Mary's (35-0).
"The kids are so excited right now, and I'm so excited for them," New London head coach Brad Helmerson said. "It's the hard work that they've done that has allowed this to happen."
Up until this point and throughout the first two round of the state tournament, it's been utter dominance by both squads.
New London is coming off one of the most commanding victories you will ever see in a state tournament semifinal, a 16-1 victory over second seeded Newman Catholic.
Throughout the first two rounds, the Tigers have shown just how tough they are on both sides of the ball, tallying a runs ratio of 28-4 between their wins over Newman and CAM, Anita (12-3).
St. Mary's hasn't been too shabby themselves.
The Hawks have yet to allow a run in the tournament, outscoring their opponents 16-0. They defeated South Winneshiek 6-0 in the opening round and downed Kingsley-Pierson 10-0 to advance to the title game.
You don't get this far without great pitching and consistently at the plate. Both have shown out in each of those categories.
Everyone will be able to pitch for the two squads with the exception being the two semifinal winners, Seth Bailey for New London and Jaxon Bunkers for St. Mary's.
It's going to be a battle from the hill, that's for sure.
New London's Dereck Santiago (0.86 ERA) will most likely get the start on the hill for New London. The senior slinger had an impressive performance in the win over CAM. He's good to go after three days of rest.
Josh Catala (2.06 ERA) relieved Santiago in game one and was spectacular in closing out the win. He could make an appearance as well. Kooper Schulte, who hasn't given up a run this season, has not seen the mound yet in the tournament.
Brenden Richey (1.86 ERA) and Carter Allen (2.17 ERA) could also go for New London.
For Remsen St. Mary's, ace Carter Schorg (0.22 ERA) will likely start. To go with his mind boggling ERA, he has 100 strikeouts on 208 batters faced and has allowed just 22 hits.
Cael Ortmann (0.78 ERA) has 11 starts with 53 strikeouts on 130 batters faced. Isaiah Gerrietts (0.90 ERA) has the potential to pitch as well.
The Tigers will be up against a tough Hawks lineup as well. Ortmann (. 529 avg, 43 RBIs) leads St. Mary's. They also will see Schorg (. 486 avg, 40 RBIs), Bunkers (. 476 avg, 44 RBIs), Alex Schroeder (. 382 avg, 30 RBIs) and Hunter Pick (. 377 avg, 44 RBIs).
"They're a solid ballclub," Helmerson said. "They have some really good bats and some really good pitching. Our work is really cut out for us."
The game is set to start at 12 p.m. on Friday, with the winner being crowned state champion.