IW's Carl named CAC Sports Information Director of the Year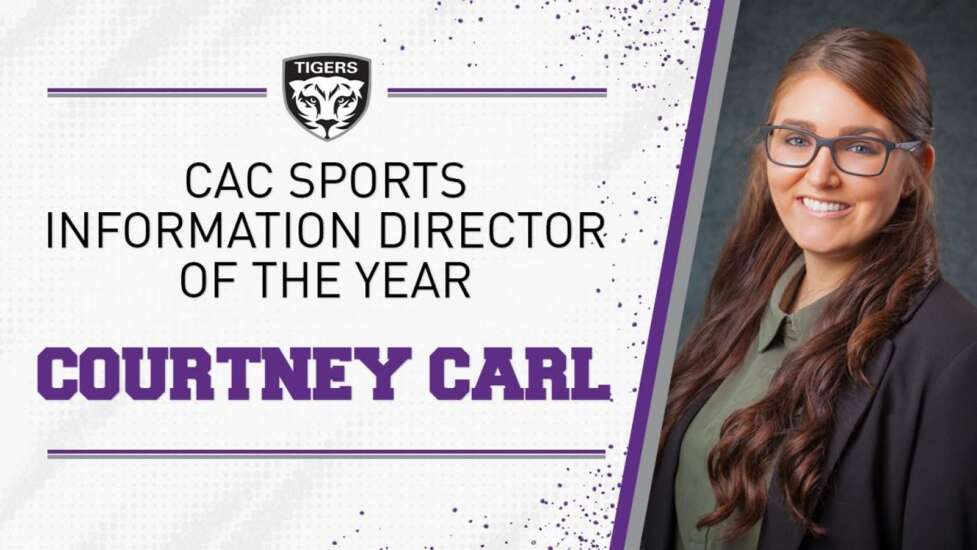 MT. PLEASANT — The Continental Athletic Conference announced the recognition of seven administrators, coaches and student athletes for their exemplary performances during the 2021-22 athletic year.
Courtney Carl, who is Iowa Wesleyan's Associate Athletic Director for Compliance, Marketing and Communications, was named this years Sports Information Director of the Year.
In her third year with Iowa Wesleyan, Carl oversees sports information duties for 18 intercollegiate athletic programs. She serves as the media contact person for the athletic department and is responsible for providing statistics and managing the Tiger athletic website, game stories, and news releases for each program.
"Iowa Wesleyan is grateful for Courtney's efforts throughout her career at Iowa Wesleyan," Vice President for Advancement and Athletics Derek Zander said. "You cannot say enough about Courtney and her dedication to our programs, student-athletes, and the university."
She is also responsible for overseeing compliance for the Tigers within the NAIA guidelines. In addition, she is actively involved across campus in the coordination of athletic and university events as well as serving on campus-wide committees.
Carl joined the Tigers in the summer of 2019 as the assistant athletic director overseeing marketing and communications for the athletic department. In the summer of 2021, she was promoted to associate athletic director for compliance, marketing and communications.
She received her bachelor's degree from Missouri Valley College and a master's degree from Concordia University-Irvine.