Mediapolis climbs past Hillcrest for baseball win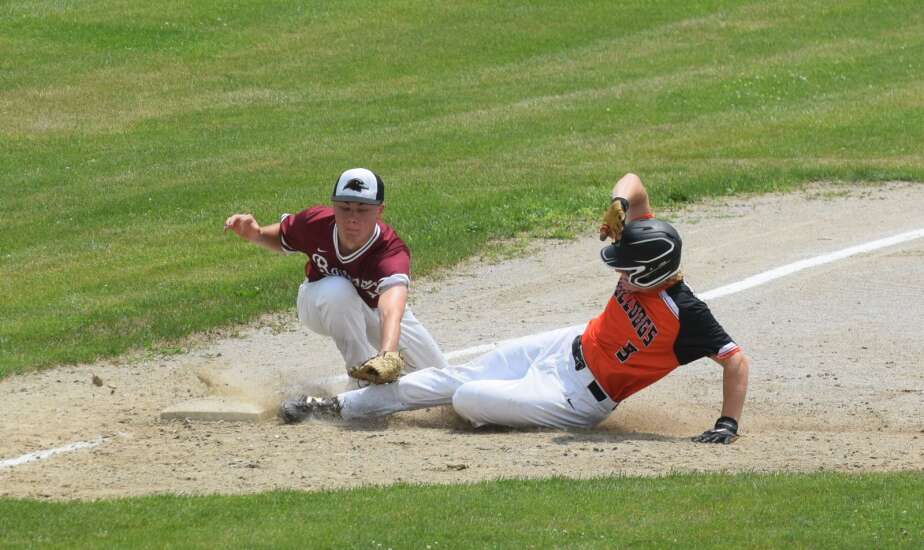 KALONA — Noah Miller had a couple of souvenirs from Wednesday afternoon's matchup of pitchers that turned into a string of hits for Mediapolis.
The Bulldogs weathered Eli Ours setting down the first 10 batters of the game to string together a walk and four consecutive hits in the fourth inning to win a Southeast Iowa Super Conference North Division baseball game 5-1.
Ours has an earned run average of 2.95 while Mediapolis' Ryan Ensminger is at 0.37.
Hillcrest strung together three consecutive hits in the first inning with a London Schrock triple, Luke Schrock single and Jace Rempel single and got its only run of the game. Ensminger settled in and finished with six hits, no walks and four strikeouts. Ours gave up seven hits, struck out seven and walked three.
"The fourth inning was the top of the lineup back up seeing me for the second time around," Ours said. "I think I just left pitches over the plate and they are good hitters. I should've mixed up my locations. I feel like I threw good pitches a few times that they just threw a bat at for a blooper."
Read blooper as lucky.
Hillcrest coach Danny Hershberger said Mediapolis has some of the league's better hitters and it showed. "Eli stayed with his pitches and did not get frustrated with their hits. He did a great job at keeping his composure."
Everyone was impressed with how Miller collected his two souvenirs.
"What a great play," Hershberger said. "He is just fearless out there. He's a hard-nosed kid that we've come to expect great plays from. It was great to see him bounce up and stay in the game."
"I thought off the bat that might have a chance to get out but it was really inspiring to see him run that down," Ours said.
Miller tracked down a deep fly ball for an out, the 10th consecutive to start the game for Hillcrest.
"I didn't think it was going very far but it just kept carrying so I kept running," Miller said. "In my mind I know eventually the fence has got to be there but I wasn't hearing anything from teammates and there is no warning track out there. Right about the time that I caught the ball I just nailed the fence."
Miller crashed into the fence and toppled backward but his arm eventually rose straight up.
"I pulled the ball out of my glove and put it up in the air to make sure the ump wouldn't call something stupid," Miller said.
The souvenirs were a sore knee and a scratch on his left cheek from the fence encounter.
"They hit the ball in gaps and that's what you're looking for in an offense and on defense we have to make sure we are not making errors that lead to runs," Miller said. "They hit the ball with people on base and we didn't."
Hillcrest is 8-7 and 6-5 in the North while Mediapolis is 16-8, 12-2.