Mid-Prairie falls to No. 8, New London gets votes in baseball poll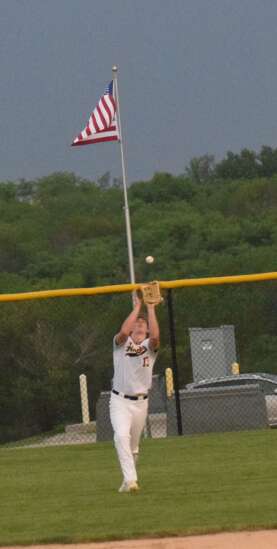 The Iowa High School Baseball Coaches Association has released its second rankings of 2021, the first rankings after games have been played. The previous ranking was a preseason poll.
Mid-Prairie fell from fourth to eighth in Class 2A after losses to Durant, which received votes and Camanche. Both were River Valley Conference games.
Super Conference member New London received votes in 1A but was not ranked this week.
2021 IHSBCA Baseball Rankings — Week 3 of Season, Week 2 of Rankings
Rank Team (Record)
Class 4A
1. Johnston (10-0)
2. Pleasant Valley (7-0)
3. Urbandale (7-2)
4. Waukee (6-2)
5. Dubuque Hempstead (6-1)
6. Dowling Catholic (9-1)
7. Cedar Rapids Prairie (8-0)
8. Ankeny (5-5)
9. Southeast Polk (7-2)
10. Lewis Central (7-0)
Others: Cedar Rapids Kennedy (6-3), Davenport West (7-2), Iowa City West (6-2), Norwalk (7-1), Sioux City East (8-2)
Class 3A
1. Marion (9-1)
2. Wahlert Catholic (7-1)
3. Central DeWitt (6-0)
4. Gilbert (4-2)
5. Winterset (6-2)
6. Independence (9-2)
7. Boone (7-2)
8. Davenport Assumption (6-5)
9. North Polk (3-3)
10. Grinnell (9-1)
Others: Ballard (5-3), Sioux City Heelan (7-1), Decorah (6-2), Webster City (6-1), Cedar Rapids Xavier (5-6)
Class 2A
1. Van Meter (7-1)
2. Roland-Story (7-1)
3. Des Moines Christian (10-0)
4. Centerville (6-1)
5. Dike-New Hartford (8-2)
6. Beckman Catholic, Dyersville (7-3)
7. West Lyon (3-2)
8. Mid-Prairie (5-2)
9. Panorama (3-3)
10. Spirit Lake (6-1)
Others: Durant (4-3), Eddyville-Blakesburg (6-1), Carroll Kuemper Catholic (2-0), Underwood (7-0), Wilton (3-2)
Class 1A
1. Mason City Newman Catholic (10-1)
2. St. Albert Council Bluffs (7-3)
3. Don Bosco Gilbertville (7-2)
4. Remsen St. Mary's (7-1)
5. North Linn (9-0)
6. Kingsley-Pierson (9-0)
7. South Winneshiek (5-1)
8. Martensdale-St. Mary's (6-2)
9. Saint Ansgar (8-2)
10. CAM, Anita (8-1)
Others: Ankeny Christian (7-1), Coon Rapids-Bayard (6-3), New London (4-0), Newell-Fonda (5-4), Woodbury Central (7-2)