Mid-Prairie takes title, Highland progresses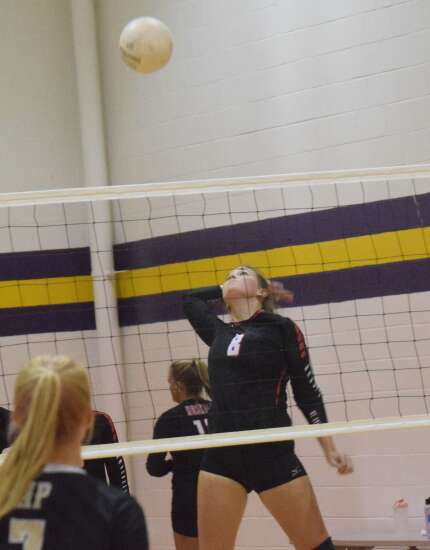 KEOTA — Last year was a shared title with Highland, but Mid-Prairie won the title the previous two years at Keota's season-opening volleyball tournament so Monday's title was the fourth in a row.
Coach Sherry Evans has been at the helm for two titles as she starts her third season as head Golden Hawk for volleyball.
The Golden Hawks started with a win over Lone Tree but it began a little slower than Evans expected. Things progressed once communication improved both on the court and off.
In a 25-11, 25-14 win over Highland, Mid-Prairie saw the Huskies get "into our own heads," Highland head coach Gina Trower said.
Evans said pushing tempo on passing helped a quick offense succeed but it showed her the Hawks need to improve on overall game speed. Mid-Prairie didn't have block opportunities because of a "great job throwing our opponents out of system, so I'm anticipating that area to be one of our strong points in our future matches.
The Huskies offensive tipping and ability to adjust to open areas and record the kill were improvements Trower saw.
Lone Tree is always a fun game for Highland athletes because of the inner rivalry between the schools.
"It is a huge incentive to try their hardest and fight for every single ball, which I feel is what led to our success in the Lone Tree game," Trower said of the 25-20, 25-21 win.
The win put the Huskies in a positive mindset for English Valleys, also a fun match with a lot of back and forth.
" (That) is a terrible nightmare for a coach," Trower said. The close scores were showed coach Highland really fought for ball and win. "We always look forward to the Keota tournament and with this year's pool, Highland faced some challenges on the court but ultimately this was a fun first competition."
MyLei Smith put up 21 assists and four blocks in the three matches while Grace Prybil produced 19 assists for the Huskies. Sarah Burton had 22 kills and 22 digs. Carson Mellinger led in blocks. Jalynn Brown dug up 26 balls and put down 14. Mackinze Hora captained the defense with 36 digs.
Highland plays Pekin Sept. 9.
Landry Pacha, starting her third season as Mid-Prairie's setter, impressed her coach with an "excellent job. One thing I am super excited about is her swinging. Brenna Jehle did a great job setting."
Sisters Maya and Maddie Nonnenmann are strong in the front row and Ella Groenewold "did a great job putting the ball down, " Evans said. She has a freshman, Dakota Mitchell, at libero because she is "such a controlled passer and her, Lanee Duwa, and Cana Rediger are quick little defenders that didn't let many balls hit the floor."
Evans counts on senior Alyssa McDowel to provide the team with great leadership. "She's always talking and very encouraging and the support we have from players off the court is tremendous."
Ainsley Miller and Brylee Gearhart were able to come in and get some touches as well.
Mid-Prairie hosts Washington Thursday.