Mt. Pleasant boys tennis out-swings Fairfield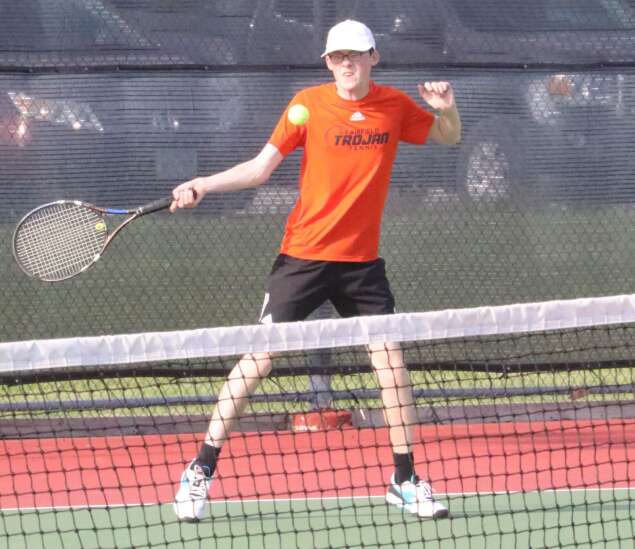 MT. PLEASANT — The Mt. Pleasant boys tennis team held home court against visiting Fairfield on Thursday. The Panthers beat the Trojans 7-2 to complete a regular season sweep.
The Panthers started the day with a 5-1 advantage thanks to strong singles performance. This included a win in a thrilling No. 1 singles match between the Panthers' David Nguyen and the Trojans' Blake Holden.
The two No. 1 players fought back and fourth all the way to a tiebreaker, where Nguyen outlasted Holden 9-8(2).
Fairfield won the No. 2 singles match when Jeremy Goodale topped Mt. Pleasant's Jack Schimmelpfennig 8-6. The Panthers, however, swept the bottom four.
Owen Vansickel defeated Brecken Courtright 8-5 in the No. 3 match. No. 4 Levi Graber knocked off Garrett Flanagan 8-1. Lincoln Henriksen beat Jace Hannes 8-4, and Jake Ensminger beat Tristan Paton 8-1.
Mt. Pleasant won two out of three doubles matches. The No. 2 squad of Nguyen and Graber beat Flanagan and Hannes 8-3. In the No. 2 match, Henriksen and Ensminger took down Courtright and Paton 8-4.
Fairfield got one back in the No. 1 doubles match. The top team of Holden and Goodale defeated Schimmelpfennig and Vansickel 8-5.