Mt. Pleasant volleyball wins SEC
Panthers go 4-1 to take conference tournament, Fairfield plays spoiler in last match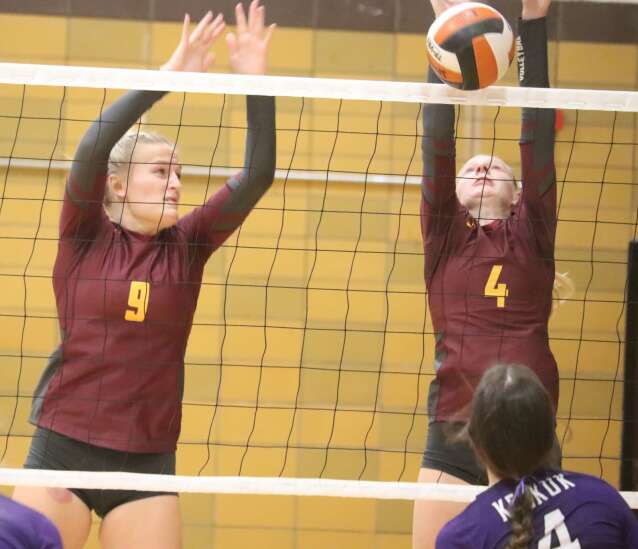 FAIRFIELD — For the second year in a row, the Mt. Pleasant volleyball team is the top of the Southeast Conference.
After topping the SEC in the regular season, the top-seeded Panthers clinched the tournament title on Tuesday night, going 1-1 in Fairfield for a 4-1 record overall.
"They put some determination into it," said Mt. Pleasant head coach David Streeter. "They put some work into it, and the ups and downs — they fought through them."
The Panthers came in to Day 2 with a lead in the round robin, bringing a 3-0 lead into the last night of action. They clinched the title with a 25-15, 23-25, 15-9 win over Keokuk early in the day.
Mt. Pleasant's 4-1 record matches its mark last season, when the Panthers won their first ever SEC tournament.
"The girls in the last couple years have put (work in) the off-season in," Streeter said. "It pays off."
Although it was a banner night for the Mt. Pleasant program, the scene wasn't all hugs and hi-fives as the Panthers left the building. A potential 5-0 run through the tournament was spoiled by Fairfield.
The Trojans had already knocked off Burlington 25-12, 25-15, and had thoughts of a 2-0 second day. Fairfield outlasted Mt. Pleasant 18-25, 25-17, 25-15 in the night's final game.
"It feels amazing," said Fairfield head coach Diana Drish. "It was a lot fun, and this is what volleyball is all about it."
The two-win day put Fairfield at 3-2 overall. They finished third out of the six teams present.
"It's nice to be able to do that if we're home or away," Drish said. "But it's really nice to do it in front of our crowd."
Washington was 1-2 coming into the day, and the Demons went 1-1 to stay above Burlington for fourth place. The Demons began their day with a 25-22, 25-11 loss to Fort Madison, but they knocked Burlington off in three sets (25-21, 9-25, 16-14) to notch a second win.
Washington had to come back in the deciding third set. Head coach Aaron Six said the game reminded him of the season as a whole.
"This last one sums up our season, as far as our fight," Six said. "We could have easily given up early in the season and just written things off, and we could have easily written off this last match about Burlington. We do have that fight, and that's great to see."
In other action, Burlington swept Fort Madison, and Keokuk beat Fort Madison in three sets.
Every single SEC team had at least one win in Tuesday's action, a microcosm of a tight season in conference play. There were two ties in the overall standings but Keokuk got the nod for second over Fairfield due to their head-to-head match, and Fort Madison finished ahead of Washington for the same reason.
FINAL STANDINGS:
1. Mt. Pleasant 4-1
2. Keokuk 3-2
3. Fairfield 3-2
4. Fort Madison 2-3
5. Washington 2-3
6. Burlington 1-4