New London, Mid-Prairie stack All-Union baseball list
Rath captains squad; Tigers lead with 4 players, 1 coach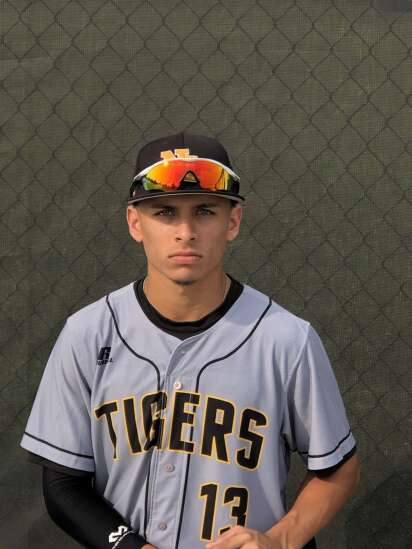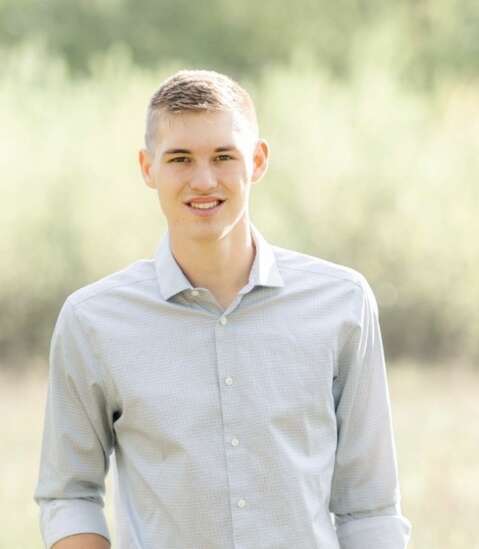 There was a wealth of talent in the Union area's small school baseball landscape in 2021.
With Mid-Prairie returning from a state tournament berth in 2020, New London starting the season 18-0 and many others in the area showing postseason promise, the area had a lot of horses with their nose turned toward the state tournaments in Carroll.
The area's top two teams showed true. When the tournament came around, both New London and Mid-Prairie scratched and clawed their ways to substate finals, and the Tigers broke through to earn a spot in the Class 1A state field.
But it wasn't just those two. The 2021 All-Union squad is a roster full of talent with ace pitchers and start hitters from all around the area.
Still though, the Tigers and Golden-Hawks are well represented. New London had five names on the list, four players and a coach, and Mid-Prairie's Aidan Rath soared to captain honors.
Below is the 2021 small school baseball All-Union list, as chosen by sports editors Andy Krutsinger and Doug Brenneman.
Coach: Brad Helmerson, New London
New London had big expectations this year and for good reason. The Tigers went 14-4 in 2020 and brought a ton of talent back one year later.
Helmerson's squad put up eye-popping numbers in the early games. Through three contests, New London outscored opponents 67-0, and through 18 games, they didn't lose.
The Tigers had just one loss in the regular season, a 4-0 defeat against West Burlington on July 1. After that game, Helmerson's crew won its next eight games, including a 4-3 comeback victory over Sigourney in the substate semifinals and a 4-2 substate final win over Mount Ayr to earn a spot at state.
Although New London was nipped in the state quarterfinals, the Tigers lose just one player to graduation this season, so they'll be among the favorites in Class 1A next year.
Captain: Aidan Rath, senior, Mid-Prairie
Mid-Prairie's Rath was simply an all-around star in 2021.
The Golden Hawks senior led the team with a .494 batting average, a .598 on base percentage and a 1.106 slugging percentage, which was second best in all of Class 2A.
Rath finished the year with 12 doubles, two triples and a class-leading 12 home runs.
Rath also was an absolute force on the mound. He went 5-2 on the year with a 1.60 ERA and 63 strikeouts, twice as much as anybody on the team.
Pitcher: Hecniel Rodriguez, senior, New London
In his first and only season with New London, Rodriguez showed he could be one of the best players on an already strong team.
Rodriguez finished the season 6-1 with a 1.58 ERA and 51 strikeouts. His only loss came in the state tournament.
The senior provided a lot of power to the New London offense. He hit .32 with one double, seven triples, five home runs and 37 RBIs.
Pitcher: Colten Clarahan, junior, Keota
When Clarahan was on the mound, Keota could beat anybody.
The junior ace was 7-1 on the season with a 1.26 ERA and 113 strikeouts. Clarahan finished second in Class 1A with his 113 strikeouts and was just one of four in the class to reach triple digits.
Clarahan led the Eagles at the plate, hitting .417 on the year. He finished the season with three doubles, three triples, a home run and 32 RBIs.
Catcher: Tucker Gibbar, junior, New London
The emotional leader of the Tigers was the man behind the plate. Gibbar was big all year for New London whether catching a talented group of pitchers or getting offense going from the batter's box.
Gibbar hit .427 this year for the Tigers, second best on the team. He led the Tigers with nine walks and finished second on the squad with four triples and 32 RBIs.
His biggest hit came in the state tournament when he put New London on the board early with an RBI triple to left field in their Class 1A state quarterfinal.
Infielder: Ryan Wolf, senior, Van Buren County
Van Buren County slid into second in the Southeast Iowa Super Conference's South Division this year and a lot of that was thanks to their senior standout.
Wolf was electric at the plate in 2021, hitting .461 on the year. He was far and away the Warriors' top power hitter, hitting 18 doubles, one triple and two home runs and leading the team with 28 RBIs.
Karson Grout, freshman, Mid-Prairie
The Golden Hawks were already going to be one of the best teams in Class 2A, but they received an extra boost from Grout, a freshman.
The youngest player in Mid-Prairie's starting lineup raised his batting average by over 100 points from last year, hitting .432, which was second on the team.
Grout had 10 doubles and one triple on the year. He knocked in 33 runs, just seven behind Rath for the team lead.
Infield: Blaine Bryant, junior, Cardinal
The Cardinal junior class has been a catalyst to its athletic success for the last couple of years, and they kept at it in 2021.
Bryant was the leader of the Class of 2022 on the baseball field in Eldon this year. He was the most reliable hitter in the entire Comet offense.
Bryant hit .449 on the year, which led the Comets. He paced the team with 10 doubles and 22 RBIs and sent one ball over the fence this season.
Infield: London Schrock, senior, Hillcrest Academy
Rounding out the infield is the eldest Schrock on the Hillcrest baseball team.
Schrock hit .407 this year for the Ravens. He knocked around eight doubles and led the team with three triples and three home runs. His 34 RBIs were second-best on the team.
Schrock was valuable on the mound for Hillcrest, finishing the year with a 3.62 ERA and 21 strikeouts.
Outfield: Josh Catala, New London
Having a leadoff hitter like Catala didn't hurt a New London squad that scored runs in bunches this season. The junior outfielder did a bit of everything to help the Tigers make state.
At the plate, Catala hit .462 with three doubles, three triples, two home runs and 26 RBIs.
And when he needed to pitch, he was more than good. He finished the year with a 0.81 ERA and 31 strikeouts, while going 4-1 on the mound.
Outfield: Casey Yochum, sophomore, Van Buren County
Yochum was extremely valuable to the Warriors in his sophomore year. He was one of just two VBC players to hit over .400, ending the year at .416.
Yochum had five doubles on the year and one triple. He led the team in home runs, with three.
Outfield: Camden Kasel, junior, New London
Patrolling the outfield for New London this year was Kasel, a junior who got on base more than half his at bats this year, with a .541 on base percentage.
Kasel hit .423 this year, adding another tough bat to the middle of the Tiger lineup. He finished the season with two doubles, two triples and 26 home runs.
Utility: Chase Schultz, junior, Highland
Whether the Huskies were on offense or defense, Schultz was making a difference.
At the plate, he was one of their top hitters, batting .343 on the year and slugging four doubles. He brought in 15 RBIs.
Schultz was good on the mound as well. He was Highland's top pitcher with an 8-2 record, a 1.15 ERA and 74 strikeouts.
Utility: Chase Stansberry, junior, Pekin
Stansberry was Pekin's top hitter by far this season, leading the Panthers by almost 90 points in average.
Stansberry hit .452 this year with eight doubles, one triple, two home runs and 34 RBIs.
He earned a utility spot because he also was big on the mound. He went 3-3 pitching this season with a 2.38 ERA and a team-leading 73 strikeouts.