New London softball survives Mt. Pleasant
Tigers score 4 runs in the 5th to rally past Panthers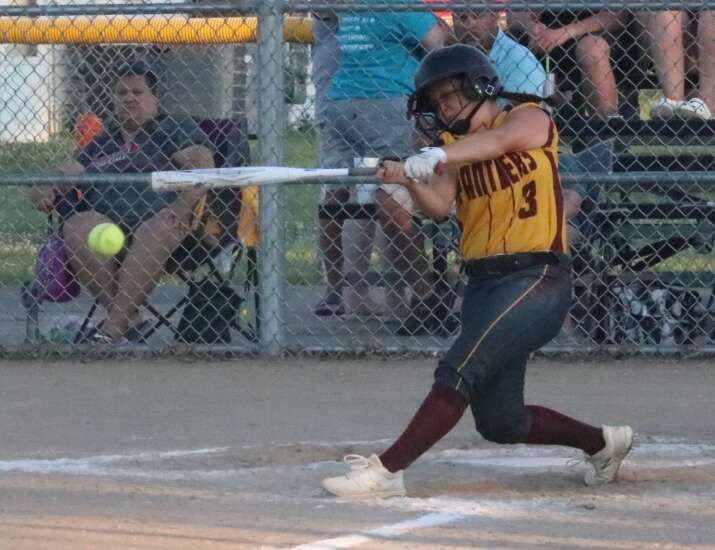 NEW LONDON — A four-run fifth inning helped New London get past Mt. Pleasant 7-6 in a non-conference game Wednesday night. It was the second-straight win for the Tigers in the rivalry.
The Tigers had to battle back on two separate occasions. Mt. Pleasant held a 2-0 lead after the top of the first and led 4-2 going into the bottom half of the fifth.
"It was two evenly matched teams the whole game," said New London coach Mark Chiri. "It was going to be the team that made the least amount of mistakes. We made mistakes early, and they made mistakes late."
Trailing 4-2 in the fifth, New London scored four runs in the frame to take its first lead, and then tacked on one in the bottom of the sixth to take a 7-4 lead into the final inning.
Mt. Pleasant didn't go down without a fight. The Panthers scored two runs in the top of the sixth before recording an out.
Eighth-grader Bethany Drury played a huge role in Mt. Pleasant's comeback attempt. First, she came in to pitch to help Mt. Pleasant escape a jam in the bottom of the fifth. After allowing just one in the sixth, she came to the plate with two on and nobody out and delivered an RBI single to right field.
"It was hard on a coach to have to put an eighth-grader in there," said Mt. Pleasant coach Mike Beason. "I was proud of her, because she really sucked it up and kept us in the game."
Jersey Beachy scored on a double-steal to cut the Tigers' lead to one. Courtesy runner Courtney Raub scampered to third base with two outs, but New London pitcher Elly Manning forced a two-out ground out to finish the game.
The Tigers slugged out 14 hits in the win. Marah Hartrick was on fire all night, going 3-for-3 with a triple, a double and two RBIs.
"I was feeling pretty confident tonight," Hartrick said. "We hit in the cage beforehand, and I was feeling pretty good about my swing."
New London eighth-grader Morgan Jones went 2-for-2 with an RBI. Ashlyn McSorley was 2-for-3 with a double and an RBI, and both Natalie Burden and Haley Rohdy knocked in a run.
Manning earned the win on the mound, giving up six unearned runs on five hits and three walks, while striking out eight batters.
Mt. Pleasant had eight hits in the loss. Grace Kelley was the only Panther with multiple hits, going 2-for-3 with a double and an RBI. Drury went 1-for-1 with two RBIs. Lydia Ebeling was 1-for-2 with two RBIs. Madison Helling knocked one run in, and Beachy finished with a double and three runs scored.
Helling started the game for Mt. Pleasant and threw 4⅔ innings, giving up six runs (four earned) on eight hits and three walks, while striking out two batters.
New London moved to 3-8 after the win. Mt. Pleasant fell to 0-11.