New London's Benjamin defends high jump state title
Tiger's Martin runs to third-place in 800-meter
DES MOINES — For New London high jumper Kade Benjamin, it has been a story book ending of a week.
Despite injuries suffered during the basketball season and early on in the track and field season, which slowed his postseason high jump preparation, Benjamin found himself once again at the peak of the Class 1A high jump pyramid at the Iowa High School Track and Field Championship at Drake Stadium.
Last years Class 1A high jump champion defended his title in 2023.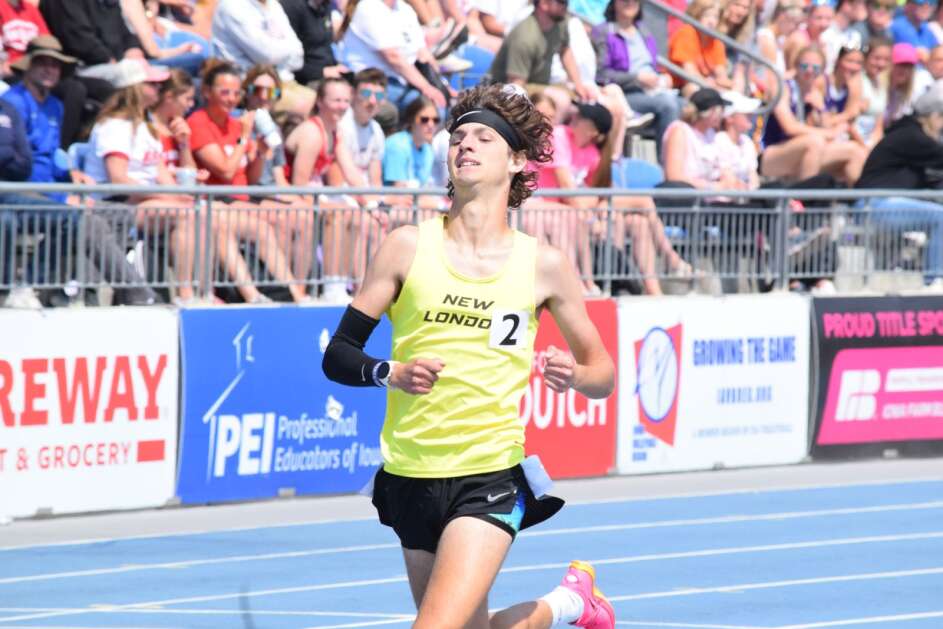 Benjamin cleared 6-foot-7 on his first attempt and the jump would make Benjamin the back-to-back champion.
For Benjamin, who will be taking his talents to Oklahoma State next fall, it's a surreal moment.
"I got the back-to-back and getting to go to graduation on Sunday, finally getting to graduate this is the perfect week," Benjamin said. "Nothing's better than this, it can't peak from here. You always wanna try to go out on top."
It's been an up and down journey for Benjamin, who began jumping at Linn-Mar in middle school.
"My high jump journey hasn't been like most probably," Benjamin said. "In 7th grade I was at Linn-Mar so I high jumped there. Then in eight grade I when I moved to New London, I broke my foot. So I didn't get to jump and then freshman year was COVID. Sophomore year I jumped on a sprained ankle at state and these last two years have been great. I wouldn't trade the journey for anything."
For Benjamin, the competition is one thing, but the brotherhood between jumpers is all the more bittersweet.
In 2022, Benjamin jumped against Lisbon's Luke Czarnecki for the title and this time around it came down to Benjamin and fellow Southeast Iowa Super Conference jumper, Columbus' Triston Miller.
Miller — who was a third-place finisher a year ago and the runner-up this time around with a jump of 6'6 — and Benjamin have competed all season long.
"It's awesome just knowing we bring so much kids from Southeast Iowa," Miller said. "It's a great feeling to know my friend won a state championship, and that I'm right behind him."
"You always see them throughout the year, whether it be in basketball or track," Benjamin said. "This is a little different from basketball though. In this they cheer you on and you cheer them on. You get that adrenaline boost when your jumping. Everyone gets close when your jumping. Building that camaraderie helps everyone."
Along with Benjamin's title, New London's Rylan Martin put together a personal record run in the 800-meter.
Martin finished third overall with a time of 1:57.47. Martin finished second in the third and final heat, but took third by three hundredths of a second.
"I felt like I had a pretty good run," Martin said. "I got boxed in at the start, but knew that I had a good kick. I started to catch him (St. Edmond's Aaron Lursen) and I felt like if I had about 20 more meters I could have caught him. I was making ground in the last hundred, but he just put too much on me."
"Huge shoutout to Seth Bailey, who has been helping me and basically planning out my season and preparing me for this race," Martin said. "Thank you to coach Lance (Ingwersen) for always trusting in me. This had been a lot of fun."
Martin also ran a personal record for 15th in the 1600-meter, clocking 4:37.88.
The Tiger's distance medley of Boden Pickle, London Franklin, Brigham Porter and Martin ran to seventh-place finish with a time of 3:40.67.
In the 4x100, Pickle, Franklin, Benjamin and Porter ran 44.84 for 11th overall.
In the sprint medley, Pickle, Porter, Franklin and Benjamin finished 16th with a time of 1:37.87.
Pickle finished 20th in the 100-meter dash as well, running 11.81.