No. 1 Notre Dame, Mediapolis advance from WACO pool
WACO, Pekin, Cardinal finish 3rd, 4th, 5th in tourney play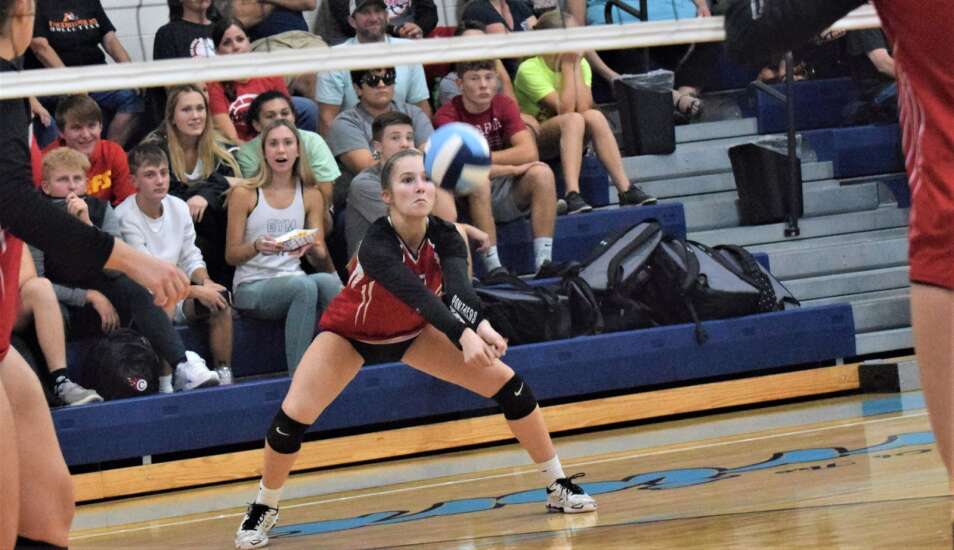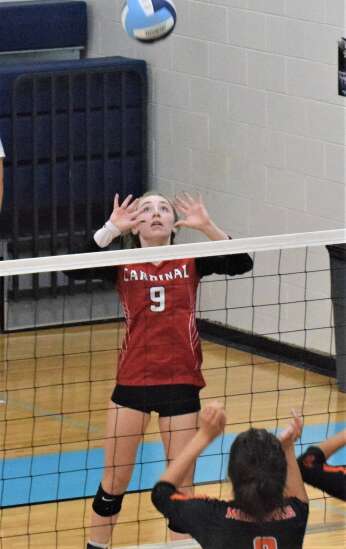 WAYLAND — It was no surprise the top two seeds — Class 1A's top-ranked Notre Dame and perennial power Mediapolis — advanced to Saturday's Southeast Iowa Super Conference Tournament finals from Thursday's pool play at WACO High School.
It may have been a surprise that the only set Cardinal won was against one of the two teams advancing from pool play.
"That should show the girls that they have the ability, they just need more confidence," Cardinal head coach Candace Guiter said. "We are really young so it just shows what we can do."
Cardinal went 0-4 and has a 2-15 record overall. The Comets lost to Pekin 21-16, 21-19; WACO 21-7, 21-8; Notre Dame 21-5, 21-1 and the last match of the night was Mediapolis 20-22, 21-12, 15-11.
Cardinal returns to WACO Monday for a best-of-five South Division match with the Warriors, who have a 12-8 record and will then play at Lone Tree Tuesday.
WACO notched a 21-6, 21-15 win over Pekin but lost to Mediapolis in a strange swing of scores, 21-19, 7-21, 15-12. To advance, the Warriors needed a win against Notre Dame in their last match of the evening but lost 21-6, 21-14.
Grace Coble's 53 assists helped Emma Wagler lead in kills with 24 and Ellah Kissell added 20 for WACO. Jocelyn Fulton had 32 digs, Katie Leichty 4.5 blocks and Marie Farmer six aces.
Pekin is 6-9 after going 1-3 (Notre Dame won 21-4, 21-10; Mediapolis won 21-13, 21-9) and plays Tuesday at Louisa-Muscatine.
Emma Phillips had 4.5 blocks and nine kills on the night. Panther teammate combinations of Quinn Baker and Taylor Gambell put up 18 assists while Delainie Batterson and Alex Parsons dug up 26 balls.
Notre Dame went 4-0 and is 24-6 overall. Mediapolis was 3-1 (loss to Notre Dame 21-13, 21-9) and is 8-9. Both Mediapolis — against West Burlington — and Notre Dame — against Winfield-Mount Union — will play at 5 p.m. Saturday at Southeastern Community College in West Burlington.