No. 13 Winfield-Mt. Union sweeps Highland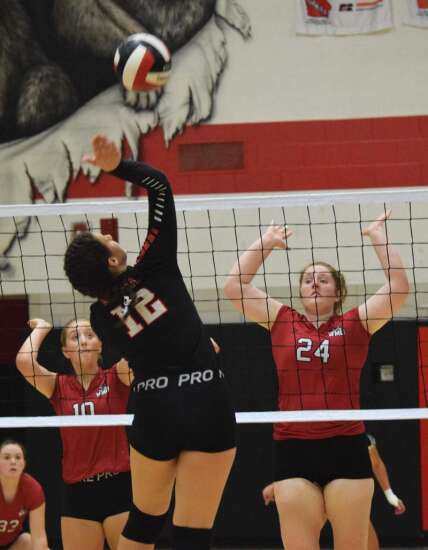 WINFIELD - No Jenna Buffington, no problem for the Winfield-Mt. Union volleyball team.
W-MU, which moved up from No. 15 to No. 13 in the Iowa Girls High School Athletic Union rankings Thursday celebrated that move with a 3-0 Southeast Super Conference North Division victory over the visitors from Highland.
Buffington was injured early in Wednesday's practice so the Wolves had to pull together, draw on their combined experience and step up their game.
'I thought we responded excellently," W-MU coach David Pieart said. 'We had three-quarters of a practice to change our lineup (Wednesday). I thought everybody stepped up. We have a lot of experienced players. We had to rearrange some people."
It was obvious the Wolves were a bit out of sorts in the first set, which was tied at 5, 6, 9 and 10. The Wolves started to pul away and a kill by Melina Oeping gave WMU its largest lead of the opening set at 18-12. Highland closed the gap to a deficit of 20-19 behind Mylei Smith's serving, but a kill by Anna Hudson ended the first set at 25-21. 'I've improved since last year and I think our whole team has definitely improved," Hudson said. 'Seeing Buffington hurt) left us all kind of nervous but I think we gathered ourselves and played as a team. We really pushed through. We all had a chat and decided we were going to do this together. It was not a thought of 'oh no, what are we gonna do now,' it was we are going to do this together. We just decided to push ourselves to work even harder."
The Wolves found a groove in the second set, racing out to a 13-4 lead behind Carlee Sloan's, Jamie Wilkerson's and Kyndal Townsley's serving. The Wolves won 25-7. 'We did a good job of distributing on offense to get kills and I thought our serving was good," Pieart said. 'We toughed it out in Set One and then did really well in two and three."
The Wolves asserted themselves again in Set Three, pulling away from a 10-5 advantage behind kills from Madie Anderson and aces from Molly Miller for an 18-11 advantage. An ace from Kayla Edwards finished off the set and match at 25-12.
'We do so much defense and so much conditioning," Hudson said. 'All of our drills require us running everywhere, we are never walking."
Highland co-coaches Emily Hegenbart and Gina Trower saw improvement from their team.
'I saw our girls work their butts off," Trower said. 'They were hitting their cover. They were hitting hard. We need to learn a little bit more about pushing off balance, which is our weakness right now. I know when it comes to our back row, our receiving is amazing. My girls have been improving constantly, And that's what matters. We don't look at scoreboard, we look at improvement."
'That team can still play," Pieart said.
He was not as excited about being ranked.
'Being ranked puts a target on our back. I appreciate that they are recognizing that we have a good start to the season but teams that might not of paid attention to us are definitely going to notice us now."
Hudson was elated over the recognition.
'It is amazing to be ranked, especially since we were 15th and now we are 13th," she said.
W-MU is 12-3, 4-0. They'll play two games at Holy Trinity on Monday, Sept. 23.
Highland is 2-10, 0-5. Their next game is at home against Columbus on Thursday, Sept. 26.