No. 15 Fairfield's 2nd half difference in soccer win over Washington
Stout ties Demons career goal record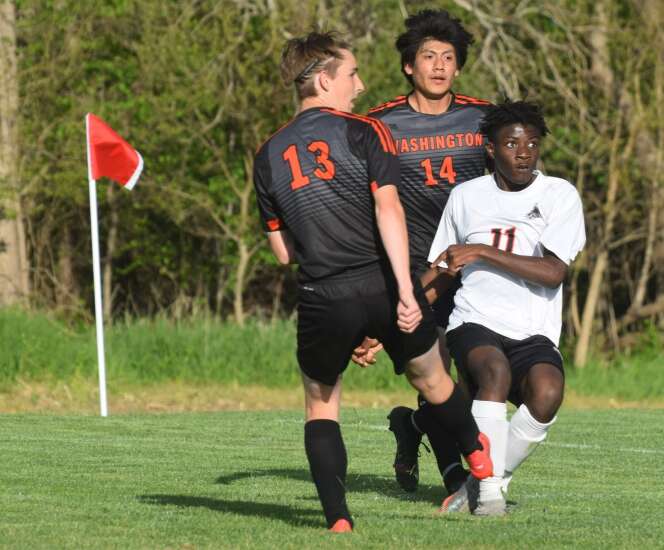 Washington — It was a tale of two halves for the ranked (No. 15 in Class 2A) Fairfield Trojans and Washington Demons Thursday in a Southeast Conference rematch of an earlier game in Fairfield, won in overtime by the Demons.
Washington took a 1-0 lead when Zac Stout tied the school record for career goals 9 minutes into the first half. It was 1-1 at halftime because of an own goal.
Fairfield coach Felisto Guezimane's halftime speech energized the Trojans to find the net for a 4-1 triumph.
Just over 4 minutes into the second half, Xavier Kapijimpanga blasted a point-blank shot at Washington keeper Cole Anderson, who deflected it, but the ball trickled over the line for a goal.
"We played pretty good, but we just missed so many shots, and they were good shots," Guezimane said. "I talk to the team about control of the tempo at the halftime, and we came out with more intensity in the second half. We were more aggressive, especially in front of the goal and to get that one really helped us with confidence."
A foul in the box gave Christian Bowman a penalty kick and with 25:00 remaining it was 3-0.
Kapijimpanga put an insurance tally up from an impossible angle for the final score. On the left wing deep on the field, a foot from out of bounds, Kapijimpanga squared up to force a trailing defender to pick a side.
"I go both ways with my feet, and he gave me the left with the defenders all in front of the box, it left the keeper exposed," Kapijimpanga said. "I just slotted it to the back post."
The angle seemed impossible for a fan watching but for him it's all about the practice, the time, the work, he puts in.
"It was all about the curve, and I shoot up to 200 shots a day," he said. "I don't know how it would've been without the wind but when the wind is blowing, you got to play it."
Playing from behind was challenging for the Trojans, but teammates helped weather those challenges.
"I trust my team because we've been in a down position this year, and we always come back," Kapijimpanga said. "I think we're good at handling pressure."
"I think we needed to go to the ball more, " Washington coach Sally Hart said. "We did not go hard enough and that created opportunities for them."
The Trojans had 27 shots, 12 on goal.
"I couldn't have asked any more of Cole," Hart said of her keeper. "Simeon Buie was like a second goalie for us with his defense."
Stout's 24th goal this season gives him 29 for his career, matching Mason Quigley's four-year career in three seasons since the pandemic kicked away the 2020 season. Quigley notched 12 goals his senior year in 2014.
Washington is 7-4, 6-3 in the SEC while Fairfield is 8-3 and 6-3 in the SEC.