Pekin girls walk-off in Game 1, lose Game 2 in rare SEISC North doubleheader
Roth, Miller team up to deliver game-winner; Wapello rebounds in nightcap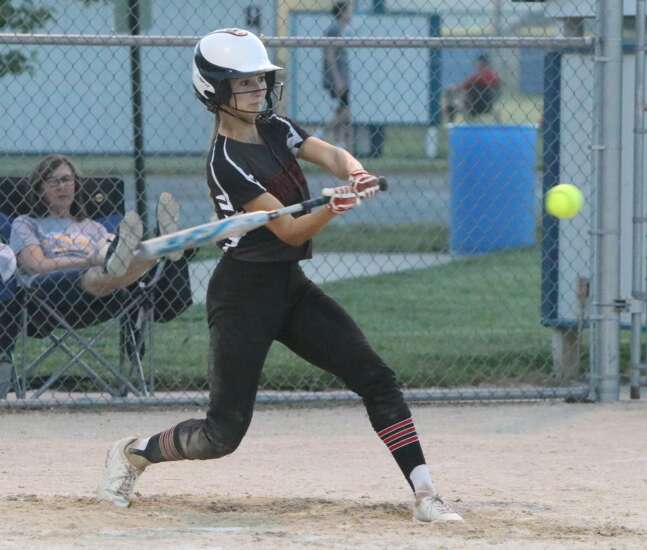 WAPELLO — A rarity happened at the Wapello softball field on Wednesday night. It was the hosting team that fell victim to a walk-off winner.
In the first game of a rare Southeast Iowa Super Conference North Division doubleheader, it was Pekin that was the assigned home team in Game 1, and it was Pekin that celebrated a thrilling 6-5 win, one that preceded an 8-4 loss in Game 2.
With the game tied 5-5, Panther junior Claire Roth led the seventh inning off with a single, and eventually came around to score on a throwing error. Brooke Miller laid down a bunt to move her over, and a Wapello throwing error led to Roth scampering home.
"The kids competed in the first game, and they never gave up," said Pekin head coach Lisa Crabtree. "Kudos to the kid for getting the bunt down and putting it in play with us."
It was Roth's second hit of the game. Miller and Kendyl Noel had two hits and one RBI apiece, and Myah Bainbridge knocked one in.
"We've been working really hard on our hitting," said Roth. "It's been working out for us. We'll get on. We'll make contact. We work hard."
Game 2 didn't go quite as well. After one Pekin run in the first inning, Wapello responded with seven of their own in the bottom half, a mark the Panthers could never catch up to.
"Sometimes you have a snowball effect," said Crabtree. "Sometimes that happen, but after that we came back and played really, really well."
Pekin is now 5-7 overall and 4-6 in the North Division. The Panthers travel to Winfield-Mount Union (4-7, 4-7) on Thursday.