Sobaski 1st at cross-country race at Lynx Invitational, Demon girls 5th
Senior sets school record with winning time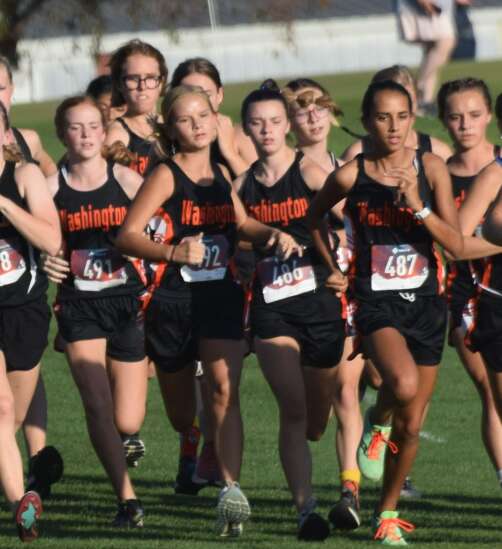 TROY MILLS — It was a long week with homecoming at Washington but the Demons took it in stride and Lance Sobaski's strides created a new cross-country school record. In Saturday's 40th Annual Lynx Invitational, Class 3A No. 20-ranked Washington placed fifth in the girls field among 13 teams, nine ranked. Washington's boys, ranked at 17, were seventh in an 18-team field with eight teams ranked.
Sobaski won the boys individual title in 16 minutes, 5 seconds, the fastest a Demon has run any cross-country race. Teammate Micah Rees placed 10th in 16:56.
"We had a lot of personal records," WHS coach Stefanie Haworth said. "All the teams that beat us should have according to the rankings, so we're very pleased with how everyone ran."
Washington's top female finisher was Quincy Griffis in 19th. The spread from the Demons No. 1 to No. 7 finisher for the girls was 25 (19-44) while the boys was 83.
Class 3A second-ranked Marion had three boys finish in the top seven and rolled to the team title. Class 3A top-ranked Solon won the girls title. Addison Grady of Hudson won the individual title in 19:37.
GIRLS TEAM SCORES
1. Solon 40; 2. Tipton 89; 3. Marion 105; 4. Williamsburg 143; 5. Washington 158; 6. Hudson 186; 7. Clear Lake 205; 8. Regina 207; 9. North Linn 210; 10. Benton Community 228; 11. Starmont 243; 12. Grundy Center/Gladbrook-Reinbeck 295; 13. Independence 366
Washington — 19 Quincy Griffis 21:09, 27 Lauren Horak 21:30, 33 Isabella Lujan 21:43, 38 Taylor Bartholomew 21:50, 41 Kendall Hinrichsen 22:03, 44 Alyvia Anderson 22:22
BOYS TEAM SCORES
1. Marion 47; 2. Tipton 90; 3. Solon 94; 4. Williamsburg 129; 5. Maquoketa Valley 159; 6. Grundy Center/Gladbrook-Reinbeck 165; 7. Washington 180; 8. Regina 217; 9. Starmont 234; 10. Benton Community 272; 11. Hudson 278; 12. North Linn 329; 13. Clayton Ridge 330; 14. Clear Lake 376; 15. Alburnett 386; 16. Edgewood-Colesburg 470; 17. Independence 501; 18. Midland 519
Washington — 1 Lance Sobaski 16:05, 10 Micah Rees 16:56, 39 Drew Horak 18:12, 50 Tyler Alderton 18:27, 80 Quinn Wubbena 19:50, 82 Kael Malichky 19:59, 83 Elijah Morris 19:59