Solon strikes down Washington in football
Spartans get 3 scores, each on 1 play, first 3 possessions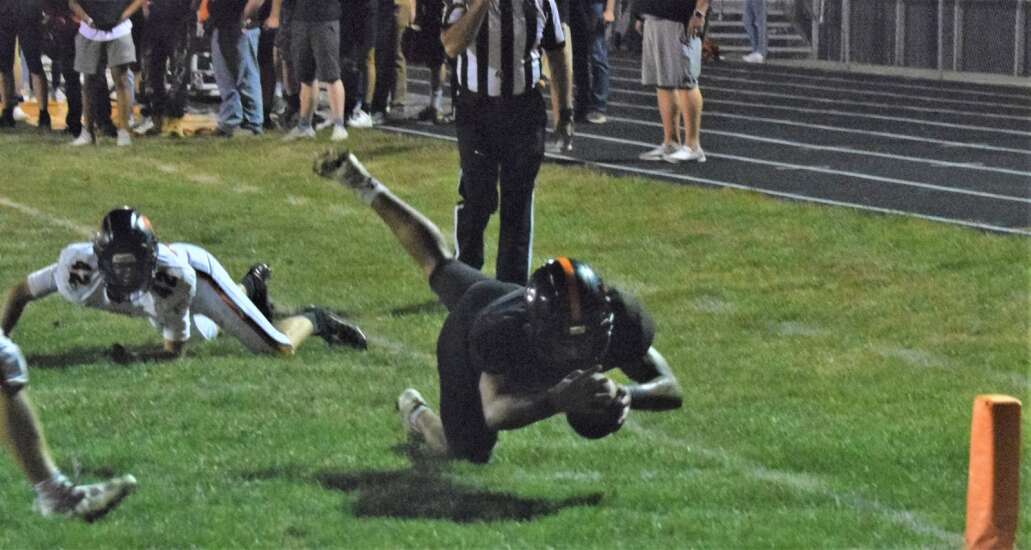 WASHINGTON — It did not take long for the visitors to assert their abilities at Washington's Case Field Friday in a 44-21 Class 3A District 5 win for Solon.
Sean Stahle scored on an 80-yard bomb on the Spartans first play from scrimmage. Blake Timmons ran in a 55-yard touchdown on the Spartans second play. The Spartans did not need a play from scrimmage to make it 21-0. Stahle returned a punt 74 yards with 5 minutes, 17 seconds remaining in the first quarter.
"We showed the kids a lot of film that convinced them Washington is better than that record," Solon head coach Lucas Stanton said. "We knew we had to get on top of them as fast as we could. I'm happy that our kids executed as well as they did."
"They caught us out of position and we missed tackles on the punt," Washington head coach Nick Ehret said. "We didn't dress a lot of guys and then we bodies started dropping. It's tough. It's emotional."
If the Demons were questioning themselves, Lucas Kroll had an answer. He scored a 73-yard touchdown when he caught an Ethan Patterson pass at the 35, absorbed two solid hits, drug one would-be tackler along for 10 yards before shedding him, then racing two more Spartans to the end zone. It was 21-7 with 4:04 remaining in the first quarter.
The inspired Demons held the Spartans on a fourth down to gain possession but had to punt. Kroll intercepted the first play after the punt and ran it in for a touchdown and what now seemed to be a 21-14 game, seemed to be. Multiple penalties not only eliminated the score but field position as well. The ball was set at the Demon 40. Washington went three and out.
"That was big," Stanton said. "It killed the momentum for them."
"That kind of sums up our year," Ehret said. "We have a big play swing things in our favor and it gets snuffed out pretty quick."
Back to that talent. Solon put together a 71-yard drive with the 12th play an incredible leaping diving one-handed catch in the end zone by Jacob Quillin for a 28-7 score at the half.
Timmons went 61 yards on a scramble on the first scrimmage play of the second half. Now it is 35-7. Zebidyah Kleinsmith blocked a Demon punt out of the end zone for a safety. Backup quarterback Brayden Ruskey scored for a 44-7 lead.
Patterson ran in a couple of scores in the last 5 minutes of the game.
"Our kids never quit. They showed a lot of heart and that means so much to me," Ehret said.