South Iowa Cedar League names baseball elite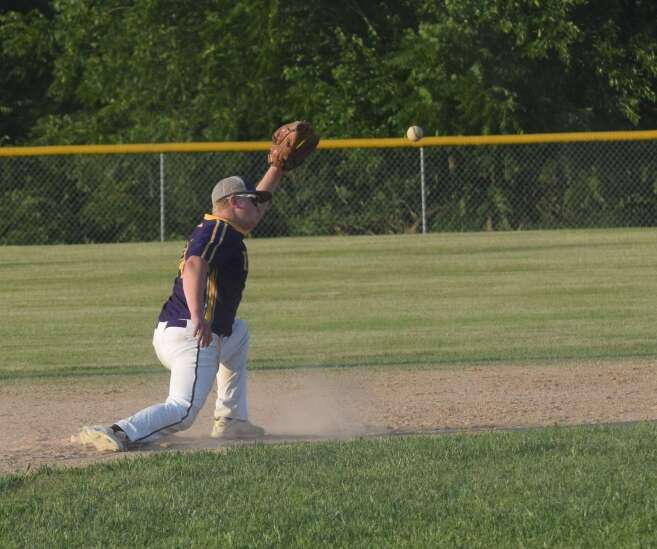 The South Iowa Cedar League has released its All-Conference teams for the 2021 season in baseball.
The league champion Sigourney Savages were led by head coach Lee Crawford, who won Coach of the Year.
Four other Savages were first team selections.
Keota had five players garner honors. Two Eagles were picks for first team honors in Colten Clarahan and Brady Duwa. Carson Sprouse was chosen for the second team. Patrick Clarahan and Max Johnson received honorable mention.
On the mound, Clarahan led the South Iowa Cedar League in strikeouts, but at the plate, he was one of three players in the SICL who struck out three times or less.
Duwa led the South Iowa Cedar League in home runs with twice as many as second place. Clarahan batted in more runs (32) than everyone in the league except Cade Striegel (36) of Sigourney. Duwa was 12th with 21. Duwa was eighth in total bases and Clarahan 10th. Clarahan tied for second in triples and Duwa eighth.
Duwa was 10th in slugging percentage at .592 and Clarahan 12th at .583.
Clarahan batted .417, which was 11th in the league. Sprouse batted .373 (20th) and Duwa was at .329 (30th). Sprouse was 10th in on base percentage at .533, Clarahan 16th at .517 and Duwa .414.
Keota had two of the four top pitchers with Sprouse and Clarahan. The earned run average of Clarahan was second (1.26) and Sprouse's was fourth (1.59). Opponents batted .068 against Clarahan, best in the league. Sprouse was 10th at .172.
Clarahan, who had a 7-1 record, was sixth in innings pitched. Sprouse threw 44 innings, eighth most.
Clarahan struck out 113 opponents, walked 27 and gave up 14 hits. He hit more batters than anyone (12) in the league. Sprouse plunked seven, struck out 61 and walked 20.
Clarahan's walks plus hits per inning pitched was first in the South Iowa Cedar League at 0.82. Sprouse was at 1.27, 11th best.
All-South Iowa Cedar League baseball
FIRST TEAM
Pitcher — Colten Clarahan, junior, Keota
Pitcher — Blake Readshaw, senior, North Mahaska
Pitcher — Beau York, junior, HLV
Catcher — Dylan Klinker, senior, North Mahaska
Catcher — Cade Streigle, junior, Sigourney
Infielder — Josh Mohr, senior, Sigourney
Infielder — Sam Terpstra, junior, North Mahaska
Infielder — Conner Maston, sophomore, Lynnville-Sully
Infielder — Cole Watts, senior, Montezuma
Infielder — Ethan Kupka, senior, HLV
Outfielder — Cade Molyneux, junior, Sigourney
Outfielder — Brady Duwa, senior, Keota
Outfielder — Jaxon Kressley, senior, Belle Plaine
Outfielder — Cole Stephenson, senior, English Valleys
Utility — Boston York, freshman, HLV
Utility — Eddie Burgess, junior, Montezuma
Utility — Bo Schmidt, junior, Sigourney
Coach of the Year — Lee Crawford, Sigourney
SECOND TEAM
Pitcher — Ty Kelderman, senior, North Mahaska
Pitcher — Owen Cook, sophomore, Montezuma
Pitcher — Trase Kriegel, senior, BGM
Catchers — Corder Noun Harder, freshman, Lynnville-Sully
Catchers — Jake Moel, junior, BGM
Infielder — Levi Crawford, junior, Sigourney
Infielder — Caleb Rea, sophomore, Lynnville-Sully
Infielder — Carson Sprouse, senior, Keota
Infielder — Dayton Pace, senior, Tri County
Infielder — Ty Alcott, eighth, Belle Plaine
Outfielder — Cole Bracewell, junior, Colfax Mingo
Outfielder — Caden Knapp, sophomore, Iowa Valley
Outfielder — Grant Smith, senior, North Mahaska
Outfielder — Cole Fontinel, freshman, HLV
Utility — Connor Van Zee, junior, Montezuma
Utility — Jacob Maurer, sophomore, BGM
HONORABLE MENTION
BGM — Joe Irlbeck, junior; Shamus Keller, sophomore
Belle Plaine — Keaton Parrott, sophomore; Jackson Tegeler, senior
Colfax-Mingo — Cael Bracewell, freshman, Zach Steenhoek, senior
HLV — Marcus Kolesar, senior; Max Henstorf, freshman
Iowa Valley — Evan Kearney, sophomore; Eli Slaymaker, senior
Keota — Max Johnson, senior; Patrick Clarahan, senior
English Valleys — Ty Moore, junior; Kaden Hall, junior
Lynnville-Sully — Braden Alberts, junior; Owen Norrish, junior
Montezuma — Cam Johnson, senior; Colton Benson, sophomore
North Mahaska — Nash Smith, sophomore; Jaydyn Steil, junior
Sigourney — Jake Moore, junior; Max Phillips, sophomore
Tri-County — David Gillam, sophomore; Eli Molyneux, sophomore
South Iowa Cedar League Final Standings
Team SICL Overall
Sigourney 13-3 19-6
North Mahaska 12-4 22-6
Lynnville-Sully 12-4 18-11
Keota 11-5 15-8
Montezuma 10-6 13-7
HLV 10-6 12-11
Belle Plaine 8-8 10-15
Colfax-Mingo 5-11 8-15
BGM 5-11 6-15
English Valleys 6-10 6-16
Iowa Valley 4-12 4-16
Tri-County 0-16 1-19