Sprouse's 7th-inning hit, Clarahan 1-hitter helps Keota defeat Highland baseball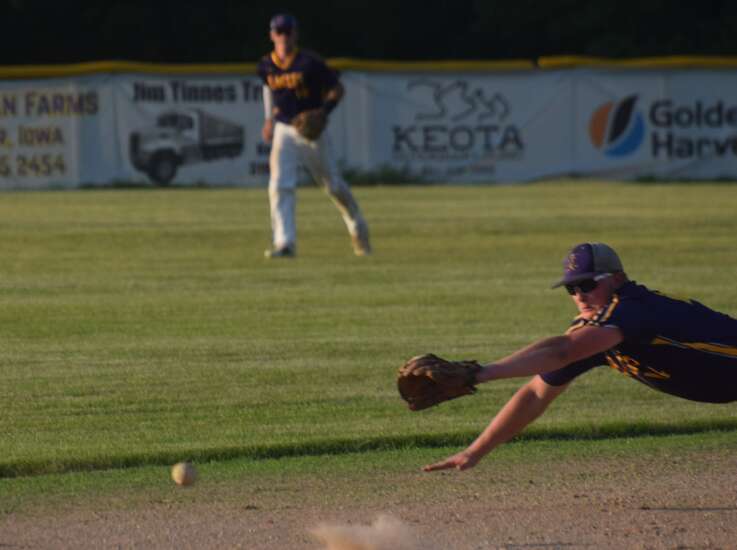 KEOTA — A pitchers' duel often goes to the one with the least walks, but not always because a 7-1 difference in hits determined a 3-2 nonconference win for the Eagles Monday.
Highland's Ethan Paisley had no walks, seven hits and struck out five Eagles while Keota's Colten Clarahan walked four, struck out nine Huskies and gave up a hit. That hit was in the top of the seventh inning. It was a line shot to the right of the outreached glove of diving shortstop Carson Sprouse.
"One hit is not going to matter like the walks," Clarahan said. "I was throwing my curveball for a strike and that way they didn't see too many fastballs."
A sacrifice and a pop up erased the danger, then Sprouse took his turn at bat and put a shot up the middle to score Caleb Waterhouse, running for Dalton Dodd, who reached on an error.
"Off the bat he was going, I was sending him no matter what," Keota coach Dakota McCombs said.
The count was 0-1. "I knew what that second pitch was going to be, and I was itching to hit it. We have been in these situations all year," Sprouse said. "Our pitching is strong, good fielding, the hitting is coming around. All of that working together it's a recipe for success."
Keota is 13-6, Highland 14-7.
"You just cannot let a team score runs on your errors and we did that twice," Highland coach Seth Milledge said. "You never want to give a game away, and I felt like we did that. "