Thursday's wrestling roundup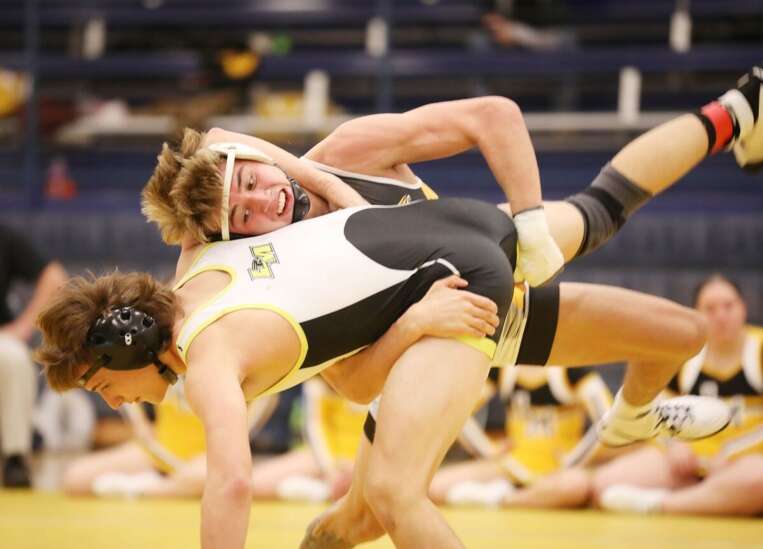 WACO sweeps 4 at Pekin
Five area teams were at Pekin High School Thursday, Jan. 13, and only one walked out unbeaten. WACO scored a 72-12 win over Cardinal, a 42-39 victory against Van Buren County, a 37-34 win over Columbus/Winfield-Mount Union and a 63-15 defeat of Pekin.
Columbus/WMU finished the day 3-0. Along with the loss to WACO, the Wildcats beat Cardinal 72-12, Pekin 54-12 and Van Buren County 42-33.
Van Buren County went 2-2 on the day. The Warriors picked up a 51-6 victory over Cardinal and a 42-24 win over Pekin.
Pekin's only win came against Cardinal. The Panthers nipped the Comets 30-24.
New London splits on the road
New London scooped up a 47-18 win over Louisa-Muscatine, but the Tigers couldn't take down rival Notre Dame, falling 51-24.
New London 47, Louisa-Muscatine 18
113: Gage Burden (NELO) over Skyler Beck (LOMU) (Fall 2:33) 120: Gavin Bailey-Menke (NELO) over Hunter Dickman (LOMU) (Fall 0:39) 126: Double Forfeit 132: Marcel Lopez (NELO) over (LOMU) (For.) 138: Corbin Jacobs-Jewell (NELO) over (LOMU) (For.) 145: Will Hoopes (LOMU) over (NELO) (For.) 152: Double Forfeit 160: Dominic Lopez (NELO) over Kendal Pugh (LOMU) (TF 26-11 5:35) 170: Seth Barajas (LOMU) over (NELO) (For.) 182: Josh Glendening (NELO) over (LOMU) (For.) 195: Trent Wilkerson (NELO) over (LOMU) (For.) 220: Spencer Kessel (LOMU) over (NELO) (For.) 285: Double Forfeit 106: Mavy Pope (NELO) over (LOMU) (For.)
Notre Dame 51, New London 24
120: C.J. Davis (NDWB) over Gavin Bailey-Menke (NELO) (Fall 1:36) 126: Marcel Lopez (NELO) over Amen Gandhi (NDWB) (Fall 1:50) 132: Blaine Frazier (NDWB) over Corbin Jacobs-Jewell (NELO) (Fall 0:55) 138: Tate O`Shea (NDWB) over (NELO) (For.) 145: Lyblie Christofferson (NDWB) over (NELO) (For.) 152: Dominic Lopez (NELO) over Isiah Fenton (NDWB) (Fall 5:52) 160: Samuel West (NDWB) over (NELO) (For.) 170: River Belger (NDWB) over (NELO) (For.) 182: CJ Walrath (NDWB) over Josh Glendening (NELO) (Dec 5-0) 195: Trent Wilkerson (NELO) over (NDWB) (For.) 220: Double Forfeit 285: Aiden Kniffen (NDWB) over (NELO) (For.) 106: Carter West (NDWB) over Mavy Pope (NELO) (Fall 1:20) 113: Gage Burden (NELO) over (NDWB) (For.)
Highland drops 2
Highland hosted a pair of Southeast Iowa Super Conference teams, falling 43-42 against Mediapolis and 54-28 against Wapello. The dual against Mediapolis was decided by criteria
Mediapolis 43, Highland 42
138: Quinten Aney (MEDI) over Spencer Grout (HIGH) (Fall 0:51) 145: Ayden Havel (HIGH) over Cody Vradenburg (MEDI) (Fall 2:55) 152: Jacob Hill (HIGH) over (MEDI) (For.) 160: Lucas Wagenbach (MEDI) over (HIGH) (For.) 170: Carter Schmidt (HIGH) over (MEDI) (For.) 182: Isaac Kleese (HIGH) over Maddison Coey (MEDI) (Fall 0:43) 195: Brad Dickenson (MEDI) over (HIGH) (For.) 220: Jackson Woods (MEDI) over (HIGH) (For.) 285: Jaden Wenig (MEDI) over (HIGH) (For.) 106: Wil Whitaker (MEDI) over Landon Bell (HIGH) (Fall 0:38) 113: Mackenzie McFarland (HIGH) over (MEDI) (For.) 120: Remington Fields (HIGH) over Kayla McGee (MEDI) (Fall 0:38) 126: Braxton Davis (MEDI) over Jack Peiffer (HIGH) (Fall 5:49) 132: Carlos Valenzuela (HIGH) over (MEDI) (For.) (MEDI criteria 43.0) (MEDI criteria 39.0) (MEDI criteria -83.0) (MEDI criteria 3.0) (MEDI criteria -1.0)
Wapello 54, Highland 28
106: Codder Malcom (WAPE) over Landon Bell (HIGH) (Fall 1:26) 113: Mackenzie McFarland (HIGH) over Ethan Walker (WAPE) (Fall 1:30) 120: Zach Harbison (WAPE) over Remington Fields (HIGH) (Fall 1:15) 126: Jack Peiffer (HIGH) over Owon Meeker (WAPE) (Fall 1:45) 132: Carlos Valenzuela (HIGH) over Jacob Chamberlin (WAPE) (MD 13-0) 138: Matthew Helscher (WAPE) over Spencer Grout (HIGH) (Fall 1:45) 145: Elijah Belzer (WAPE) over Ayden Havel (HIGH) (Fall 2:54) 152: Jacob Hill (HIGH) over Garen Wilkerson (WAPE) (Fall 5:36) 160: Zaidian Davis (WAPE) over (HIGH) (For.) 170: Carter Schmidt (HIGH) over (WAPE) (For.) 182: Carter Ball (WAPE) over Isaac Kleese (HIGH) (Fall 1:33) 195: Caleb Ealey (WAPE) over (HIGH) (For.) 220: Jacob Miller (WAPE) over (HIGH) (For.) 285: Dakota Boline (WAPE) over (HIGH) (For.)
Mid-Prairie sweeps at Cascade
The Golden Hawks continued a red-hot winter sports season with a three dual wins at Cascade. Mid-Prairie beat Anamosa 54-30, Cascade 60-24 and North Cedar, Stanwood 72-12
Mid-Prairie 54, Anamosa 30
106: Robert Scranton (ANAM) over Mose Yoder (MIPR) (Fall 1:54) 113: Dalton Miller (MIPR) over (ANAM) (For.) 120: Sean Kirk (ANAM) over Colin O`Rourke (MIPR) (Fall 0:35) 126: Tucker Miller (MIPR) over (ANAM) (For.) 132: Aaron Casey (ANAM) over Landry Gingerich (MIPR) (Fall 1:54) 138: Easton Wheeler (ANAM) over Noah Ford (MIPR) (Fall 0:28) 145: Andrew Kaufman (MIPR) over Peyton Soper (ANAM) (Fall 0:43) 152: Austin Scranton (ANAM) over Evan Phillips (MIPR) (Fall 1:49) 160: Dom Shively (MIPR) over Max Merril (ANAM) (Fall 1:32) 170: Kaden Meader (MIPR) over (ANAM) (For.) 182: Jarron Thomas (MIPR) over Logan Bell (ANAM) (Fall 4:33) 195: Cael Garvey (MIPR) over Tayte Peterschmidt (ANAM) (Fall 1:03) 220: Terry Bordenave (MIPR) over Dalton Soper (ANAM) (Fall 2:59) 285: Gannon Callahan (MIPR) over Cole Sigler (ANAM) (Fall 1:03)
Mid-Prairie 60, Cascade 24
152: Evan Phillips (MIPR) over (CASC) (For.) 160: Evan Vogel (CASC) over Dom Shively (MIPR) (Fall 3:09) 170: Kaden Meader (MIPR) over (CASC) (For.) 182: Jarron Thomas (MIPR) over (CASC) (For.) 195: Quinn Callahan (MIPR) over (CASC) (For.) 220: Cael Garvey (MIPR) over Cade Rausch (CASC) (Fall 0:59) 285: Gannon Callahan (MIPR) over Kodey Miles (CASC) (Fall 1:23) 106: Brock Morris (CASC) over Mose Yoder (MIPR) (Fall 3:00) 113: Dalton Miller (MIPR) over (CASC) (For.) 120: Colin O`Rourke (MIPR) over (CASC) (For.) 126: Tucker Miller (MIPR) over Riley Koppes (CASC) (Fall 0:53) 132: Trever Freiburger (CASC) over Landry Gingerich (MIPR) (Fall 3:25) 138: Noah Ford (MIPR) over (CASC) (For.) 145: Ty Frasher (CASC) over Andrew Kaufman (MIPR) (Fall 0:35)
Mid-Prairie 72, North Cedar, Stanwood 12
106: Mose Yoder (MIPR) over (NOCE) (For.) 113: Dalton Miller (MIPR) over (NOCE) (For.) 120: Colin O`Rourke (MIPR) over (NOCE) (For.) 126: Tucker Miller (MIPR) over (NOCE) (For.) 132: Landry Gingerich (MIPR) over (NOCE) (For.) 138: Nate Wood (NOCE) over Noah Ford (MIPR) (Fall 1:16) 145: Peyton Clarke (NOCE) over Andrew Kaufman (MIPR) (Fall 1:21) 152: Evan Phillips (MIPR) over (NOCE) (For.) 160: Dom Shively (MIPR) over (NOCE) (For.) 170: Kaden Meader (MIPR) over (NOCE) (For.) 182: Jarron Thomas (MIPR) over (NOCE) (For.) 195: Cael Garvey (MIPR) over (NOCE) (For.) 220: Terry Bordenave (MIPR) over (NOCE) (For.) 285: Gannon Callahan (MIPR) over Dawson Welch (NOCE) (Fall 0:49)