Tiger defeat V-Hawks
Iowa Wesleyan picks up fourth win of season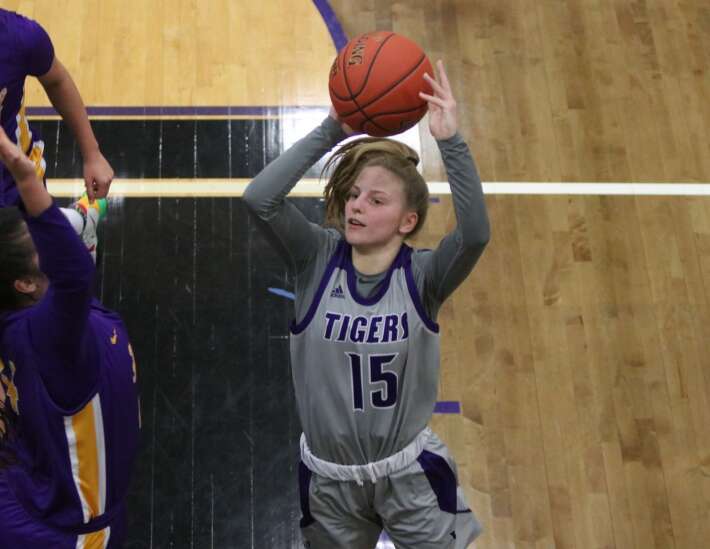 LA CROSSE, WI — The Tiger women's basketball team faced the host school on the second day of the Viterbo Classic, the V-Hawks of Viterbo University.
Iowa Wesleyan's Megan Teal scored the first two points of the game with a layup, but the V-Hawks would put together a little run to take a four-point lead at 4-8.
Teal would sink a 3-pointer, Breanna Wendland would connect on free throw to tie things up at eight, and then Isabell West scored a layup to give the Tigers the lead. Just before the first quarter ended, Viterbo regained a 17-16 advantage.
After a V-Hawk free throw, Teal sank a three to give the Tigers a 19-18 lead.
Although the Tigers were able to keep things tight, Viterbo headed into halftime with a four-point lead, 33-29.
Teal was the leading scorer for the Tigers in the first half with 14 points. Brielle Baker recorded five rebounds and Wendland followed with four in the first half.
Iowa Wesleyan would chip away at the V-Hawk's lead, taking full advantage of Viterbo sending the Tigers to the free-throw line.
Down three, the Tigers would go on a nine-point run, including five from the foul line, to take a six-point lead. The V-Hawks hit two free throws, but the Tigers would end the third quarter with a 47-43 advantage.
Both teams would battle in the fourth quarter, with the score getting knotted at 58, 60, and 62.
Iowa Wesleyan strung together three layups to build a six-point lead before closing the game out with six straight free throws to walk away with a 74-63 victory.
The Tigers outshot the V-Hawks 47.1% (24-51) to 36.4% (20-55). The Tigers were outshot from beyond the arc, 33.3% (4-12) to 43.5% (10-23). Iowa Wesleyan doubled Viterbo in rebounds, 44-22. The Viterbo bench scored 11 points while the Tiger bench scored 9.
The Tigers improve to 4-2 on the season. They were led by Wendland offensively with 23 points. West recorded a double-double with 20 points and 10 rebounds. She also added four assists, two steals, and one block. Teal added 16 points for the Tigers.
The Tigers' next contest will take place on Tuesday, Nov. 15 in Canton, Missouri. Iowa Wesleyan will face the Wildcats of Culver-Stockton College at 6 p.m.