Tiger women win big on the road
Iowa Wesleyan women's soccer scores seven goals in victory over University of Scienes and Pharmacy in St. Louis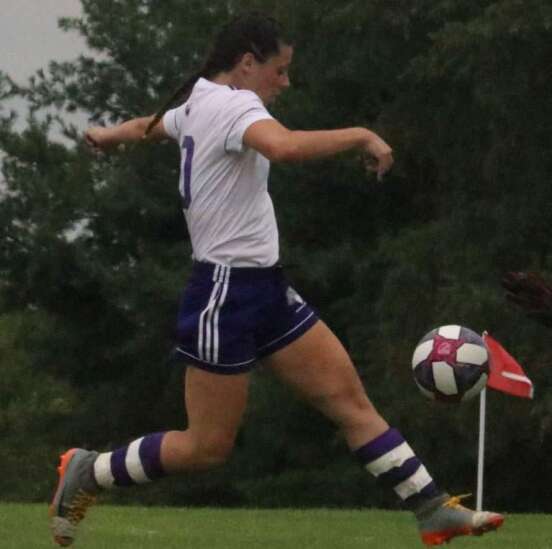 ST. LOUIS — Iowa Wesleyan women's soccer put on one of its top performances of the season on Tuesday night against the University of Health Sciences and Pharmacy.
The Tigers won big against the Eutectics, scoring seven times on their way to a 7-1 match victory.
It didn't take long for Iowa Wesleyan to get rolling in Tuesdays matchup.
Iowa Wesleyan first struck 16 minutes into the game when Desire' Adams connected with Jaycee Page to put the Tigers up 1-0.
The Tigers would never trail, but it didn't take long for the Eutectics to answer back.
Less than a minute later, Kylie Mulhern-Guillier saved a Eutectic's shot, but Katlyn Akers was able to get her own rebound to knot the game up at 1-1.
From then on out, it was all Iowa Wesleyan.
Adams got in on the goal scoring in the 25th minute, as she was able to slip the ball past the Eutectic goalkeeper to make it 2-1.
Iowa Wesleyan's third goal of the night came in the form of own goal.
In the 34th minute, the Tigers send a corner kick toward the goal, but the Eutectics could not clear the ball and instead put it into their own net.
The own goal gave the Tigers a 3-1 lead heading into halftime.
A halftime break didn't slow the Tiger onslaught.
Bella Goodson opened the second half scoring in the 49th minute to make it 4-1.
Page scored her second of the night in the 54th minute off an assist from Baylee Alvarado.
In the 63rd minute, Adams put the ball in the back of the net for the second time of the night to make it 6-1.
Kacey Hernandez would put a stamp on the victory for Iowa Wesleyan in the 88th minute as she was able to beat the keeper.
The Tigers out shot the Eutectics 23-12, including 12-3 in shots on goal.
With the win, the Tigers improve 6-5 on the season.
Along with the goal scoring, came great defense by the Tigers back line. Cheleena Squibb finished with two saves in the win.
The Tigers will look to continue their four game winning streak next Tuesday, Oct. 11 at 7 p.m. at Mediapolis High School as they host William Penn University.