Trojan wrestling tumbles in Fort Madison
Fairfield walks away with just two wins against the Bloodhounds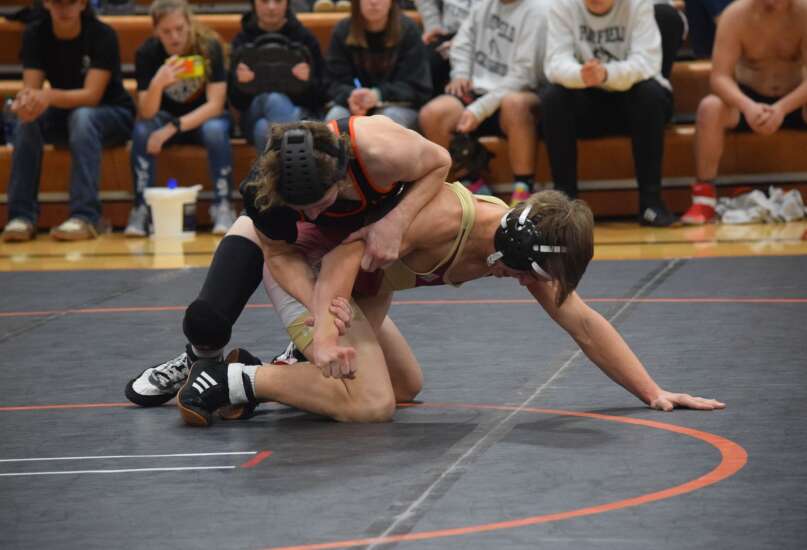 FORT MADISON — Fairfield took a trip down to Fort Madison on Thursday Jan. 13 to faceoff with the Bloodhounds.
The Trojans struggled in the contest, suffering a 69-7 defeat.
Fairfield started on the right note with Cason Miller grabbing a 5-3 win by decision over the Bloodhounds Nolan Riddle at 132.
The Bloodhounds went on to win the next six matches, all by fall, at 138, 145, 152, 160, 170 and 182.
The final Trojan victory came at 195, with Theodore Metcalf defeating Landon Rudd by major decision, 13-5.
Following the 195 match, Fort Madison went on to win another six matches, 220, 285, 106, 113, 120 and 126, with three being forfeits.
132: Cason Miller (FAIR) over Nolan Riddle (FOMA) (Dec 5-3) 138: Henry Wiseman (FOMA) over Jace Hannes (FAIR) (Fall 3:34) 145: Aidan Pennock (FOMA) over Brody Lyons (FAIR) (Fall 1:09) 152: Gavin Wiseman (FOMA) over Cam McClain (FAIR) (Fall 0:41) 160: Teague Smith (FOMA) over Landon Pilcher (FAIR) (Fall 0:13) 170: Brandt Booten (FOMA) over Hunter Abbott (FAIR) (Fall 1:35) 182: Jakob McGowan (FOMA) over Dre Smithburg (FAIR) (Fall 1:33) 195: Theodore Metcalf (FAIR) over Landon Rudd (FOMA) (MD 13-5) 220: Isaac Thacher (FOMA) over Cesar Smithburg (FAIR) (Fall 4:55) 285: Daniel Sokolik (FOMA) over Kenneth Craig (FAIR) (Fall 1:58) 106: Gavyn Siemens (FOMA) over (FAIR) (For.) 113: Ayshan Mammadova (FOMA) over (FAIR) (For.) 120: Logan Pennock (FOMA) over (FAIR) (For.) 126: Emmett Kruse (FOMA) over Zach Westercamp (FAIR) (Dec 7-4)