Trojans outlast Falcons in district football game
Fairfield answer to 4th-quarter tie was 3 aerial TDs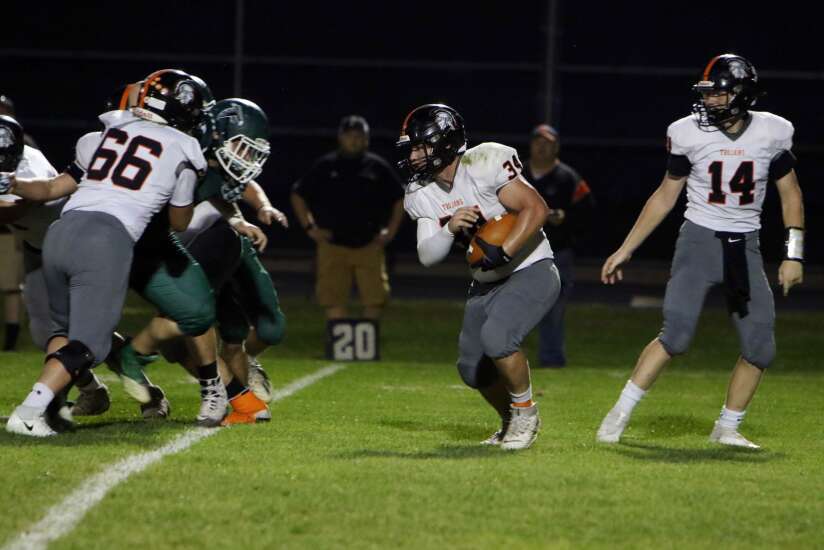 WEST BURLINGTON — Fairfield turned on the offense in the fourth quarter Friday at Bill Nelson Field to defeat the West Burlington-Notre Dame Falcons, 39-27, in a Class 3A District 5 football game.
The Falcons had tied the game at 20-20 early in the fourth quarter. Fairfield's answer to the tie game was two Max Weaton touchdown receptions of 14 yards each and Evan Haines 38-yard TD catch. The Falcons added a score late.
Fairfield jumped out to a 20-7 lead in the first quarter, but didn't score in the second and third periods.
"I thought we played an excellent third quarter," WBND head coach Joe Bowman said. "The kids made the adjustments they needed to make."
One adjustment made before the game was moving lineman Jack Riley and quarterback Hayden Vandenburg to running back positions where they combined for 150 yards and two touchdowns while the Trojans' Teddy Metcalf had 13 rushes for 84 yards and Tate Allen seven for 90.
Riley gave Fairfield problems on kickoff returns, going for 41 and 51 yards. The Trojans didn't kick to him the rest of the game.
"They made a good adjustment there," Bowman said. "We need guys to be more football savvy, have more football awareness."
The stats were fairly even with Fairfield holding the edge in first downs 15-14, total yards 342-269, 138 yards passing on 10-for-19 with four touchdowns for Tate Allen over 124 yards on 13-of-22 with two scores for Caden Schwenker. Each team converted two fourth downs and was 25 percent on third down conversions but Fairfield did lead in penalties at 10-for-113 yards to 6-for-27 and fourth-quarter scoring 19-14. The Falcons had no turnovers, but forced two out of Fairfield.
Weaton's touchdown catch opened the game scoring and Allen broke free for a 62-yard TD run to spot the Trojans a 14-0 lead. When the Falcons scored, Fairfield canceled it right away with a 83-yard kickoff return by Tate Richardson.
Fairfield improved to 5-1 and travels to Solon Friday. West Burlington-Notre Dame remains winless in six games. The Falcons host Grinnell Friday.
The Union's Doug Brenneman contributed to this story.