Trojans split Centerville games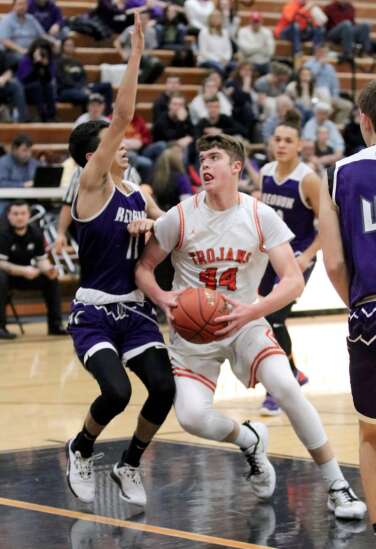 CENTERVILLE - Fairfield high school split a pair of nonconference road games Monday with the boys rallying for a 54-48 win while the girls lost 56-46.
'This was a great win," FHS coach Mick Flattery said. 'The guys fell behind early and kept their poise and battled back with great defense, timely free throws and big shots."
Fairfield trailed 16-11 after the first stanza, but led 23-20 at halftime and 40-35 after the third quarter.
Drew Martin led the Trojans with 24 points, six rebounds, four steals and two assists.
'He played a great game, being a scorer that was hard to guard," Flattery said.
Max Weaton added 11 points and five assists while Landon Kooiker had eight points, three rebounds and three assists. Elan Ledger produced six points, four rebounds, three steals and two assists. Carter Ferrel had six rebounds, three steals and three assists.
The Trojans are 2-6 overall.
The Fairfield boys play Friday at Washington.
The Trojan girls fell behind early and trailed just 14-13 at the end of the first quarter, but scoring a single point in the second quarter made it a 26-14 halftime deficit. Both teams scored 13 points in the third quarter.
'We tried to install a more up-tempo full-court defense and it did not go well at all," Fairfield girls coach Jeff Miller said. 'We made several attempts to get back in the game in the second half but Centerville always had an answer."
Delaney Breen accumulated 17 points, six rebounds and four steals while Trojan teammate Danielle Breen had 11 points on three 3-pointers with three steals. Shaylin Drish had nine rebounds, seven points, seven assists and three steals.
'We were coming off a tough conference loss versus Keokuk and I think that played a part as well," Miller said. 'Now, we'll focus on our game versus conference opponent Washington."
The Trojan girls are 4-4 and host Washington Friday.