Underdog Panthers look for second postseason win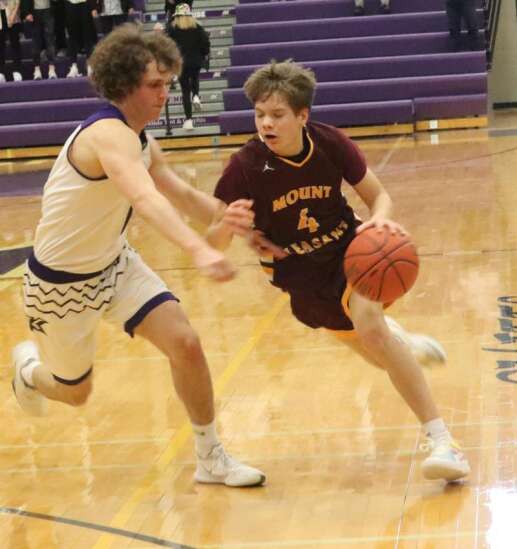 MOUNT VERNON - After winning its first game as a lower seed on Monday night, the Mt. Pleasant boys basketball team looks to do it again in tonight's Class 3A Substate 5 semifinal.
The second-seeded Panthers earned their spot in the semifinals with a 50-46 win over third-seeded Keokuk. Mount Vernon comes in as the No. 2 seed after running away from Fort Madison, 77-62.
Mt. Pleasant is led by junior post Dewon Trent, who has emerged as the Panthers' top scorer this season in his first year as a starter. Trent has put up 15.6 points per game and 7.4 rebounds per game this season.
The Panthers have two double-digit scorers on the squad. Senior forward Brevin Wilson is currently sitting at 10.5 points per game.
Mt. Pleasant will once again be without junior point guard Sam Jerrell, the team's third-leading scorer at 8.7 points per game. Jerrell is expected to miss the rest of the postseason with a shoulder injury.
Sophomore guard Owen Vansickel stepped up big in Monday night's quarterfinal. Vansickel saw a boost in minutes due to Jerrell's injury and finished the night with 11 points, including three 3-pointers in the first half.
Mount Vernon is a senior-led squad. Their Top-3 scorers are seniors, including top-dog Keaton Kutcher, who scores 22.5 points per game and overtook that average against the Bloodhounds, scoring 23.
Jayden Meeker, another senior, scores 15.5 points per game this season for the Mustangs. He went off for a team-high 24 in the win over Fort Madison. Collin Swantz scores 8.1 points per game, and also leads the Mustangs with 3.1 assists per game.
Althought Mount Vernon is just the No. 2 seed, the Mustangs are the top-rated team in the district according to computer rankings site bcmoorerankings.com. The Mustangs aren't currently ranked in Class 3A, but are receiving votes in the AP poll.
The winner of the Mt. Pleasant-Mount Vernon game will be back on the court on Monday, March 1 for the regional final game against either top-seeded Davenport Assumption, who rolled over Fairfield 65-48 in the quarterfinals, or fifth-seeded Cedar Rapids Xaveir, who blasted Marion 51-33.