WACO 2nd, Hillcrest 3rd, Demons 4th at Washington volleyball tournament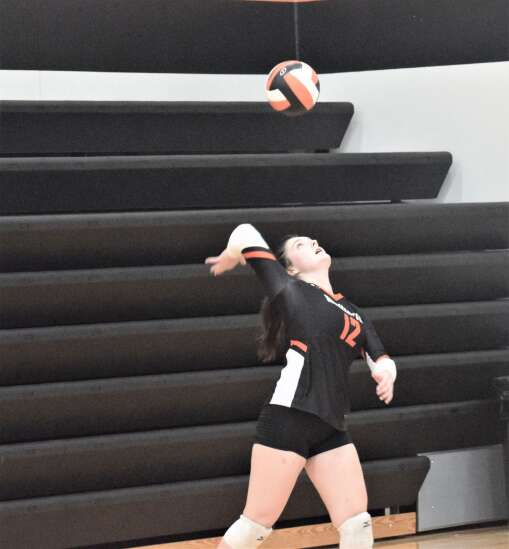 WASHINGTON — Washington head volleyball coach Aaron Six knew Saturday's tournament was not the most important thing on the Demons mind, not when the Homecoming dance was Saturday night.
"We have talked about our energy level and how important that is," Six said. "The longer we were waiting, they were thinking about what time they have to get dressed, meet for pictures. I understand they are high school girls and on the court wasn't the most important thing."
Iowa City Regina won the Black Pool over the Demons and faced Orange Pool winner WACO. Regina was the tourney champion, defeating WACO 21-16, 21-13 in the title match.
Second place in the pool matches, Washington and Hillcrest met in the consolation finals with Hillcrest winning 17-21, 21-17, 15-10.
Hillcrest's Esther Hughes spiked a kill for the winning point against Washington. "It was a perfect set so all I had to do was make contact. We beat some challenging teams and competed well so that's a good sign. We have some young blood, a new coach and we have really improved."
The new coach is Brandon Statler, the fourth coach in as many years at Hillcrest. "I have got a lot of different perspectives and different set of skills from each coach," Hughes said.
WACO won pool play with wins over Sigourney 18-21, 21-18, 15-13, Highland 21-16, 21-19 and Hillcrest 21-18, 21-19. Hillcrest eked out wins over Sigourney 21-19, 20-22, 15-12 and Highland 21-10, 20-22, 16-14, but lost to WACO. Highland lost to Sigourney 21-13, 21-15.
Washington downed Keota 21-12, 21-18 and Tri-County 21-15, 22-20 and lost to Regina 21-18, 21-12. Regina beat Tri-County 21-9, 21-12 and Keota 21-11, 21-7. Keota defeated Tri-County 21-13, 21-15.