WACO, SK lead All-Union football team
Warriors' Edeker earns coaching nod, Cobras' Molyneaux captain's team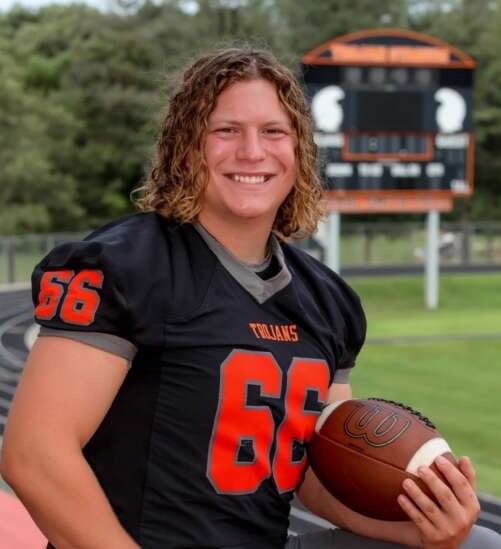 It's no secret which two high school football teams were the class of the Union coverage area in 2021.
WACO and Sigourney-Keota stood tall above the rest all season. Both the Warriors and Cobras ended the 2021 regular season undefeated, and both teams flirted with a trip to the UNI-Dome before falling one game short of the big dance.
Naturally, the 2021 All-Union football teams reflect which teams impressed throughout the course of the season. Both WACO and Sigourney-Keota are well represented on the list.
WACO had seven names on the list, including the coach. Sigourney-Keota ended up with five, including the captain.
Coach: Chad Edeker, WACO
WACO's head coach did an astounding coaching job in 2021, taking a team that wasn't expected to win the district and having them do so in style.
The Warriors were coming off a 3-5 season. They hadn't won more than six games in 10 years, but none of that mattered to a defensively sound, power-run heavy squad that took Southeast Iowa by storm.
Coach Edeker's team put the rest of Class 8-Man on notice with their state quarterfinal appearance. The Warriors are for real, and with a hunk of talent coming back next year, they could be right back in the mix in 2022.
Captain: Cade Molyneaux, Sigourney-Keota
In a year with so much talent in Southeast Iowa, a player would have to do something pretty special to get the captain nod for the All-Union team. Molyneaux sure did.
The Cobras' leading rusher scampered for 1,990 yards and 26 touchdowns, leading his squad to an undefeated regular season and a district title.
QB: Maddux Jones, Senior, Cardinal
Nobody slung the rock like Cardinal in 2021. Jones completed 117 passes this year, spread out among seven different receivers.
Jones threw for 1,868 yards and 23 touchdowns this year while only getting picked off four times. He was also dangerous on the ground, rushing for 244 yards and three scores.
RB: Simeon Reichenbach, Junior, WACO
WACO's leading man was their junior back who ran past, around and through defenses all year.
Reichenbach ran for 1,413 yards and 23 touchdowns this season. He was also a force in the passing game too, catching 11 balls for 176 yards and a score.
RB: Kaden Amigon, Sophomore, Columbus
Columbus' up-and-coming star had a lot on his shoulders this season. Amigon ran for 1,185 yards today on a ridiculous eight yards-per-carry. He found the end zone 10 times on the ground.
Amigon also led the Wildcats in receiving this year, catching eight passes for 81 yards and one score.
OL: Zach Smithart, Senior, Sigourney-Keota
With a run-heavy offense like Sigourney-Keota's, a solid offensive line was a necessity, and the Cobras had that in spades.
Smithart and the Cobra line helped the team rush for a ridiculous 3,402 yards this season.
OL: Tim Willits, Senior, WACO
No stranger to the varsity football scene, Willits has been a major factor on the Warriors' line since he was an underclassmen.
In 2021, he saw some of his best successes. Willits was a senior leader on a front line that helped WACO run for 2,774 yards and 50 touchdowns.
OL: Aidan Schuster, Senior, Sigourney-Keota
Another upper classman on the Cobra line, Schuster was a big time contributor to one of the best offenses in Iowa.
Schuster and the Cobra line helped the team rack up nearly 4,000 yards from scrimmage this year. The Cobras scored 46 touchdowns on the season.
OL: Taylor Sutton, Senior, WACO
Sutton and the rest of the senior-led line just kept pounding and pounding against Class 8-Player foes.
WACO often ran the ball right up the middle, a rarity in the 8-Player game. Sutton helped the offense put up a ridiculous 62 total touchdowns this year, 50 of them on the ground.
OL: Carter Allen, Senior, New London
New London's offense ran for over 2,000 yards this season, thanks in part to lineman like Allen, who played his fourth year as a varsity starter.
Allen showed out on offense and defense, where he finished the year with 27 tackles, but the real test of his value was when he wasn't playing.
Allen suffered a lower-body injury midway through the season, and the Tigers had a three-game slide in his absence. When he returned on Oct. 8 against Lone Tree, the Tigers closed the regular season out with two blowout victories and nearly upset Montezuma in the playoffs.
WR: Griffin Greiner, Senior, Cardinal
Cardinal's senior speedster was one of the most dangerous pass catchers in Class 1A this season.
The track star caught 39 passes this year and went for 722 yards and 11 touchdowns through the air. He was a star in the rushing game as well, running for 380 yards and four touchdowns.
WR: Abram Edwards, Sophomore, Winfield-Mount Union
Winfield-Mount Union showed signs of what promises to be a bright near-future in the sport of football, and their sophomore wide receiver is a major piece to that puzzle.
In his second varsity season, Edwards caught 28 passes for 586 yards, nearly half of WMU's 1,195 receiving yards this season. He found the end zone nine times.
TE: Max Weaton, Junior, Fairfield
It's rare for a high school team to have a big tight end that can do it all, but that's exactly what Weaton brings to the Trojans.
When he wasn't blowing guys off the line in the running game, Weaton was catching 40 passes for 526 yards and eight touchdowns to anchor a Fairfield squad that completed its first winning season since 2016.
UTIL: Ethan Patterson, Junior, Washington
A utility spot seems perfect for Washington's junior two-way star, who flew around the field all season for the Demons.
Patterson threw for 1,553 yards nad 14 touchdowns and rushed for 665 yards and 11 scores, accounting for 25 of the Demons' 28 end zone trips this year. On defense, Patterson had one of four Demon interception.
UTIL: Tyler Helmuth, Senior, Mid-Prairie
Mid-Prairie's senior running back earned the utility spot after pounding the ball all season for the Golden Hawks.
Helmuth led Mid-Prairie with 771 rushing yards this season. He found the end zone 16 times on the ground, and also helped out in the passing game with nine catches fro 69 yards.
DL: Jonah Clark, Senior, WACO
Clark was another senior leader on the Warriors' squad, and one that ended the year being named the district's Defensive Player of the Year.
It wasn't hard to see why. Clark finished the year with 43 tackles, including four sacks. He had two takeaways on the year, an interception and a fumble recovery.
DL: Tyler Sutton, Senior, WACO
Another two-way lineman for the Warriors, Sutton had a monster year on the defensive end.
Sutton racked up 44 tackles this year including a team-leading eight solo tackles and 15 tackles for loss. He also finished second on the team with three fumble recoveries.
DL: Nick Kaska, Senior, Fairfield
Fairfield's defense took big strides this year, and having a wrecking ball on the line sure helped.
Kaska finished the year with 33 tackles, 12 of them being solo. He earned five tackles for loss this season, including three sacks.
DL: Joel Lacy, Senior, New London
Lacy was a huge asset to New London this year on both sides of the ball. He led the team with nine rushing touchdowns and was an absolute havoc on defense.
Lacy finished the season with 67 tackles, 44 of them solo. He also had two takeaways this year, one fumble recovery and one interception.
LB: Cam Buffington, Sophomore, Winfield-Mount Union
Future Iowa Hawkeye Buffington could have been about anywhere on the All-Union list. He accounted for an insane 35 offensive touchdowns this year and was one of the best defensive players in the entire class.
Buffington led WMU with 55 tackles, 35 of them solo. He also finished the year with two takeaways; one fumble recovery and a 51-yard pick-six.
LB: Justice Jones, Senior, Mid-Prairie
Mid-Prairie had a tough defense as usual this season, and nobody did more than senior Justice Jones, who stopped opposing offenses short all year long.
Jones led the team with 69.5 tackles, including 49 solo tackles. He picked one ball off this season and recovered one fumble.
LB: Lucas Kroll, Senior, Washington
You simply could not get past the Demons' senior linebacker this season. Kroll was perhaps the most intimidating member of Washington's storied defense in 2021.
Kroll finished the year with an incredible 84.5 tackles, 66 of them solo, which led Washington in both stats. He also picked off one pass.
LB: Connor Grinstead, Senior, Highland
Highland's only name on the All-Union list was one of the best two-way players in the area this season.
Grinstead served as the lion's share fo the offense, throwing for 10 touchdowns and rushing for 11 as the Huskies' quarterback, but it's his work on the defensive end that earns him this spot.
Grinstead led Highland with 64.5 tackles this season, 36 of them being solo. He also had one interception.
DB: Mason Miller, Junior, WACO
WACO's leading defensive back had a ridiculous year picking off passes. He finished the year with nine interceptions, a school record in Class 8-Player that put him in a tie for most in the state.
But Miller's work wasn't all in picking off passes. He also finished fifth on the team with 35 tackles.
DB: Ethan Zieglowsky, Senior, Washington
Washington's defense is known for having ball hawks, and Zieglowsky carried on that tradition all year.
The senior defensive back finished third on the team with 38 tackles this season. He led the team in takeaways, picking off two passes and recovering one fumble.
DB: Landon Becker, Senior, Cardinal
Another member of Cardinal's star senior class, Becker was a two-way star for the Comets this season.
Becker scored five touchdowns on offense this year, but he was even better on the defensive end. He finished the year with 28 tackles and two interceptions, one of which he took back for a touchdown.
PR: Levi Crawford, Senior, Sigourney-Keota
Sigourney-Keota's utility man was a force on offense, scoring eight touchdowns on the year, but season, and he was just as valuable on special teams.
Crawford finished the year with 284 kick return yards, 109 punt return yards and one special teams touchdown in 2021.
KR: Jacob Miller, Senior, Washington
Washington's Miller could very well have gotten a utility spot with all the work he did on both sides of the ball. Miller led the team with 22 catches on offense and recovered two fumbles on defense, one of which went for a touchdown.
But Miller earns his spot as a returner. He took 13 kicks back for a total of 290 yards this season, and returned six punts for 33, adding to his all-around resume in 2021.
K: Colten Clarahan, Senior, Sigourney-Keota
When you talk about doing everything for a football team, you can't ignore Sigourney-Keota's Clarahan, who was everywhere for the Cobras this season.
Clarahan was the team's leading passer, throwing for five touchdowns this year, and did a great job on the ground with 710 yards and four scores, but he was even more impressive in the kicking game.
Clarahan finished the year 41-for-47 on point after attempts and 6-for-9 on field goals, including a 52-yard bomb during the Class 1A Round of 16, which split the uprights for the longest kick of any Iowa high school player this season.
P: Lincoln Henriksen, Senior, Mt. Pleasant
Henriksen, a lineman on both offense and defense, had a big boot for the Panthers all season. He punted for 1,059 yards this year for a punt-per-yard average of 32.1.
When he wasn't pinning offenses back in the punting game, Henriksen was one of the Panthers' best defensive players, tallying 37 tackles, including a team-leading 12.5 tackles for loss.