Washington girls crowned SEC champions
Fairfield places second, Mt. Pleasant's Wibben places sixth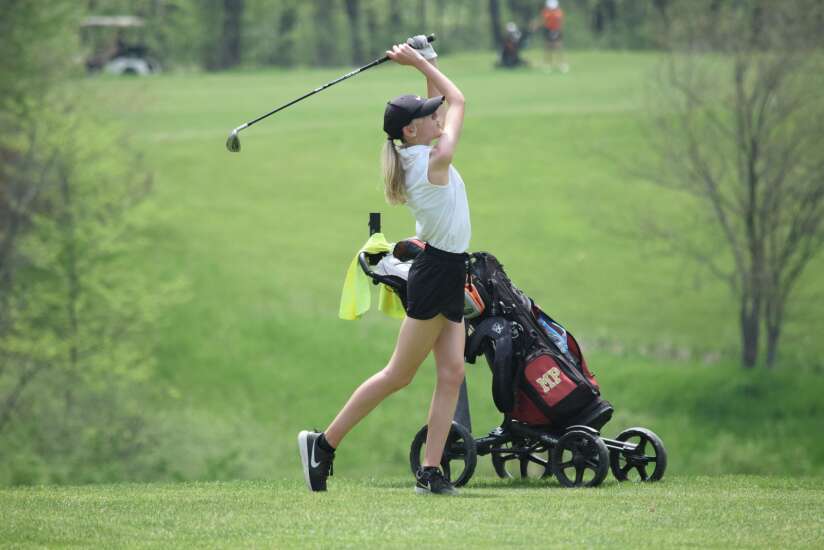 BURLINGTON — Washington was in its groove Wednesday at Flint Hills Municipal Golf Course.
Despite the searing hot sun, the Demons did exactly what they needed to do.
By the end of the competition, it was Washington once again hoisting the Southeast Conference title.
The Demons shot a 348 for the days lowest score, topping second-place Fairfield by 18 strokes, 366. Keokuk placed third, 375, followed by Burlington with 382.
Mt. Pleasant didn't post a team scored, but had a nice showing. Fort Madison was the same.
Leading the way for the Demons, was Makenna Conrad with a 83. Conrad ended the day with a fourth-place overall finish.
"I started pretty rough on the front nine," Conrad said. "I must have gotten used to the heat. I had a really good back nine. Which helped my score a lot."
Kaylin Long followed her Demon teammate with a fifth-place finish, shooting a 84. Alecia Goff shot a 90. Mallary Johnson ended with a 91. Maci Williams posted a 104 and Haley Mitchell had a 117.
"We lost three great seniors last year," Conrad said. "We weren't sure how this year was going to go, but everyone has stepped up. I know even that if I don't have a great score, I have four others that can pick it up."
For Fairfield, Viola Welsh notched a third-place finish, but originally tied for second with Keokuk's Natalie Ames. Both carded a 82 on the day.
Welsh said that she took extra time to prepare for the tournament because of the heat.
"It was a super hot day," Welsh said. "I knew it was going to be around 90. I took some extra time preparing for this meet. The key is just drinking a lot of water."
Welsh said she is going to play everyday leading up to regional next week.
Myah Twohill shot a 91 for the Trojans. Kate Pettit ended with a 95. Macy Rayburn posted a 98. Maggie Rayburn golfed a 107 and Sara Kretz a 111.
Sami Wibben paced the Panther of Mt. Pleasant. Wibben shot an 87 in the tournament for sixth. Kylie Walderbach ended her day with a 123.
Wibben said she's not satisfied with her performance and knows she can do better.
"I'm not very proud of myself, because I know I can do better than what I did today," Wibben said. "I know what I'm capable off and I know I can do better. The heat plays a huge roll, just because it take so much of your energy. You just have to stay hydrated."
Wibben says that next weeks regional in Oskaloosa is going to be competitive, but it's also about having fun.
"I like to be competitive, but I also like to have fun," she said. "I like to have fun and that's something I like to focus on. I'm gonna focus on doing my best and playing my game out there."
Burlington sophomore Lauren Briggs took the individual title as the only golfer on the day to shoot lower than 80. Briggs shot a 79 to top the field.
The girls will now turn their sights to the regional meet in Oskaloosa next week, with a trip to state on the line.
The top six finishers, Briggs (BHS), Ames (K), Welsh (FF), Conrad (W), Long (W) and Wibben (MP) were all named to First Team All-SEC.
Goff (W), Rayburn (FF), Izzi Taylor (BHS), Johnson (W), Chloe Ruhl (K) and Allison Ames (K) were named to second team.
FINAL TEAM SCORES
1) Washington, 348
2) Fairfield, 366
3) Keokuk, 375
4) Burlington, 382