Washington girls dropped by Oskaloosa
Demons show early promise, fade out in non-conference home game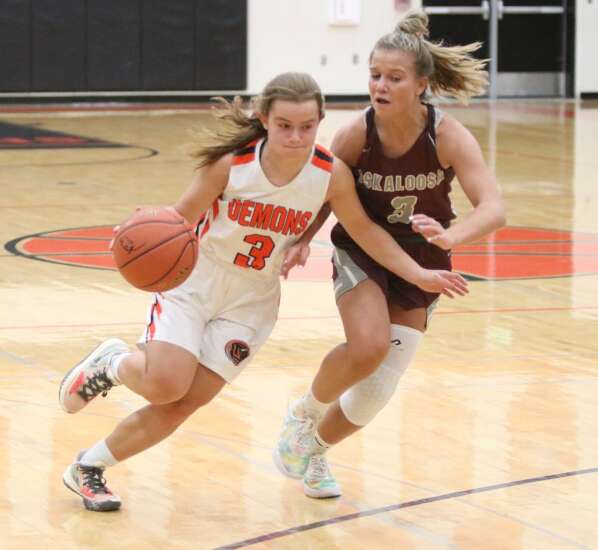 WASHINGTON — Just under one year ago, the Oskaloosa girls basketball team saw its season end when Washington staged a second-half comeback to knock them out of the postseason. On Monday night, however, the Indians showed off a much improved 2021-22 squad.
The Indians put the pressure on the Demons all night, long, scoring in double-digits in each quarter to run away from Washington 58-32.
Oskaloosa standout junior Presley Blommers had the hot hand from outside in the second period, and was able to rack up 19 points against the Demon defense.
"She hit three against our zone we switched to, to start the second quarter, but for the most part I thought we did a good job on her," said Washington head coach Shannon Rugg. "Those are little things I think we can fix."
The Demons were able to keep up early. The Demons trailed 13-8 after one quarter and 25-13 at the break.
"I think we took advantage of some things that they were giving us," Rugg said." We were more focused tonight."
The Demons were outscored 18-6 in the third quarter, as Oskaloosa pushed to a 43-19 lead before the final period and coasted to the finish line.
Alex Murphy lead the Demons with 18 points. Kaylin Long and Makenna Conrad had eight apiece, and Maci Williams scored three.
The Demons fell to 1-11 on the season with the loss.