Washington girls golf coach holes out
Only Demon coach since program's inception, Kull calls it a career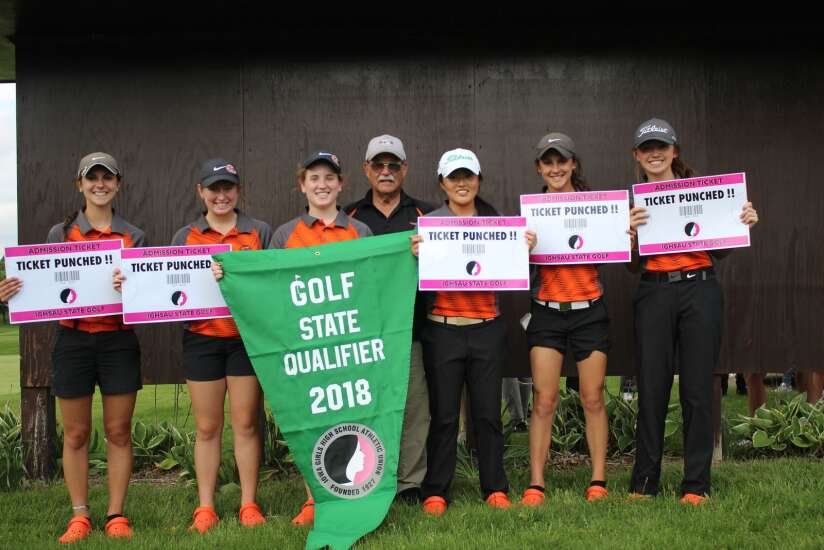 WASHINGTON — The high temperature March 15 in Washington was 36 degrees. The high on April 1 was 43 in Columbus Junction.
March 15 was the first day allowed to practice high school golf. April 1 was the day of the first meet for the Demons girls golf team.
Washington head girls golf coach Len Kull retired from teaching 12 years ago and spends winters in Arizona. He comes back and deals with the weather the best he can, but it has finally chilled him out.
"I had to quit sometime," Kull said. "I never considered this a job because I worked with the most dedicated, hardworking young ladies. It was just time to bow out."
In a career of 41 years that produced six state championships, Kull can reminisce about many specific moments, but there was one highlight that never stopped happening.
"Invariably after a meet a coach from a competing team will come up to me and say, 'My girl said your girl that she happened to play with was an outstanding person, helpful, a good golfer, knowledgeable and a pleasure to play with.' I heard that over and over again. That was something that I always felt very proud of."
Kull would often use practice time for learning the rules. A wrong application of the rules is bound to happen but usually at the beginning of the year.
"If it happened at a big tournament or state, that would be something that would be hard to take," Kull said.
A lot of people regard the rules as punishment, but the coach does not. "If you fully understand them they can be used to your advantage or your competitors disadvantage."
Proud of the six state titles, Kull said all were different, all were special and all were won because the "kids earned every bit of every one of them. I was just happy to be in the picture."
Prodded about which title stood out, he finally said, "When the first one was over, I could not talk. I just did not know what to say. It was just like a dream come true."
That drive to the first title percolated as the season went on, Kull said. The girls knew there was a chance. "The sky is the limit was just the way they thought. With all of their aspirations, they knew it was something that was possible. None of us really talked about it much."
The majority of teenage girls are not going to have a fine-tuned game.
"I always thought it would be of value to just about anybody if they learned to scramble properly," Kull said. "Part of that, it's important to have a positive attitude regardless of your situation."
Regardless of the situation, the coach wanted his players to expect something good to happen, no matter their score or situation.
"I can't count how many times in my career I've had kids start out badly and something changes in the middle of the round and they're having success," Kull said.
Success started in 1980 when four freshmen and a junior went to the school board to request a girls golf team. The board approved, Kull put in for the job and now, it will be someone else's duty to coach girls around the course.
"My philosophy was about course management and to make them comfortable with the swing they had," Kull said. "When they get in the same situations, we will just work the heck out of that situation. That will give them confidence. If you manufacture a swing, there will be too many things to think about when the pressure is on."
That has become one of a few common threads in his coaching style: Always be positive, learn to scramble, emphasis on team, knowing the rules and never changing a kid's swing.
"You need to get together as a group, have each other's back, and understand it if you are having a bad day, somebody else is going to pick you up," Kull said. "It worked out, and people knew they were going to have to go through Washington if they wanted to make any noise."
Stressing the team seems counterproductive in an individual sport, but apparently it works. Evidence is in Demon girls state titles in 2007, 2008, 2015, 2016, 2018 and 2021.
"I'm not trying to make anybody into a college or professional, I don't have that ability," Kull said. "I feel like if you enjoy yourself, have a good time while you work as hard as you can then you let the chips fall where they may. If a high school kid does that, they will enjoy a good career."
Those are all things Kull tried to emphasize and to their credit, girls understood it, wanted to do it, put the time in and the results speak for themselves.
Kull couldn't golf in the spring because, at his age, he has to focus to play but "just couldn't concentrate" on his game because he would be thinking about his team and what needs to address.
Kull is a volleyball referee and will play more golf, but mainly he's going to spend more time in Arizona and not come back until the weather is warmer.
"Getting to avoid March and April, now that's a big deal to me," he said. "I sure enjoyed the time I had out there coaching the kids because they were just such great people, every one of them."