Washington misses opportunities in football loss to Clippers
Red zone failures, fumbles, blocked punt by Demons; 3 TDs more than 67 yards by CCA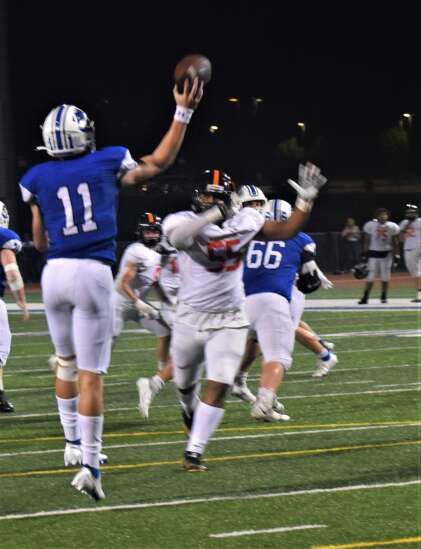 TIFFIN — When there is a chance to capitalize on a team's mistake, it is imperative to take advantage of that chance. The Clippers took advantage of every chance given and the Demons never could.
Washington lost a non-district road game to Clear Creek-Amana Friday 47-14.
The home team was offsides on the opening kickoff, then recovered the pop-up rekick and scored a field goal.
The Clippers were unsuccessful on a fake punt and the Demons took over on the CCA 22, drove to the 16 and couldn't convert a fourth down. After Ethan Patterson scored a 29-yard touchdown, Washington recovered a fumble on the CCA 21. The Demons drove to the 2 with a chance to take the lead, but couldn't score on fourth down.
"We just cannot find a way to score in the red zone," Washington head coach Nick Ehret said. "A lot of it starts up front. We have to have the mindset we are not going to give up penetration in the red zone."
The Clippers took over with 3 minutes, 3 seconds left in the first half. On a second-and-15, a dive left went 83 yards for a touchdown and with 4 seconds until halftime, Clear Creek-Amana led 20-8.
The third quarter saw the Clippers score a 42-yard aerial touchdown on the first play after a Demon punt and score two plays after blocking a Demon punt.
The Demons drove 56 yards to the CCA 6, but the 11th play was an interception on first-and-goal put together that was returned 101 yards for a Clippers touchdown and a 41-8 lead. The Demons fumbled the first play after the kickoff.
"The wheels just fell off after halftime and we couldn't do anything right," Ehret said.
Ethan Zieglowsky scored a late touchdown for the Demons.
Washington is 1-2 and Friday plays host to Fort Madison, a 55-14 winner over Fairfield. Clear Creek-Amana is 2-1.