Washington scores football win over Keokuk
Seniors last home game is a memorable one for Demons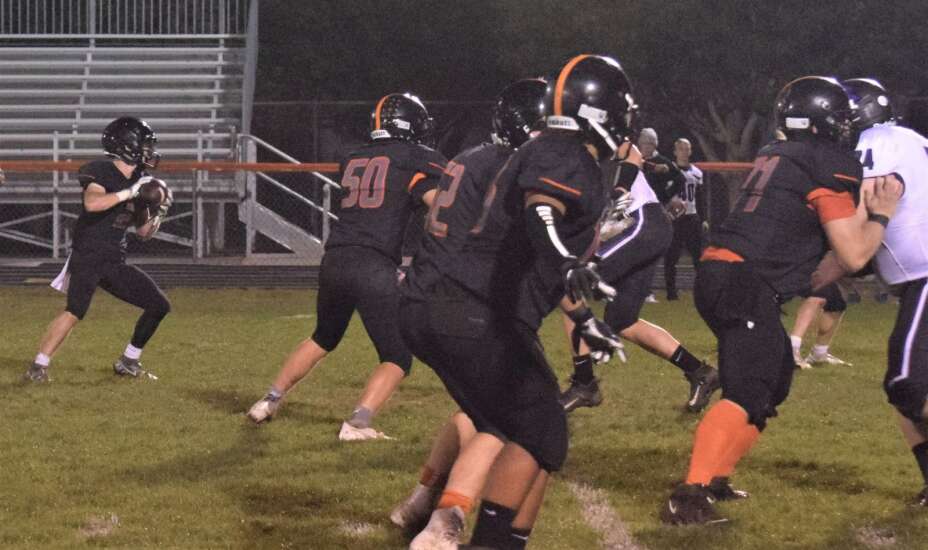 WASHINGTON — Lucas Kroll sat leaning against the play clock base. And sat and sat. Fellow Washington players occasionally came by with some shared thoughts but Kroll never got up.
Kroll did not want to leave Case Field, so he took some of its grass with him when he did eventually stand and amble toward the locker room after Washington's 45-6 defeat of Keokuk Friday in a Class 3A District 6 football game.
"It was an amazing night. There have been a lot of great memories made," Kroll said. "It sucks that it is the last game here for us, but it is a great way to end. With it being Homecoming and seniors' last game, the juices were definitely amped up."
It was the last game on the venerable field for seniors Jacob Miller, Logan Frazer, Javaughn Stuart, Kasen Bailey, Evan Miller, Ethan Zieglowsky, Olin Wells, Aidan Miller, Zane Wefenstette, Taviaun Willis, Lincoln Hansen, Bryce DeWolf, Kole Williams, John Prochaska and Jackson Hesseltine.
It was the last chance for the lore of Case Field to record a home win for the seniors, and it was quite the victory. The Demons were 7-of-11 on third and fourth down conversions. Keokuk was 0-for-14. Keokuk was 6-for-16 passing for six yards.
"We've been waiting seven weeks for this," WHS head coach Nick Ehret said. "We knew we were capable of this, we just hadn't put it together."
The Chiefs took a 6-3 lead on a 51-yard run by Lucas Swainey. Keokuk had 38 other plays and gained 71 yards to total 122.
"We kept things simple," Kroll said. "The DBs did their job, the LBs filled and the D-line was making pressure."
The Demons rushed for 223 yards and passed for 232, besting the previous high for total yards by 95 (455 versus 360 against Fort Madison). The previous highest game rushing was 118 yards against Solon. Tayven Stuart had 114 and Ethan Patterson 115 on Homecoming.
"When (Stuart) gets to the second level, he's a dynamic back," Ehret said. "We haven't been able to get him there before now."
Stuart averaged 7.3 yards per carry Friday. His average per carry on the season — 3.1 yards.
"We built on the run game from last week and the O-line blocked well," Ehret said. The Demons also built the aerial game. In just one game had Washington been above 50 percent completions and it was 52 (11-of-21), but Homecoming was 68 percent.
Ethan Patterson was 17-for-25 with touchdown passes to Kroll, Kasen Bailey, Ethan Zieglowsky (54 yards with 40 seconds remaining in the first half) and Jacob Miller, who caught eight passes for 90 yards. Zieglowsky had six for 103. Patterson rushed for the first and last Demon scores.
"Coach told me they wanted to give me the ball and that's what they did," said Miller, whose family lives in Illinois but has come to all of his games. "All my teammates are what made me look good."
"This is a special place and I am going to miss never putting on this black uniform again," Bailey said.
"This field, this place, and the atmosphere here," said Miller as he paused to collect himself, "they are incredible and I'll never forget this."