Washington sweeps both team races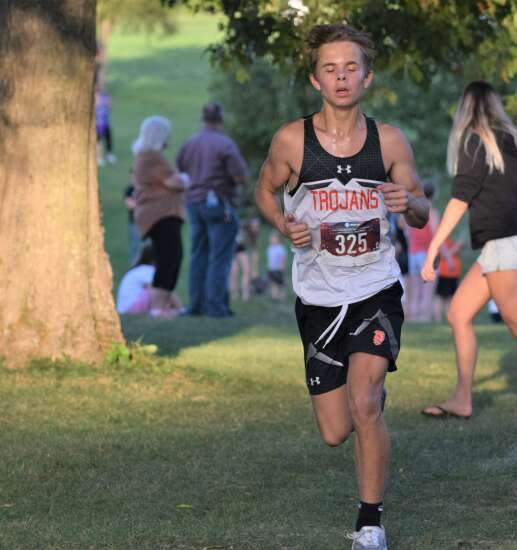 WASHINGTON — It can be an amazing help for a runner at a cross-country meet to have a large contingent of fans cheering them on to the finish line.
Lance Sobaski had that Tuesday at the Washington Golf Course where he and the Washington boys team and girls team all were triumphant.
Most of the Washington Demon football team came to the course to cheer Sobaski and their fellow Demon competitors.
"It's an amazing adrenaline boost when you have that many people cheering for you all at once," Sobaski said. "It kind of gives me a little bit of the perspective of what they feel on the football field. It's so different from a normal crowd to a bunch of teenage boys yelling at you. Some of them tried to give me high-fives but that would have disqualified me."
They were cheering for Sobaski prior to the race even starting.
"Hearing them chanting before the gun went off was a really cool thing," Sobaski said.
Micah Rees took second place by starting fast.
"I went out really hard, maybe too hard, but I pushed myself all the way to the finish. Lance has been such an inspiration to me, he's been pushing me, he's been helping me throughout the whole experience so he's been a great blessing. Second was pretty much solidified within the first mile, mile and a half. Having a lead is tough when you can't tell how big of a lead you have."
Rees took advantage of 180 degree turns to scope out the competition.
One of those competitors finished third and has plans for the Southeast Conference meet. but he would wait for turns and then be able to see how far back the competition was, showing him how hard he had to push.
Fairfield's Brady McWhirter, who recovered from COVID-19, said, "I just now got in shape. It feels good to get back, and I want to run with Micah at conference and maybe beat him. Once I get my kick back I'll be able to catch him."
Both Rees and McWhirter are sophomores. "It will be some good racing in the next two years, I hope," McWhirter said.
"There's a pack at Fairfield that we are aware of, and we want Drew Horak and Tyler Alderton to work on drawing them in," Demon head coach Stefanie Coach Haworth said.
Led by Quincy Griffis, who finished second behind Mt. Pleasant's Abbie Blint, the Demon girls dominated with five of the top nine and nine of the top13.
"Our No. 2 runner last week was our No. 7 today, and it's not due to lack of effort, just that the pack is just always improving," Haworth said.
Griffis spent much of the race in third behind Fairfield's Kelsey Pacha, but Griffis gets stronger in the latter half of a race.
"She's just steady and keeps working so we need to get her to work on her start to get faster ," Haworth said.
Pacha's first two miles are fine but not so much the closer she gets to the end. She spent much of the race in second but placed third behind Griffis.
"I just was working hard on pushing myself," Griffis said. "I'm not sure how it happened, but I passed her going up a hill. During the race I'm just thinking I need to get up to her and then I will think about passing her but it all happened pretty quick."
Pacha said she got a half mile from the end and she "died. (Fairfield head coach Jerrod) Belzer was yelling at me to go, and I couldn't, and I felt like walking. I don't like to lose but I don't like cross-country."
Blint's main competition was the motorized vehicle runners follow. "I just try to get close enough that they have to go faster. You can hear when it speeds up, so I take five hard steps and make them go faster. Mentally I have figured this course out and know where my weak spots are. I know where I have to dig deep like the back half when I have to push up those hills. As long as I keep going faster I should not have anybody getting close to me."
Sobaski ran his fastest time last week, a 16:25 at Mt. Pleasant, then ran his fastest time at the home course on his last race there. He does not like to run in the heat but all the cheering from the football team "definitely made a difference, it helped."