Wesleyan sports update: Women's soccer carrying the flag
Tigers 2-2 on the pitch; volleyball and men's soccer teams both winless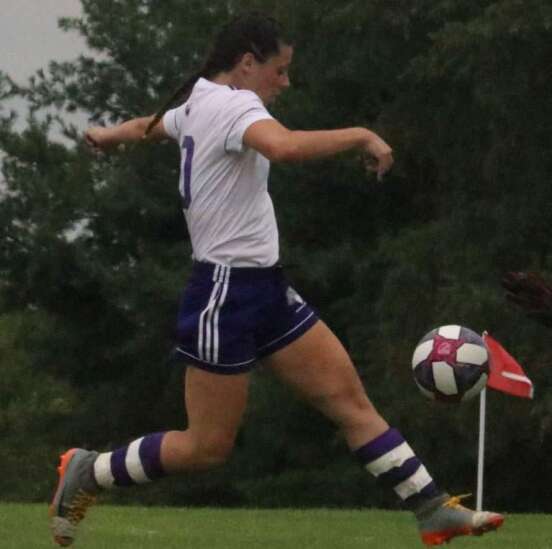 MT. PLEASANT — The Iowa Wesleyan fall sports season is well underway. Along with the football team being three games deep into the season, the soccer, volleyball and cross-country squads are all in early-season form.
Of all the Tiger squads, the women's soccer team is roaring the loudest. The women's soccer squad is the only Iowa Wesleyan team with any wins. They have picked up two of those in September.
The Tiger women's soccer team defeated University of Health and Sciences 2-1 on Sept. 4. This Saturday, they romped over Faith Baptist Bible College, 6-0. Sandwiched between those were a 2-1 loss on Wednesday against Stephens College.
Giovana Pedrassani has been absolutely electric for the Tiger women so far this year. The junior from Brazil had two goals and five assists in the three-game stretch to lead the team.
The men's soccer team hasn't had much luck. The Tiger men are 0-6, including a 6-1 loss to Mount Mercy University and a 3-0 loss to Briar Cliff University last week.
The Tiger men have scored three goals so far this season. Joao Viera, Xavier Lozada and Carlos Mateo each have one.
The Tiger volleyball team still is looking for its first win after starting 0-9. Iowa Wesleyan was tagged with four volleyball losses last week, falling in four sets to Knox College, three to Hannibal-LaGrange University, three to Cottey College and one to Stephens College.
The Tiger cross-country teams competed in the Luther All-American Invitational on Saturday. The men's team took 11th place, and the women didn't have enough runners to score.
Freshman Faith Younce led the Iowa Wesleyan with a 72nd-place finish, crossing in 22 minutes and 39 seconds. Fellow freshman Tony Johnson led the men with a 175th-place finish, crossing in 27:57.17.