Willis captains All-Union football team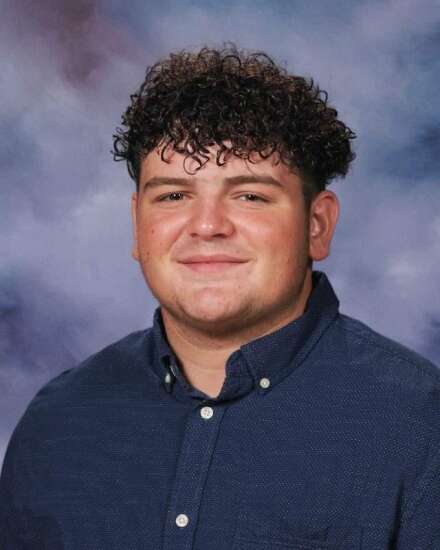 With every team a playoff team in 2020, the best teams still made themselves known.
The Washington Demons were not ranked to start the year but finished third in the polls. Their season finished in the Round of 16.
At season's end for Sigourney-Keota, it played in the UNI-Dome as one of four Class 1A teams and started the year in the Top 10 rankings at No. 8.
Sigourney-Keota's Jared Jensen and Washington's James Harris were considered for the coach of the All-Union team, but the choice was easily Jensen.
While there was uncertainty in Washington about replacing Class 3A All-State quarterback Luke Turner, he was supplanted by the 3A All-State Captain and the Union is honored to also name Trashaun Willis the captain of its team.
Listed below is the coach, captain and offense for the 2020 All-Union football team. Players on the defensive side of the ball, along with special teams players, will be announced in Thursday's edition.
Captain: Trashaun Willis, senior, Washington
Willis captured the nation's attention this season with his play at quarterback, but he was already a two-time all-state linebacker. Willis led the Demons to an undefeated regular season, scoring 27 touchdowns, sixth in 3A. He was 57-for-110 passing for 907 yards with 12 TDs and five interceptions for a rating of 121.1, 18th in 3A. He rushed for 523 yards on 78 carries. Two plays defined his season with an interception for a touchdown to clinch a win over Bettendorf in the season opener and a 67-yard run at Solon that propelled the team to a victory.
Coach: Jared Jensen, Sigourney-Keota
Jensen rallied his Cobras to avenge a playoff snub last season and bolstered them to their first district title and playoff appearance since 2011. A 10-win season with a loss to a defending state champion is a season that ranks among the best. His record for the Cobras is at 60-33 and 72-54 overall.
Quarterback: Jack Johnson, senior, Mt. Pleasant
To say Mt. Pleasant's senior dual-threat quarterback had a lot of weight on his shoulders would be an understatement. Johnson served as the heart of the Mt. Pleasant offense, burning teams all year with his arm and his legs to lead the Panthers to a 4-4 record.
Johnson threw for 1,240 yards and 10 touchdowns this season, while also throwing just five interceptions. He also led the Panthers in rushing yards, dashing for 916 yards and 12 scores.
Despite playing in only seven games this season, Johnson's 2,232 all purpose yards was seventh most in Class 3A. His 22 total touchdowns landed him at 14th in the class.
Running back: Sam Sieren, senior, Sigourney-Keota
A workhorse for his team, Sieren carried the ball in the quarterfinal win on 39 of 69 plays for about half of the team's 401 total yards, then on 31 of 67 plays in the semifinal for 231 of the team's 361 yards. First in touchdowns rushing with 25 and second in Class 1A in yards rushing at 1,706, Sieren was 14th and 12th in the state in those two categories.
Running back: Kayden Reinier, senior, Mid-Prairie
Reinier was ninth in 2A with 1,271 yards rushing after being 10th last season. He had less carries than 14 of the top 15 rushing totals in 2A. His average per carry of 8.4 was fourth among backs with over 1,000 yards and he owns the Golden Hawk record for yards in a game with 316. His 17 touchdowns were fifth in the class.
Offensive lineman: Kael Adam, senior, Washington
A leader on game night, the practice field and the weight room, Adam was a captain of the Demons and helped Washington accumulate 3,535 yards which was 20th in 3A and second in the district despite a majority of the games being decided by halftime. Only one 3A team averaged more points a game than the Demons.
Offensive lineman: Henry Lutovsky, senior, Mt. Pleasant
Before heading off to the Big Ten, Lutovsky had one more year in the maroon and gold, and he made sure his final high school season was a good one.
Lutovsky and the rest of the Panther offensive line helped Mt. Pleasant move the ball up and down the field, gaining yards in bunches. The Panthers ended the year ranked 20th in total yards and finished tied for 23rd in the class in touchdowns.
The Mt. Pleasant big man will travel west when his final year of high school is over to play Division I football for the Nebraska cornhuskers.
Offensive lineman: Zach Smithart, junior, Sigourney-Keota
Blocking for an offense that was first in Class 1A and fourth in the state regardless of class in yards rushing at 3,489, Smithart was a main cog in the line that cleared a path for all of those yards. His blocking was so effective that a negative rush was rarely recoded this season in Cobra stat books.
Offensive lineman: Currey Jacobs, senior, New London
When a team runs the ball as much as New London does, it better have a strong offensive line. Currey Jacobs was the leader of that line, which helped the Tigers move the ball at willa gainst almost every opponent they faced.
New London's offense ran for 2,874 yards this season, fifth best in Class 8-Player. The Tigers also scored 41 touchdowns on the ground, tied for 41st on the ground.
As if his work on the offensive end wasn't enough already, Jacobs also led the team in tackles, with 57.
Offensive lineman: Chance Malone, senior, Winfield-Mount Union
Despite playing in a class that usually plays games fast and furious, the W-MU football team played bully ball. The Wolves ran the ball down the middle again and again, and grinded away yards behind the offensive line, led by senior Malone.
Malone and the rest of the line pushed forward to help the Wolves run for 2,025 yards and 27 touchdowns this season. That rushing attack aided the W-MU football team to a 4-4 record, their best mark in five years.
Malone also led his team on defense with 53.5 tackles.
Wide receiver: Griffin Greiner, junior, Cardinal
No matter who was slinging the rock for Cardinal this year, the quarterback's favorite target was Greiner. The junior led the Comets in every receiving category, which made things a lot easier for both of the team's quarterbacks.
Greiner caught a team-high 35 balls for a team-high 652 yards and also found the end zone 10 times, making up almost half of the team's 21 scores through he air.
Wide receiver: Chase Williamson, senior, Mt. Pleasant
Panther speedster Chase Williamson had a bit of a slow start to 2020. He didn't find the end zone until the final game of the regular season, but still led the Panthers with 558 receiving yards, and caught two touchdown passes in the team's final three games.
Williamson caught eh most passes for the Panther defense too, picking off four passes on the year. He led the Panthers in interception return yards with 86, had one pick-six and recovered one fumble.
Tight end: Max Weaton, sophomore, Fairfield
Fairfield's second-year tight end became a focal point of the Trojan offense in 2020. Weaton used his combination of size and speed to catch 30 passes this year, which was over half of the team's 54 receptions.
Weaton also led the team with 377 receiving yards and caught seven of the Trojans' 13 touchdown passes.
When the 2021 season rolls around, Weaton and the rest of the young Trojan core will be one year older and one year more dangerous, making him one of the top players to watch next fall.
Utility: Cade Molyneux, junior, Sigourney-Keota
An ultimate utility man, Molyneux played quarterback, running back, receiver, blocker but his position was spinback. Add in his 28-of-42 passing for 478 yards, his 113 carries for 729 yards and his 17 touchdowns (nine rushing, eight passing for 23rd in 1A) for a yard total that was 30th. He led the Cobras with 41 solo tackles and 5.5 tackles for loss.
Utility: Will Edeker, senior, WACO
The WACO football team lost a huge chunk of its 2019 squad, so the Warriors had a lot to make up for in 2020. Edeker stepped up in the quarterback position and led WACO to three wins in its first five games, scoring over 30 points three victories.
Edeker threw for 589 yards and six touchdowns this season. He also led the Warriors with 470 rushing yards and nine scores.
Along with all his work on the offensive end, Edeker also picked off one pass this season, and had all three of WACO's 23 punts, averaging 30.9 yards-per-punt.