'Win or lose, it hurts'
Columbus making strides in sport of cross-country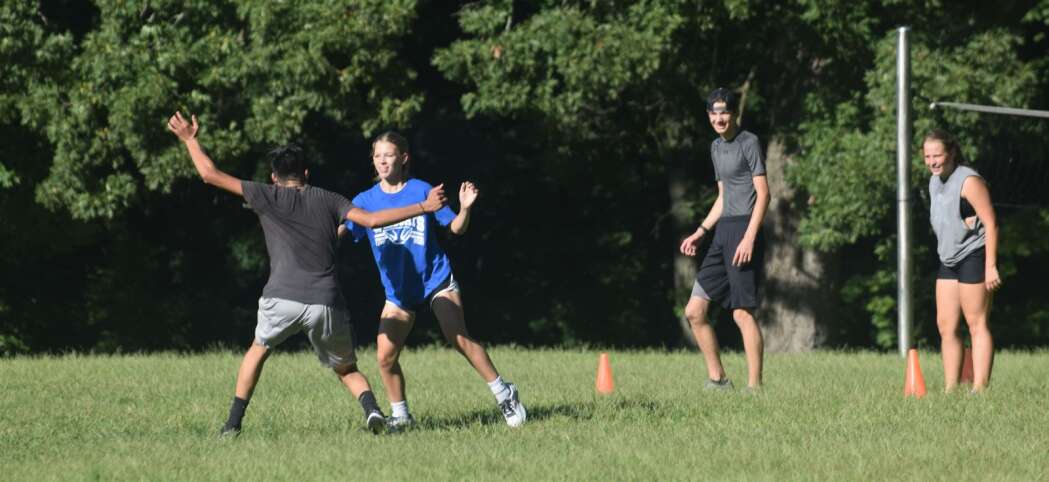 COLUMBUS JUNCTION — Win or lose, it hurts.
The sport of cross-country running is unique in many ways. While it is an individual race, the team concept helps propel individuals to levels they may not reach on their own.
"You have to love the worst part," Columbus team member Isaac Acosta said. "That's the best way to get through it."
"Just knowing there's something at the finish line motivates you," fellow senior Freddy Vergara said. "It helps knowing everyone in the race is feeling the same way."
Columbus qualified for the state meet last season for the first time since 2005. A goal was set at the beginning of last season by Columbus coach Steve Riley and team members: to qualify for state in the 50th year of the Wildcats cross-country program. There's nothing better than setting a goal and achieving it.
"State was an experience I've never had or ever felt before," Vergara said. "I was fortunate enough to go."
The Wildcats want to better last season's 11th-place finish at Lakeside Golf Course at Kennedy Park in Fort Dodge.
Inspired by the accomplishments, the Wildcat girls team won a meet for the first time in 10 years Sept. 7 at Sigourney.
"The most important part was their steadiness paid off," said Riley who is in his 10th year as the coach. "In running, there are no magic formulas for success. It's just about showing up every day and putting in the work."
Cross-country is a tough sport. To have enough dedicated individuals investing time and hard work creates a camaraderie unlike most others.
For Riley, who walked on at the University of Iowa and was the "seventh or so varsity guy in 1978, 79 and 80 until I stupidly quit," the team aspect is the essence of what cross-country is all about. "To get a group of kids working together and sharing the hardships and the good times. This group is like that. There is no focus on the individual. They want good things to happen for each other."
The best part will be years from now when they can recall what they sacrificed, tell their story, even embellish how they ran through snow and heat and always uphill.
Acosta joined Muscatine's swim team in the offseason, joined the Army and become a workout demon in an effort to improve on his 17th-place finish at state. "I think I'm addicted to working out because I love it. Whatever day it is, chest, legs, back, I will still go run."
Riley wants a top-15 finish for Acosta, which means a medal, and 20 to 25 range for Vergara. He made state in track in the 2-mile and lost a shoe early in the race. That wasn't the first time. He lost a shoe during a cross-country race the previous year.
Vergara said he did something different in the offseason, he showed up. "Running by yourself, it's just not where it's at."
There is always some point in a race where a runner struggles and hurts and doubts and wonders.
"You get past that by just competing, just knowing you have to finish, you give it your all and use whatever you have left in the tank," Vergara said.
When Acosta was at a low point in a race, he had to catch the next guy. "That's what always drove me, but in basic, I learned a saying, 'embrace the suck.' It's going to hurt, it's going to be hot, but terrible conditions are what make me better."
Riley has the Wildcats doing different things this year to accelerate improvement. He is increasing progression from 2-mile repeats to 3-mile and has added games to practices.
"We always find a way to do extra," Acosta said. "Even with stretching, we're trying to do more and address hurting points. Practices are even harder than last year."
Riley, assistant coach Seth Schleef and junior high coach Holly Canny officiate the games. That consists of yelling "Supposed to be running, not collaborating."
The games keep them on the move to improve conditioning. It ends up being challenging because of the competitiveness. One has to be quick to get to the next color.
A competitive group of kids in a competitive environment will certainly feed a desire to win. At Columbus they all want to see each other excel in hard times so they can embrace the suck.