Wrestling weekend roundup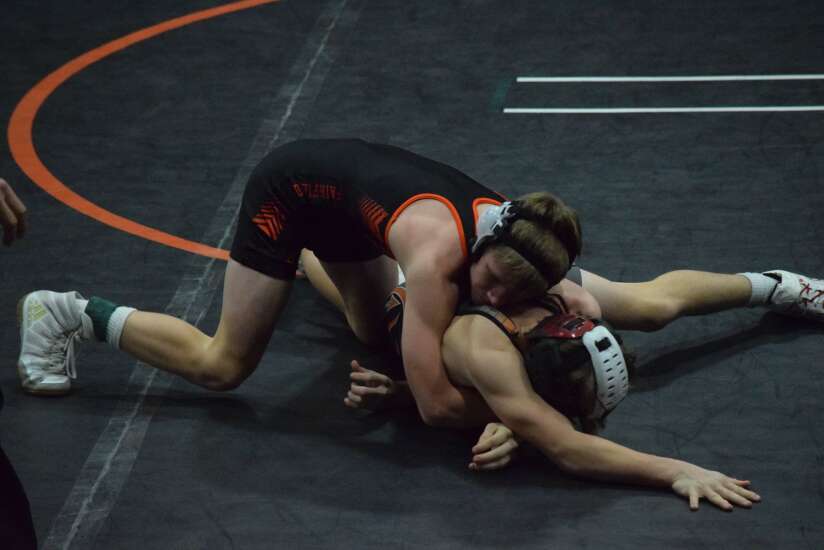 Union area wrestling had an eventful weekend once again as area preps competed in tournaments around the area.
Washington took part in the John J Harris Invitational over the weekend.
The Demons finished 12th as a team in the competition.
On the day, Aaron Boone and Jude Carter were both second-place finishers at 120 and 138. Caden Greiner (126) and Chase Greiner (152) were both fourth-place finishers.
Fairfield and Mt. Pleasant both took part in the Williamsburg Raider Invitational over the weekend.
The Trojans finished fifth in the tournament, while Mt. Pleasant took sixth.
Cael McCabe (113) and Dre Smithburg (220) were both first-place finishers for the Trojans.
Dain Burkhart was a second-place finisher at 182 as well as Zach Westercamp at 132. Brandon Brinkschroeder took fourth at 285 as well.
For Mt. Pleasant, Franklin Tousigant took third at 285.
Charlie Bohennkamp finished fourth at 126 and Bowen Davis finished fifth at 145.
Columbus/Winfield-Mt. Union competed in the Bean City Duals on Saturday in Iowa City.
As a team, the Wildcats finished sixth.
WACO, New London, Van Buren County and Highland all competed in the Louisa-Muscatine Wrestling Invitational over the weekend.
WACO finished seventh, New London took ninth, Van Buren took 10th and Highland finished 11th.
For WACO Johnathan Heather took first-place at 285.
Louden Huisenga finished third at 160. John Mclaughlin (120) and Drew Diers (220) took fourth.
New London's highest finishers on the day were Gage Burden (120), Dom Lopez (160) and Trent Wilkerson (220) all with first-place finishes.
Carlos Valenzuela lead Highland with a first-place finish at 132. Remington Rields placed second at 145, while Brock Thomann finished fourth at 126.
Van Buren County was led by Colt Boyles on the day with a third-place finish at 106. T.J. Jirak (126), Korbin Camp (132), Tyler Stoltz (138), Cale Mellinger (145), Darrin Coffman (160) and Nehemiah Westercamp (220) all took fifth.
Mid-Prairie and Sigourney-Keota battled in the North Tama Redhawk Invitational on Saturday.
Reanah Utterback (106) and DJ Hammes (145) both took first.
Reid Molyneux (152), Ashton Schwab (160), Brady Clark (126), Dan Mclaughlin (132) and Jack Clarahan (170) all took second.
For Mid-Prairie, Terry Bordenave (195) was a first-place finisher.
Mose Yoder (113), Max How (120) and Quinn Callahan (220) all finished second. Kaden Meader finished third at 195.